After efforts to place them in other countries failed, several high-profile ISIS fighters may end up in the U.S. prison at Guantanamo Bay, American officials told NBC on Thursday.
Among those who may be shipped to the facility in Cuba are Alexandar Amon Kotey and El Shafee Elsheikh, two British militants who, as part of a four-member group nicknamed "the Beatles" by intelligence analysts, were responsible for a series of gruesome beheadings of Americans and other Westerners.
Under the plan, possibly hundreds of less notorious ISIS detainees would be remanded to a prison in Iraq.
The problem of where to keep ISIS prisoners has become more pressing in recent months, thanks to the success of the Kurdish-led, U.S.-backed Syrian Democratic Forces fighting in the region. According to NBC, the group has an estimated 600 prisoners in custody.
Should the plan to shift detainees to Guantanamo move forward, they would be the facility's first new prisoners in more than 10 years.
"I would be very against that, very against it," his mother, Diane Foley, said of sending them to Guantanamo, in an interview with Sky News this year. "It would perpetuate the hatred. They (the victims) were executed in orange jumpsuits, like they have to wear in Guantanamo. We need to be above that. We need to show them what real justice looks like."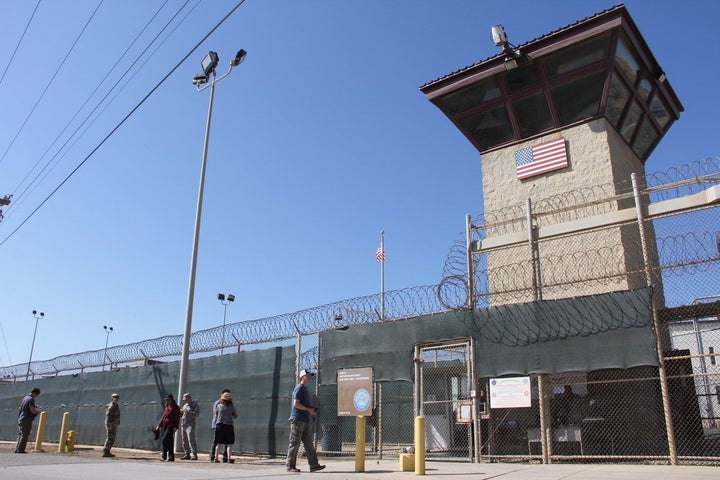 Those sentiments were echoed by French photojournalist Nicolas Henin, a former ISIS hostage who was released after 10 months. He warned The Independent that anything short of a trial would give ISIS plenty of propaganda material and claims of martyrdom.
"What I want is an incontestable trial, as fair as possible, where my captors would have all the chances to defend themselves," he told the paper. "We must absolutely prevent them reversing the situation by depicting them as victims. We were the victims, not them. If they don't get justice, they will use it to fuel their propaganda."
"Guantanamo Bay wouldn't be a satisfying solution either, as it is a denial of justice," Henin added.
"I believe both former hostages and the families of those murdered largely share my feelings. We all are looking for justice. It will not bring us what we lost, a year in our life or even a son, but it's still necessary," he said.
An estimated 43 prisoners are being held indefinitely at Guantanamo without charges — a Geneva Convention violation that George W. Bush's administration argued it could ignore because they were unlawful enemy combatants being held at a military base that is not technically on U.S. soil.
In June, guards at Guantanamo conducted a series of exercises to prepare for the possibility they would again be accepting prisoners. The prison commander, Navy Rear Adm. John Ring, told media at the time he wasn't expecting any arrivals "imminently" and it was all hypothetical.
Should the hypothetical become a reality, the government should gear up for a legal fight, said Wells Dixon, a senior staff attorney at the Center for Constitutional Rights.
"If suspected ISIS fighters are transferred to Guantánamo I would expect that a legal challenge to their detention would be filed within days if not hours of their arrival," he told The Miami Herald. "The one thing that's guaranteed is it will create years more of litigation."
Popular in the Community