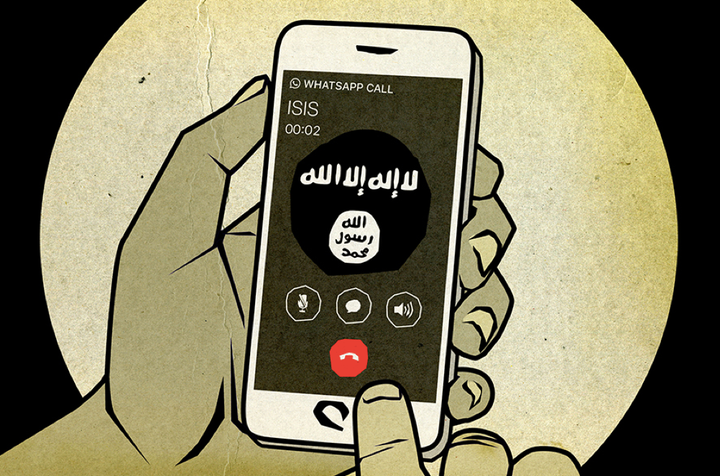 Blindfolded in Lebanon, without a phone and in the company of strangers, I began to wonder if I had made a terrible mistake.
I traveled to the country last year to investigate how the self-described Islamic State, or ISIS, has recruited so many foreigners to join it. At a cafe in the northern city of Tripoli, I met a fixer who said he could introduce me to a former ISIS recruit who was in hiding after having returned from Syria. He and another man drove me to the city's port.
"You will keep this on," the fixer's companion said as he joined me in the back seat and slipped a blindfold over my eyes. "We will take roads without any army checkpoints, but if for some reason we pass by one, we will tell you and I will remove the blindfold until we pass. You will act normal and tell them we are going out to smoke some shisha. Make sure you tell them you are Canadian, because they do not harass foreigners."
It stopped 30 minutes later, and I heard someone get in. The fixer introduced me. He assured the man who climbed into the vehicle -- I'll call him The Recruit -- that I had been searched.
I couldn't see this man through my blindfold, but I could hear his voice shake. I had no way to record the conversation, but I listened to his words intently so I could recreate them as accurately as possible later on -- and judge whether to believe his story.
"In this country, you just want a way out," The Recruit said. "Our politicians make us sick. I had nothing to lose. I did not wish to be involved in any act of terrorism, but I was desperate to get into Europe."
The Recruit said he is the youngest member of his family and that his parents are very old. His brothers are barely able to support their own families. Last year, he decided to immigrate to Europe and find a job to help his relatives. One of his friends put him in touch with a man on WhatsApp, a mobile messaging platform owned by Facebook.
Via the app, the man said he could transport The Recruit to Europe, as long as he did what he was told, didn't ask questions and completed a job to cover his expenses.
Despite his suspicions, The Recruit ended up meeting his contact in Beirut. After a few meetings, the contact took The Recruit and three other young men to the airport. The contact didn't say what the job was, and The Recruit didn't ask any questions.
"We were told that we would be flying to Istanbul," The Recruit said. "That if we are asked by officials, we are a group of friends going on vacation in Turkey. If they asked how we paid our trips, we would say we saved up. I was told to say that I worked in the café where I had met the man."
When the recruits arrived in Istanbul, someone was waiting for them at the airport. He put them in a van. At this point, The Recruit says he still thought he was going to Europe. But as the ride turned from minutes into hours, The Recruit and the three men with him realized they were being taken into Syria.
When the van passed over the Turkish border, the driver briefly spoke to the guards, who let the group through. The Recruit says no one checked his passport. After a long drive, the van stopped. A man opened the door and began to recite the recruits' names.
"This is when it hit me that we were with ISIS," The Recruit said. "Their flag was at that checkpoint." The next morning, he and his travel companions were greeted by a trainer, who spent the entire day with them.
The trainer started by embracing the recruits' arrival, saying that Sunnis have a duty to their religion -- and that the Shiites and the West will one day kill every Sunni.
"He told us that Prophet Muhammad would think of us as heroes if we did what they asked from us," The Recruit said. "They told us that the West and their 'dogs' were full of lies about ISIS." 
The Recruit said he felt like that all made sense.
"We live in Lebanon," he said. "We see [Hezbollah leader] Hassan Nasrallah aiding [Syrian President] Bashar Al Assad and bringing trouble to our country. I knew that Iran is evil, nothing new, but he hit on my core."
The next few days passed without incident. The Recruit says he and the other young men spent their time being lectured by their trainer and walking around observing the locals. They were instructed to pray, and given daily lessons on Islam and the Quran.
"But the fourth day was a Friday afternoon I would never forget," The Recruit said. "We were taken to a room told to sit down and wait. Some other men entered and occupied the opposite end of the room."
"Suddenly, in the blink of an eye, everyone was shot," he said. The new recruits were told that the men who had been shot had tried to run away and join ISIS's enemies.
Then, he said, the four recruits were separated and each was given instructions. The Recruit was told to return to Beirut, wait a week, and then meet up with a man to get a bag. Then he was supposed to go to a cafe in a Shiite-controlled southern suburb of Beirut called Dahye, drop the bag, and leave.
The Recruit says he asked what would happen to him after he left the bag in the cafe. He was told that he would not be harmed. He was given money and told to wait for further orders back in Beirut.
The Recruit went back to Lebanon. It was at this point, he said, that he finally broke -- whatever plans ISIS had for Beirut, he did not wish to be a part of them. He reached out to a trusted childhood friend and explained everything that had happened. His friend panicked at first, but then promised to get him out.
The Recruit said his friend came late one night and transported him to a sheikh in Tripoli, where he has been hiding ever since.
"I feel as though I have lost my life, and all for nothing," The Recruit said. "My family is looking for me, thinking I left Lebanon to immigrate somewhere illegally. I am staying in hiding until my friends can find me a solution. I want to get out of Lebanon, in any way."
"The Lebanese government would punish me if they caught me," he continued.
"ISIS would kill me, so I am back to trying to get to Europe in any way possible. But I don't know how. I am lost, lost."
The Recruit must have decided it was time to end of the interview, because he left abruptly after saying this. My transporters drove me back to the port, where they removed my blindfold. I smoked a cigarette with them. They didn't speak a word until we returned to where my car was parked.
I took my mystery informant's story with a big grain of salt. I knew it was possible he had exaggerated parts -- or fabricated the whole thing.
But based on my reporting, the broad outline of his story rings true. ISIS does use social media and mobile messaging applications to reach out to potential recruits, and it's common for members to recruit desperate individuals. And ISIS has clearly figured out how to pass across Middle Eastern borders unchecked -- being able to bring in recruits from outside Syria and Iraq is crucial to its survival.
Maya Yamout, a social worker who interviews people who have been jailed for alleged involvement with terrorism in Lebanon, told me she's seen "several cases where extremists told men that they are going to Turkey or elsewhere, and then they ended up in Syria."
"These men had no idea they were dealing with ISIS," she said. "They preyed on their vulnerability and despair."
I asked her whether she believed The Recruit's story.
"Based on my experience, yes. ISIS and other terrorist groups can use these methods to drag or force young youth into terrorism," she said. "But ISIS leaders and senior members know that 90 percent of this kind may not be loyal to them or wish to quit later, so they put them into immediate operations/missions rather than putting their well-trained and long-term members. Therefore, what this man told you that he was recruited to an operation into Lebanon despite little training makes perfect sense."
I also spoke to Sheikh Nabil Rahim, who Lebanese authorities arrested in 2008 for suspected ties to al Qaeda. He has since been released and now calls himself a reformist.
Rahim outlined two ways he has seen ISIS recruit people: "Some are recruited through ISIS agents here in Lebanon, preying on the vulnerable, especially those living in poverty. Others are recruited on social media," he said.
He told me that ISIS recruiters scan Twitter, Facebook and other social media platforms for people whose posts demonstrate extremist tendencies. Once recruiters find a target, they reach out directly -- and somewhere, a young man's cell phone buzzes.
Calling all HuffPost superfans!
Sign up for membership to become a founding member and help shape HuffPost's next chapter