WASHINGTON -- The United States finally seems to have identified the party responsible for failing to halt the rise of the Islamic State in Iraq: the Iraqi government.
The existence of the group, also known as ISIS or ISIL, has been described as an indirect consequence of the U.S. invasion and occupation of Iraq. But two senior Obama administration officials this week sought publicly to vindicate U.S. policy against the extremist group by citing failures on the part of the Iraqis.
In separate sets of remarks, administration officials underscored how long the administration had been targeting the group; blamed the Iraqi government for its rise and current success; and avoided focusing on widely criticized U.S. involvement in Syria.
Tony Blinken, the deputy national security adviser to President Barack Obama, said Wednesday that he had been involved for over two years in U.S. efforts to convince the Iraqi government to tackle ISIS and its predecessor group, Al Qaeda in Iraq. These efforts began after Obama controversially withdrew U.S. troops from Iraq at the end of 2011. Speaking at an event at the Carnegie Endowment for International Peace, Blinken noted that the president had warned former Iraqi prime minister Nouri al-Maliki last November to check the Islamic State's growing power and pursue less divisive policies.
"We were focused and acting on ISIL and the threat that it posed more than a year before the fall of Mosul," Blinken said, referencing a key victory for the group over the summer in which it gained significant stocks of U.S.-made weapons intended for the Iraqi army. "But the problem began to outrun the solution, fueled by the conflict in Syria, Iraqi reluctance, and renewed sectarianism in Iraq."
Blinken's comments suggest the administration traces its current policy against ISIS further back than it appeared to just months ago, when the president compared the group to a "JV team."
Gen. Martin Dempsey, chairman of the Joint Chiefs of Staff, also presented U.S. efforts against ISIS as contingent on broader action by the Iraqi government. In comments Thursday at a news conference, Dempsey said the U.S. was looking to aid beleaguered Sunni partner tribes in western Iraq by sending military advisers, but was waiting for Iraq to arm the tribes.
The administration is especially concerned with defending the Iraqi segment of its ISIS policy because the fight has led the U.S. back into a country Obama pledged to wihtdraw U.S. forces from. Obama critics have said he was too quick to roll back the U.S. presence in Iraq, and the Iraqi army's multiple defeats at the hands of ISIS over the summer have lent credence to that argument.
Blinken attempted to justify the pullout by saying the U.S. wanted to leave a small residual force in Iraq but was the "victim of success" there -- once Washington had helped the Iraqis regain confidence, military strength and sovereignty, it had to concede to their wishes. That meant it could not pressure the Iraqis to grant legal immunity for U.S. troops there, a condition of them remaining, once the Iraqi parliament had voted against the request.
To truly "find a way back" to ensuring Iraq's security, Blinken said, the U.S. had to prove that it was serious about leaving.
To be sure, Maliki's mistreatment of Iraq's Sunni minority helped fuel the Sunni rebellion on which ISIS capitalized. But the U.S. occupation was in full force for much of Maliki's reign, which makes it difficult for the administration to pin the blame solely on his government.
Direct U.S. targeting of ISIS through airstrikes only began this year, once ISIS had made major gains and Iraq seemed set to form a new government. Maliki stepped down as prime minister days later. In his address, Blinken repeated earlier White House statements saying it was only willing to intervene in Iraq once it felt comfortable with the political leadership there.
The U.S. has 1,400 troops in Iraq and continues to aid the Iraqi army with airstrikes from the international coalition it's leading.
Yet the Iraqi Security Forces are still not ready to take on the Islamic State on their own, Blinken conceded, noting that he had been in Iraq last week.
"We did an assessment of the Iraqi Security Forces and we found that about half of the forces we were able to inspect in effect were not competent," Blinken said. "Now the 'glass half full' version of that is that half of the forces were, so there's a good foundation to work with."
He emphasized that is critical for the new Iraqi prime minister, Maliki ally Haider al-Abadi, to rebuild the army and loyalty to the state among Iraqi Sunnis, who helped ISIS make significant gains because they felt victimized by Maliki.
But while Blinken said the administration was encouraged by al-Abadi's progress since taking office in August and various Iraqi leaders' commitment to countering ISIS, the rift between the Iraqi state and the Sunnis may actually be growing.
The Shiite leadership in Baghdad, from which both Maliki and al-Abadi hail and which Blinken described as a "viable local partner," has increasingly relied on Shiite militias backed by Iran to defend what is left of its authority. Amnesty International released a report earlier this month showing that those Shiite militias are persecuting Sunni Iraqis.
And ISIS has tried to dissuade Sunnis from aiding the U.S. or the Iraqi government by making its plans for them clear: Islamic State militants have executed scores of Iraqi Sunnis aligned with the Sunni tribal coalition that aided the U.S. in 2006-2007 -- and that Dempsey said the U.S. wants Iraq to arm.
Missing from Blinken's extended remarks on Iraq was much mention of Syria. He repeated that the administration's goal in Syria is to undermine ISIS's infrastructure there to weaken its capabilities in Iraq. But he did not address the fact that the administration's policy has disappointed Syrian rebel groups with which it plans to partner.
Those rebels, along with most of the partners in the U.S.-led coalition against ISIS, want to see Obama directly tackle what even the administration has identified as the source of ISIS's rise in Syria: President Bashar Assad.
Blinken said U.S.-backed Syrian rebels -- who have recently said they are in an existential battle for survival against Assad and ISIS -- must recognize the United States' slow moves in Syria are part of a plan.
"There is a very methodical campaign plan that is in development, and indeed we're starting to roll out on, and we have to stick to the plan," Blinken said, when asked about aiding the vulnerable Sunni Syrian opposition to Assad.
"Unfortunately, every day there is going to be in some part of Iraq or some part of Syria, a community that is under siege, under attack, and is looking for help," he added. "We can't be every place, every time. We have to stick to the methodical plan to start to roll back ISIL in a very deliberate way."
Before You Go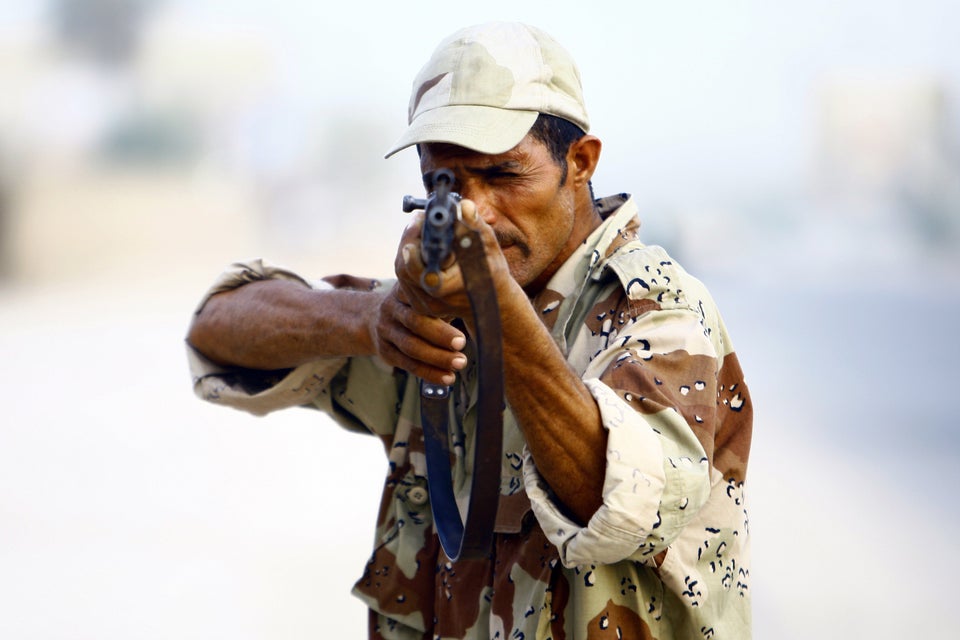 Fighting in Iraq
Popular in the Community