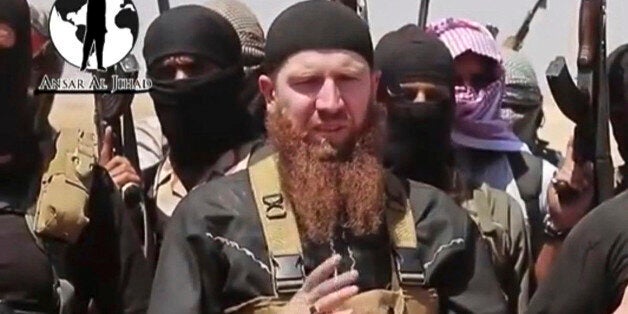 The Islamic State in Iraq and the Levant, a fanatical Muslim group that advocates for a return to the Stone Age, has equipped itself with a distinctly modern form of weaponry: a communications arsenal worthy of the biggest media conglomerates. Its strategy of propaganda is a weapon of war that uses techniques of guerrilla marketing and branding, which help make the group's communiqués go viral.
In addition to videos of anti-Western speeches, coupled with suspenseful beheadings (we never see the execution, unlike similar al-Qaeda videos), ISIS uses Twitter and manipulates it, participates in documentaries, publishes its own magazine, and is making a film ("Flames of War") whose teaser, worthy of a Hollywood blockbuster, is available online. This terrorist empire knows how to generate buzz.
The use of social networks, and Twitter in particular, allows ISIS to intimidate its enemies through bloody photos and brutal scenes, while, at the same time, displaying a more spiritual and contemporary image to attract potential recruits. A carefully orchestrated gender balance illustrates the group's determination to pursue what they see as the "holy" or "just" war against "infidel" Muslims first, then unbelievers of all kinds.
These messages resonate with the people who join this group for several reasons: the fantasy of the caliphate, the "land of Islam," gives a purpose, a reason to exist to many hopeless people. ISIS allows people who have become radicalized in their country of origin to fight and change an established system; extend the Arab Spring, which began in Tunisia; give a second chance to offenders from Europe to redeem themselves; and relate to others who, not feeling integrated in their host countries, want a return to their roots, closer to what they consider to be their original culture.
Amplification of propaganda messages This established propaganda strategy allows ISIS to position itself as a mainstream group, coupling speech saturated with theological and historical references with powerful images. It has become an invincible hydra, which can rear its head up anywhere on the globe. It plays on the psychology of future heavily armed recruits, who will be highly trained and ready to die in battle -- the ultimate reward for a martyred warrior.
ISIS has set up a web of users who tweet and retweet, networking the group's messages to increase the popularity of their hashtags and amplifying its messages exponentially. ISIS also crossposts onto unrelated but popular hashtags, wooing hitherto unreached young audiences.
In addition to this crafty spamming trick, ISIS uses an application in Arabic called "Dawn," an application that was previously available on Google Play before being removed. Once the application is installed, the program takes control of the Twitter user's account and tweets messages, photos and ISIS' hashtags and messages created by the organization's social media strategists. This ingenious system allows ISIS to bypass spam detection, enhanced by Twitter in the wake of the Arab Spring. According to The Atlantic, the app "reach[ed] an all-time high of almost 40,000 tweets in one day as ISIS marched into the northern Iraqi city of Mosul" in June 2014.
Taking advantage of the Internet's mindless pursuit of cuteness, ISIS uses strong and moving images to bypass censorship (although multiple ISIS-associated Twitter accounts have been closed for non-compliance with the site's code of ethics). After memes like Nyan Cat and Grumpy Cat conquered social media, ISIS created its very own @ISILCats account, where jihadists take pictures with cats and even dogs.
These images show the jihadists in a different guise, more human, with no decapitated heads in sight. One can find jihadists eating pizza and drinking nonalcoholic beer, or feeding cats Snickers bars. Further analysis might connect this behavior to stories of Abu Huraira, warrior companion of the Prophet Mohammed, known for his narration of the hadiths and his empathy for felines.
PHOTO GALLERY
Fighting in Iraq
REAL LIFE. REAL NEWS. REAL VOICES.
Help us tell more of the stories that matter from voices that too often remain unheard.