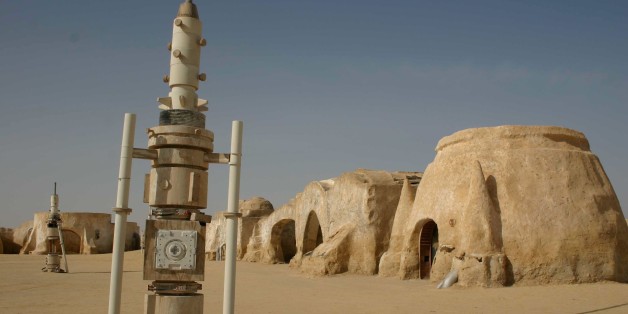 "Star Wars" fans are being warned away from several locations in Tunisia linked to the movies due to reported jihadist activity.
Tataouine, which inspired the name of Luke Skywalker's home planet of Tatooine, has become a way-station for terrorists looking to enter Libya to join ISIS, CNN reported.
CNN said two arms caches have been found in the area this month, including one that contained rocket-propelled grenade launchers and more than 20,000 rounds of ammunition.
Although Tataouine wasn't used as a location in any of the "Star Wars" films, it's not far from some of the sites that served as the slave quarters in "Star Wars: Episode I The Phantom Menace," including the home of young Anakin Skywalker and his mother, Shmi, according to StarWars.com.
The website said the planet Tatooine was originally going to be called Utapau, but was ultimately changed to one resembling that of the Tunisian location.
"Star Wars" fans often make pilgrimages to Tunisia to visit the filming locations scattered throughout the country. However, recent violence has led to warnings against travel through some regions.
Last week, terrorists attacked the National Bardo Museum in the nation's capital, Tunis, killing 23 and leaving many others wounded. ISIS claimed responsibility for the attack, which was carried out by men later identified as Tunisians who had trained in Libya.
Several countries have issued warnings about traveling in Tunisia as a result. The United States Embassy is urging travelers to avoid the border areas due to "periodic security incidents." Tataouine is 60 miles from the Libyan border.
The British government has also warned against "all but essential travel" to a large region that includes Tataouine as well as the sites of a number of other "Star Wars" film locations, including Nefta, the location of the exterior of the Lars Family Homestead, where Luke Skywalker was raised.
In 2012, fans worked to save the crumbling remains of the film location.
CORRECTION: A previous headline indicated that ISIS had "taken Tatooine." The headline has been updated to reflect that ISIS is feared to be using parts of Tunisian territory as transit points.
BEFORE YOU GO
PHOTO GALLERY
'Star Wars' Posters