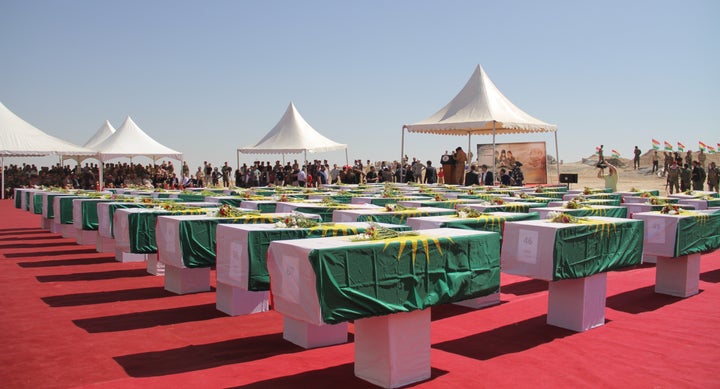 Every week, The WorldPost asks an expert to shed light on a topic driving headlines around the world. Today, we speak with Christoph Wilcke about the efforts to document crimes against the Yazidis.
The remains of 67 people found in mass graves in northern Iraq were finally laid to rest this week, Kurdish media reported. They were members of Iraq's Yazidi minority, killed by the Islamic State militant group, also known as ISIS, as it rampaged through the community's homelands near Mount Sinjar one year ago, according to Rudaw news agency.
The extremist group, which deems Yazidis to be heretics, massacred several thousand Yazidis and took some 5,000 captive, forcing women and children into sex slavery, according to Yazidi leaders and the United Nations. U.N. human rights investigators said earlier this year their evidence shows that Islamic State militants likely committed genocide, intending "to destroy the Yazidi as a group."
In the year since the massacre began, Yazidi activists and the Kurdish semi-autonomous government in northern Iraq have tried to facilitate the escape of hundreds of captives and make sure a suspected genocide does not go unrecorded. But it is dangerous and difficult work, in a region that is still fending off Islamic State attacks.
The WorldPost spoke to Christoph Wilcke, senior researcher for the Middle East and North Africa at Human Rights Watch, about his work helping to document crimes committed against the Yazidis.
What have you found out through your field work about what happened to the Yazidis since the rise of the Islamic State?

From early on, we've been documenting the onslaught on the Yazidis and the thousands who fled to Sinjar mountain and then to the Kurdish region. Since then we've put a focus on documenting and publicizing the enslavement, captivity and sexual abuse of Yazidi women by ISIS.
You wrote recently about visiting mass graves. What did you find there?
I first tried to help Kurdish authorities get in touch with international experts to document the mass grave sites in January, but when I returned in April I was surprised to find that nothing had happened. So I wanted to go myself and see the state of the graves, the bodies and whether the sites were protected.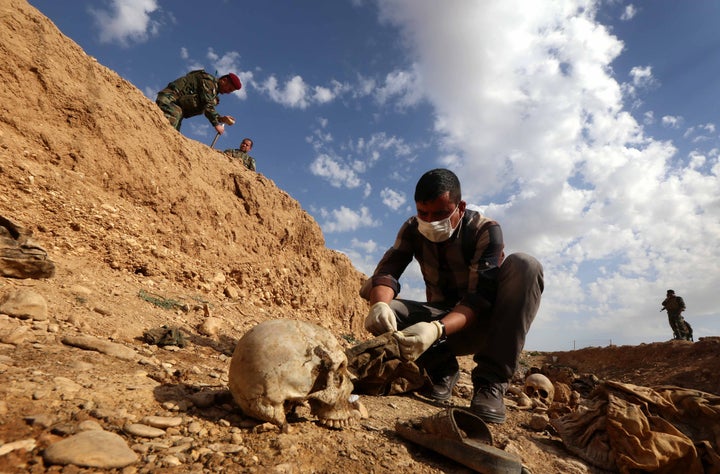 I went to seven mass grave sites with local police and I found there wasn't a single body there. They said the bodies were decomposed and their bones scattered by wild animals, so they had to collect the remains and other evidence and take it to the Forensic Medicine Institute in Dohuk. It's a pity. If they had international experts, they could have done forensic analysis at the site. Now some of that evidence is potentially lost.
The Kurdish side and the Yazidi side both strongly want the bodies identified, buried and to move on.
Who is responsible for collecting the evidence?
The genocide committee in Dohuk [of the Kurdistan Regional Government] is the body taking the statements of the Yazidis who survived enslavement, captivity and sex slavery. A judge records their statements. They are also in charge of protecting the mass graves.
This all took place in Nineveh province, which is technically under the control of [the central Iraqi government in] Baghdad. But the Kurds have long exercised control over the area and expanded it since the rise of ISIS. So, the Baghdad government hasn't set foot in the area. People laugh at me if I ask whether anyone from Baghdad human rights ministry has visited the sites. They say, "For them, we don't exist." People in Baghdad say this was very sad but it's not part of our responsibility and the Kurds are taking care of it.
What about international assistance?
The U.N. called for more protection of the mass grave sites in January, but it's not high on their priority list, which is perhaps understandable given that they are dealing with the current killings.
"The Yazidis are in a kind of personal and collective shock, and just thankful for those who survived."
After my trip in April, I made calls to international organizations to check that no international experts had gone. No one has taken the initiative. And the Kurds haven't prioritized asking for help.
On the one hand, there is a clamor that this was genocide. On the other hand, the effort to gather evidence to make that claim is not really being done.
How likely do you think it is that anyone will be held accountable for crimes against Yazidis?
Should ISIS perpetrators who are foreign nationals end up returning to London, Paris or Washington, that could lead to the start of proceedings. This may be our best bet to capture and try people.
In Iraq, so few ISIS fighters have been captured on the battlefield. There are sleeper cells and sympathizers who have been arrested but they're probably not part of the killing machine. It depends on how much territory Iraq is able to recapture from ISIS. Then they can try Iraqis under Iraqi law. This is not an international armed conflict so they are not prisoners of war.
The adjudication is a matter for the Iraqi authorities. Iraq is not part of the International Criminal Court -- it said it would consider joining but has not. Iraq could enter a case for temporary jurisdiction, for certain crimes during a certain time period, but it has not. There is also no law against genocide or war crimes in Iraqi law.
We hope that there will be accountability. Right now there is a strong sense of collective guilt, that all ISIS are genocidal. In order to move forward, it is important to say this specific person committed a crime. Maybe we will find out that some commanders refused orders. Maybe we will learn something more about the organization. We don't want to label all Sunnis or all Shia or all Kurds guilty. There has to be individual accountability.
What did Yazidi survivors tell you about their hopes for justice?
In my limited interactions, the call for justice was not their first and foremost priority. The Yazidis are in a kind of personal and collective shock, and just thankful for those who survived. Almost every survivor knows a family member or close relative who did not survive or is presumed captured or enslaved. Their highest priority is getting the captives out alive. They want to survive and rebuild. They are waiting for a decisive victory so they can return and resume their lives.
This interview has been edited and condensed for clarity.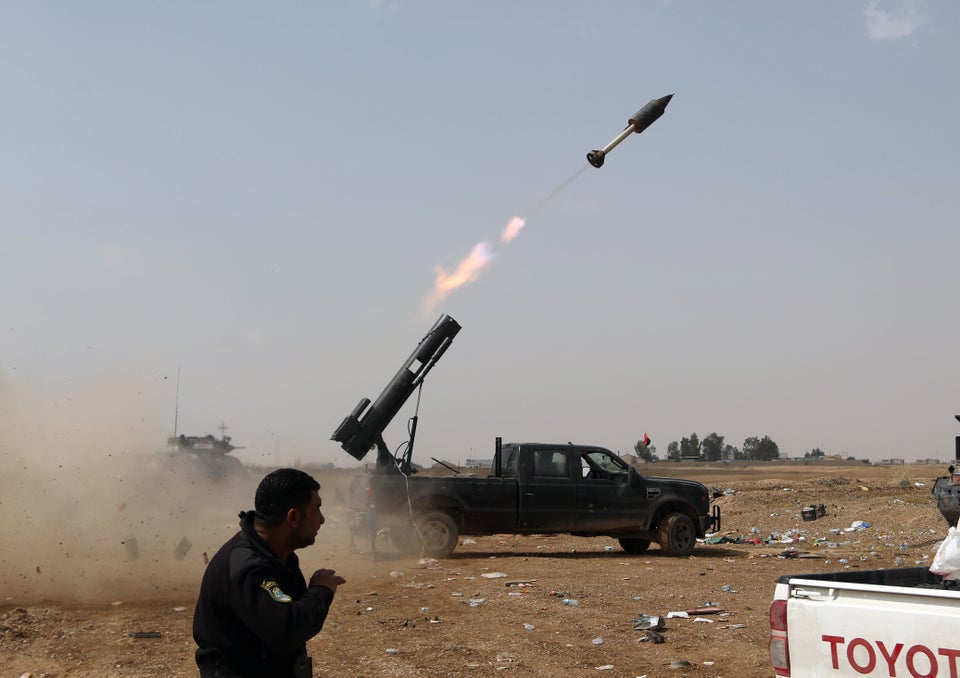 Fighting In Iraq
Support HuffPost
The Stakes Have Never Been Higher
Related
Popular in the Community