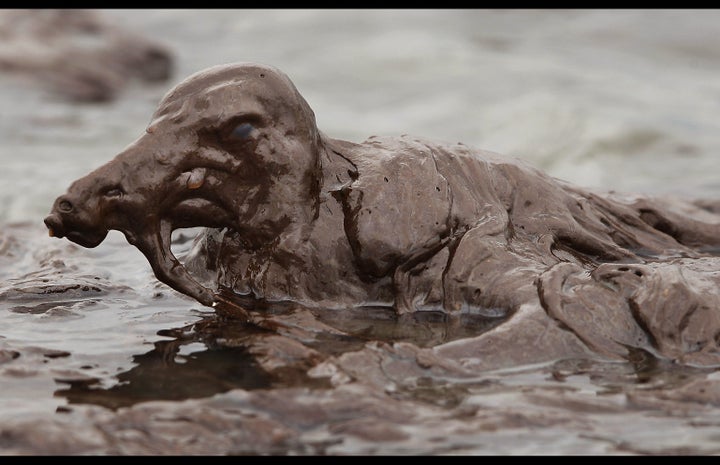 The oil spill in the Gulf of Mexico rests heavily on the hearts of many. Seeing images of pelicans and other sea-life, I feel helpless. Bewildered by the disaster and British Petroleum's sluggish response, I realized how this violation of nature not only speaks volumes about our society's values but also reflects a spiritual crisis.
Being Muslim, environmental stewardship is an instrumental expression of my faith. God bestowed on mankind a covenant to protect the Earth in the role of vicegerent. The natural world is referenced in the Qur'an numerous times as a source of God's signs to mankind of His existence, not only to enjoy but also protect from exploitation. Yet, we continue to abuse the Earth, and I wonder to what extent our actions echo our culpability. We buy into a system that encourages pillaging natural resources, obsessing over consumption and feeling little urgency to take the role of the environment's protector. While the Obama administration has promised the development of alternative energy sources in order to rid us of dependence on foreign oil, long term plans cannot be used in place of immediate action. Short-term results can be achieved when individuals connect how their level of consumption affects the environment and begin to make even the smallest changes.
Representative Don Young, R-Alaska, told USA Today that the oil spill, "is not an environmental disaster, and I will say that again and again because it is a natural phenomenon...We will lose some birds, we will lose some fixed sea life, but overall it will recover." Young is underestimating the damaging repercussions from the incident, minimizing it as a random occurrence of nature when in actuality the spill is destroying an ecosystem. This same sentiment would write off the Bhopal gas leak in 1984 as a natural phenomenon, and the 15,000 people killed as collateral damage. Sadly, in the case of the latter retribution has been slow coming, with the Indian courts just now convicting seven people on extremely lenient terms, many of which were released on bail the same day. Disasters like Bhopal's gas incident and the oil spill wreak havoc on the external world and, by extension, our souls. Our environment reflects ourselves. The clutter of our bedrooms, the disarray of our community spaces and in this case the destruction of a habitat by oil and gas due to human intervention; all reveal the lack of order within us.
Despite the grim picture, many faith leaders and community members are trying to raise the level of conversation on environmental stewardship, both globally and in our local communities. The Inner-City Muslim Action Network is assembling community leaders and activists to talk about ecological crises and our responsibility as caretakers of the Earth. On June 19th in Chicago, Takin' it to the Streets, an urban festival drawing a 20,000 plus crowd, will host dialogue sessions on human rights and creating healthy and sustainable communities, all from a place of spiritual development. On this day, I will be speaking about practical approaches one can take in being more conscious of the environment around them, in hopes of empowering individuals to shed apathy and make changes at the individual and community level, eventually building towards global ecological awareness.
These approaches include contemplating how the spaces we inhabit affect the psyche. The more integrated we feel within, the greater peace we experience. The more selflessness we practice, the more likely we are to take care of the world outside of our heads. By starting within and then moving outward, our actions have the potential of being well-intentioned and less self-serving. This approach might have helped BP, Warren Anderson and many others make decisions that didn't kill people and destroy the environment.
It all comes down to choice. Will we opt to feel connected and whole with the world around us? Or will we select a path void of thought, reflection and spirituality? If we don't shed greed and apathy, not only is the Earth at stake but so is our well-being.
Calling all HuffPost superfans!
Sign up for membership to become a founding member and help shape HuffPost's next chapter