But on Sunday, the hate Holy Islamberg expected from an anti-Muslim rally was overshadowed by an outpouring of love and support from their interfaith neighbors.
On a Facebook page for the event, advertised as a "Ride for National Security," the group called on bikers to join them in protest against Islamberg, claiming the town had links to terrorist organizations. Law enforcement officials have dismissed theories that members of the town have violent intentions.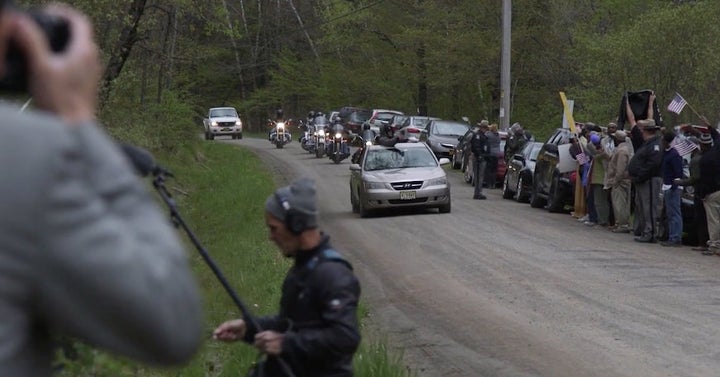 Instead, Islamberg's 200 residents were surrounded by hundreds who traveled to the town to participate in a counter rally for peace. They held up signs and waved American flags as the bikers rode by.
After the rally, the counter protestors banded together for a luncheon, a series of talks, and a tour of the town and its mosque.
Islamberg officials told the Guardian that the peace rally was proposed by people who did not live in the town and who found details about the bike rally online.
Dr. Bilqees Abdullah, a resident of Islamberg for about 30 years, said that the show of support from the local community was "heartwarming."
"To see so many people come and join and actually say: 'This isn't right, this isn't fair, and we're not going for it,' it's wonderful. Very wonderful," she told The Guardian.
The local chapter of the NAACP reportedly chartered two buses to help counter protesters get to Islamberg. Michelle Osterhoudt, the education chair for the chapter, told The Huffington Post that it was important for her to support Islamberg's residents because "they have been target of hate for over 10 years now."
"I hope that by showing up in such a large group, we could show the nation, and perhaps the world,that peace and love prevail," Osterhoudt told HuffPost in an email. "I can now speak on the behalf of my Islamberg friends and let everyone know what I always believed to be true: the residents of Islamberg are a peaceful community with families just like yours and mine."
Islamberg is the headquarters of Muslims of America, an organization founded on the teachings of a Pakistani Sufi cleric named Mubarik Ali Shah Gilani who in the 1980s encouraged his followers to leave urban areas to create religious communities in rural areas. The group has helped establish more than a dozen towns across the nation.
This isn't the first time bikers anti-Muslim groups have planned and failed to muster up support for rallies at Muslim American sites. In October 2015, armed protestors tried to set up hate rallies at mosques and Muslim community centers around America. The majority of these events were canceled and in the end, the rallies ended up encouraging interfaith activists in local communities to show up in force to show their solidarity for their Muslim neighbors.
Popular in the Community