NEW YORK -- Standing in the grand entrance hall of the The Metropolitan Museum of Art on Tuesday, Navina Haidar shuffled between nervousness and glee as she watched visitors walk up the building's majestic stairs and decide where to begin their journey. The choices are vast at the museum, a four-block complex that holds art from antiquity to the 20th century. But for many visitors on Tuesday, Islam-inspired art was the attraction.
The 15 galleries -- which now span 19,000 square feet, almost a third more than before the reopening -- range from displays of palatial Persian carpets and Quranic calligraphy to pottery, silver work, wood carvings and mosaics. In all, the galleries display around 1,200 art pieces covering over a millennium of Islamic culture and conquest.
In a series of preview receptions that led up the galleries' public unveiling, some of the largest pieces were popular attractions, including a 11-foot high 14-century Iranian prayer niche (which was part of the previous Islamic Wing, but is featured more prominently now) and "The Damascus Room," an intact 18th-century reception room from an upper-class Syrian home.
Many of the pieces, drawn from the The Met's 12,000-piece permanent Islamic art collection, are ones that the public has never seen. In one case, a large Moroccan courtyard with intricately carved arches and a fountain was created by Moroccan craftsmen specifically for The Met.
"Islamic art is not just the heritage of the Islamic word, but the heritage of the world," says Haidar, curator and coordinator for the new galleries, when asked of her vision for the new exhibits. "We have to get away from the idea of this monolithic culture of Islam and go toward really embracing diversity."
The diversity shows, in part, through the extensive cataloguing of various Islamic dynasties and empires from which much of the art comes. That includes the Sasanian, Umayyad, Ghaznavid, Fatimid, Zangid and Mamluk, to name a few. The galleries, which will change every four months, also include a section that is temporarily dedicated to the well-off and largely American collectors who donated many works to the museum over the decades.
The Met's original Islamic Wing, which opened in 1975 and was left largely unchanged in its presentation until the renovation, "pushed an Islamic argument with a whole experience that was much more linear, with the diversity of places subsumed to a chronology of Islam," says Haidar. In contrast, today's galleries, which purposely lack the word "Islam" in their title, present Islamic art from seventh century Damascus and Baghdad to Moorish Spain, the Ottoman Empire and 16th century South Asia in thematic flows that allow visitors to meander to and from various periods "out of order." They also incorporate influences of other religions and artistic periods on Islamic arts.
For example, in a gallery dedicated to art from Spain, North Africa and the Western Mediterranean, a small, 15th-century Hebrew Bible is on display. A Sephardic scribe, Moshe b. Ya'akov Qalif, wrote the text, which to the unknowing eye may be confused for a Quran because of its intricate illuminations. In another example, a gallery dedicated to South Asia during the Mughal period when Muslim kings -- and later Anglican Britons -- ruled a majority-Hindu Indian subcontinent, Hindu gods are prominently displayed alongside more clearly Islamic art depicting Muslim emperors. Such mixing was rare in previous Islamic showcases at the museum, where Mughal art would be in the Islamic wing and Hindu art would be in a separate Asian wing.
"We can't just separate 'Islamic' art from the subcontinent, just as we can't take the Christian and Roman influence out of Syria, which has some of the best sites from those cultures and periods," says Haidar.
The curator, who eagerly points out that the galleries are not just about the art itself but an attempt to showcase a more expansive version of Islam than what has often made headlines post-9/11, also sees a part of herself in The Met's latest offering.
Raised in New Delhi by a Hindu mother and a Muslim father, Haider married a Lebanese Christian, and her extended family includes Parsis, the name for South Asian adherents of members of the ancient Zoroastrian religion.
"My personal life is filled with a lot of religious mixture on many levels that has allowed me to be more flexible in my thinking," she says. "I reflect a kind of person who is quite globalized, which is a moment that we are moving toward in these exhibits with a communications explosion, with many resources between people and many points of view."
See a sampling of art on display at The Met's newest galleries in the slideshow below.
Before You Go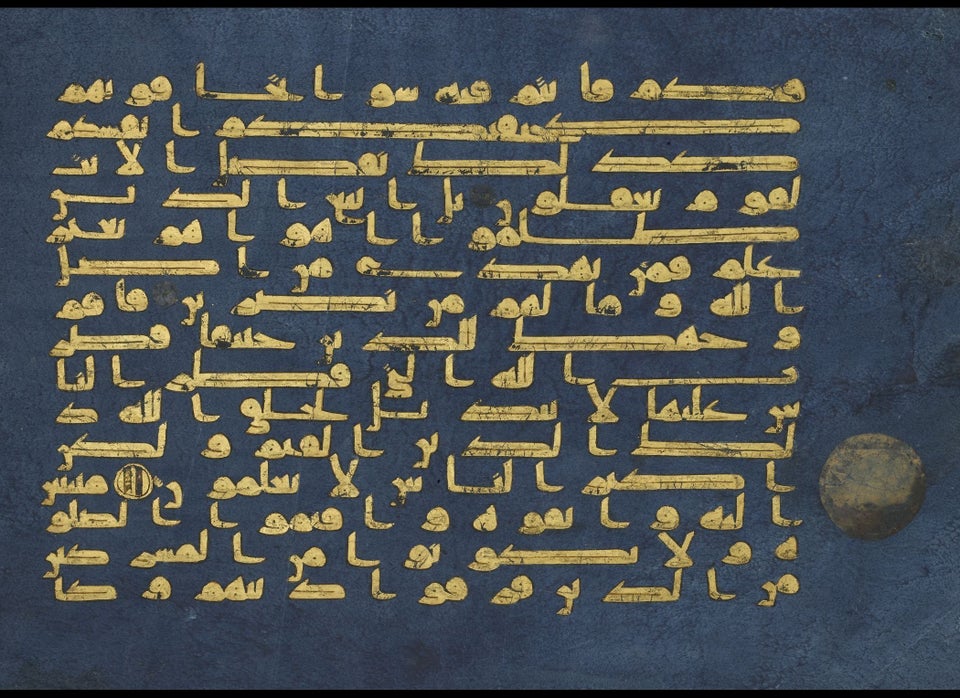 Met Islamic Art Section
Popular in the Community