Muslim clergy issued a bold Declaration on climate change at the Islamic Climate Change Symposium this week, as the Huffington Post recently reported. I had the honor of participating in the Symposium in Istanbul and speaking as the Jewish representative in the interfaith session of the event.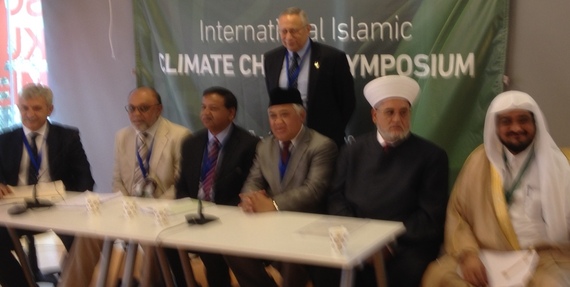 Istanbul served as a fitting venue for the Symposium, since it reveals many of the causes of and solutions to climate change. Home to fourteen million people, it is Europe's largest city, the fifth largest city in the world, and has grown ten-fold since 1950. Its metro is the third largest in the world, with 800,000 daily riders, and a separate Metrobus system has 600,000 daily riders. Car ownership is low compared to elsewhere in Europe, with 75% of the population relying on alternative forms of transportation. Yet, according to the World Bank, Istanbul's sulfur dioxide combined with its vehicular and industrial air pollution makes it the seventh most polluted city in the world. Istanbul has been engaged in a fast rate of economic growth for the past 20 years and boasts the largest number of shopping malls of any European city.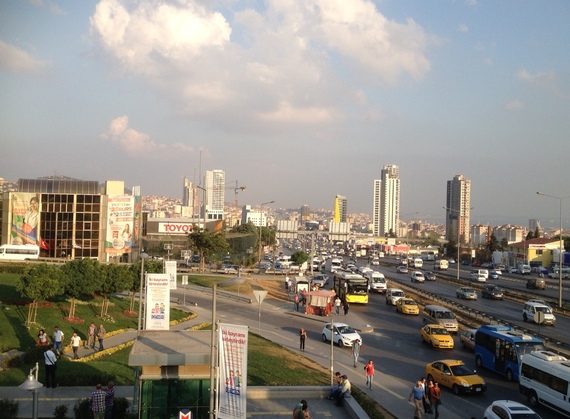 Istanbul also likely has the greatest number of vendors standing between lanes of car traffic selling water on a hot August day. Undoubtedly, some of these vendors are among the 1.7 million Syrian refugees Turkey has absorbed due to the neighboring conflict. A recent scientific study contends that the war started in part due to a four-year drought exacerbated by climate change. Thomas Friedman reminds us today of the way climate change is impacting the Middle East in his eye-opening piece, "The World's Hot Spot."
A Muslim megacity that is growing rapidly in population and material wealth - two main drivers of climate change - therefore served as an apt site for an Islamic Climate Change Symposium. The Symposium centered upon the launch of the Islamic Climate Change Declaration. Muslim clerics gathered with clergy of other faiths to offer, in the words of the Declaration, an "urgent and radical reappraisal" of modern society. The Symposium delivered a moral call to change course. The Declaration stated, "We note with alarm the combined impacts of rising per capita consumption combined with the rising human population" (p. 2).
The Declaration was put forth as a Muslim teaching on care for our common home, exactly two months after the release of Pope Francis' groundbreaking Encyclical, Laudato Si. A Catholic symposium on climate change: People and Planet First, took place in late June, organized by the Pontifical Council for Justice and Peace and CIDSE.
The Islamic Declaration reads with a similar air of spiritual richness and scientific calculation as Laudato Si, although it is less lengthy, and the world's 1.7 billion Muslims do not recognize a unifying religious authority like the Pope. Nevertheless, three Grand Muftis, clerics from Saudi Arabia, Lebanon, and Indonesia endorsed the Islamic Declaration on Climate Change and spoke at the Symposium. Speaker information can be viewed here.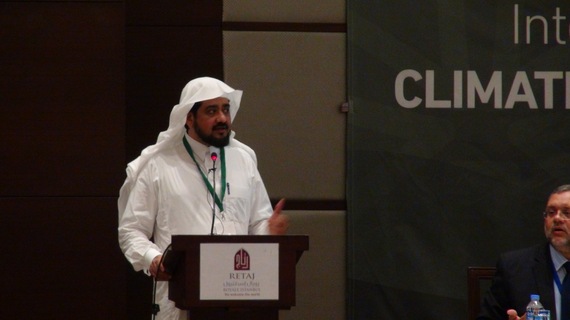 The Declaration was written by an international group of Islamic scholars, with a vision to draw on their ancient tradition to provide solutions to the modern crisis of climate change. These scholars include Prof. Din Syamsuddin, President of the Indonesian Ulama (Islamic Scholars) Council, representing Indonesia's 200 million Muslims, and Fazlun Khalid, founder of the Islamic Foundation for Ecology and Environment Sciences (IFEES). The Symposium was co-organized by IFEES, GreenFaith, and Islamic Relief Worldwide, and drew significant international figures, including the Assistant Secretary General of the United Nations, Ibrahim Thiaw.
The Declaration incorporates this excerpt from the Koran: "Corruption has appeared on land and sea. Because of what people's own hands have wrought, so that they may taste something of what they have done; so that hopefully they will turn back" (30:41). Based on this, the Declaration states,
We recognize the corruption (fasad) that humans have caused on the Earth due to our relentless pursuit of economic growth and consumption. Its consequences have been--
• Global climate change, which is our present concern, in addition to:
• Contamination and befoulment of the atmosphere, land, inland water systems, and seas;
• Soil erosion, deforestation and desertification;
• Destruction, degradation, and fragmentation of the habitats of the earth's communities of life, with devastation of some of the most biologically diverse and productive ecosystems such as rainforests, freshwater wetlands, and coral reefs;
• Impairment of ecosystem benefits and services;
• Introduction of invasive alien species and genetically modified organisms;
• Damage to human health, including a host of modern-day diseases.
Notably the Declaration also states, "We call on the people of all nations and their leaders to...Realize that to chase after unlimited economic growth in a planet that is finite and already overloaded is not viable. Growth must be pursued wisely and in moderation", and "We call upon corporations, finance, and the business sector to change from the current business model which is based on an unsustainable escalating economy, and to adopt a circular economy that is wholly sustainable."
I am impressed by the breadth and profundity of what is written in this Declaration. It is not only about climate change, but about 'care for our common home' in a broad sense. It reminds me of a teaching of Rabbi Eliyahu Dessler: "Human beings believe, in their arrogance, that if they continue developing the world on the basis of an ever-expanding science and technology, they will eventually achieve an environment that will afford everyone unlimited gratification of the senses and a life of untrammeled ease and pleasure. There can be no greater error than this."
The organization that I founded and direct, the Interfaith Center for Sustainable Development, will soon present the Arabic version of the Declaration to the Grand Mufti of Jerusalem.
To quote Rabbi Lord Jonathan Sacks, I was "witness to the dignity of difference and the power of faith to heal a fractured world." I am proud to have taken part in this significant step forward for the world's Muslims and all of humanity, and to find common cause with my Muslim brothers and sisters in faith to enable our children to inherit a livable planet.
Sarah Lyons and Dalia Gladstein contributed to this post. Nick Breeze provided photo content.
Calling all HuffPost superfans!
Sign up for membership to become a founding member and help shape HuffPost's next chapter