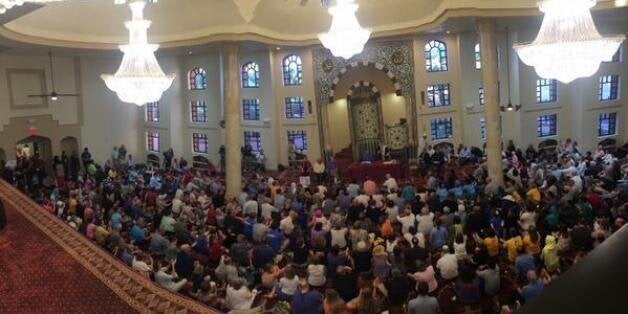 Arizona's interfaith community is standing with its Muslim brothers and sisters.
Religious leaders gathered at the Islamic Community Center of Phoenix on Monday evening for a solidarity vigil against a group of armed bikers trying to spread an anti-Muslim message.
The bikers' "Freedom of Speech Rally Round II" and accompanying "draw Muhammad" contest were organized by Jon Ritzheimer, an ex-Marine. His group may have intended to send a message of hate to the mosque's 800 members, but churches and synagogues in Phoenix were determined to reject that hate with a powerful show of love.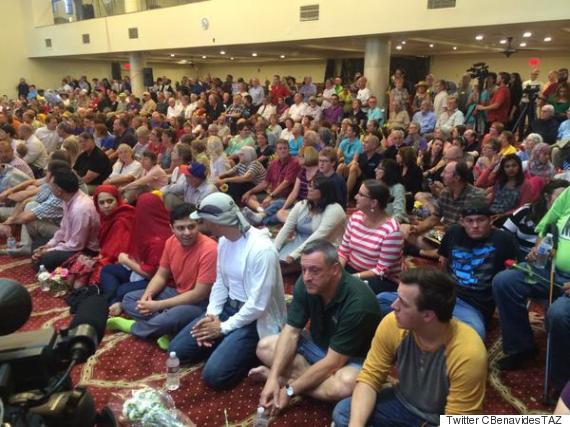 "There's a movement to tear down and separate out our community, but I'd like people to understand that we are stronger together," said the Rev. Erin Tamayo, executive director of the Arizona Faith Network, one of the organizations behind the vigil. "We are one, even though we are different."
Monday's vigil was organized by more than 20 groups including the Arizona Interfaith Movement and the Anti-Defamation League and drew about 200 participants, according to Reuters. The event featured a number of speakers and a time for attendees to meet and greet. Community members also left flowers at the mosque, filling the house of worship with "peace, love and care," Tamayo said, instead of the negative messages the mosque has received in the past.
Usama Shami, president of the ICC of Phoenix, said that he's been getting calls and emails of support from his neighborhood and from around the world.
"What this shows is that these bigots are the exception," Shami told The Huffington Post. "This hate is the exception. A lot of people don't have the same faith, but when it comes to the freedom to worship, the faith community as a whole stands shoulder to shoulder."
Shami said he was particularly heartened by the support of members from the Orangewood Church of the Nazarene, a Christian community that is located less than a mile away from the mosque. Relations between these two organizations have been strong for years -- the two groups have volunteered together and organized a peace walk to commemorate the 10th anniversary of the Sept. 11 attacks.
Adam Estle, an Orangewood member, is the executive director of Evangelicals for Middle East Understanding, an organization that tries to build bridges between American evangelicals and the people of the Middle East.
"These are my friends and my neighbors," Estle told HuffPost about the Islamic Community Center of Phoenix. "And there's not a question in my mind that if the tables were reversed, they'd do the same thing for me."
Related
Popular in the Community