Across the country Wednesday morning, millions of Muslim Americans, and those perceived to be Muslim, woke up in a country where the next president thinks "Islam hates us." 
At Georgetown University, junior Naaz Modan woke up to a text message: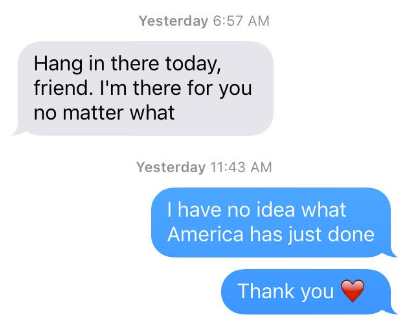 Walking on campus later that day, Modan said two non-Muslim friends hugged her and she cried into their shoulders. That evening, another friend texted her: "How you doing? Love you." 
In San Francisco, Suzanne Barakat ― whose brother Deah, sister-in-law Yusor, and Yusor's sister Razan were all murdered last year because of their faith ― said she woke up Wednesday morning never having "felt so alone and unwanted and hated in my own country." 
Then she received a flurry of emails and texts from non-Muslim friends and colleagues. She told The Huffington Post that all the messages expressed the same sentiment: "I'm thinking of you and I'm with you and we will not let hate win."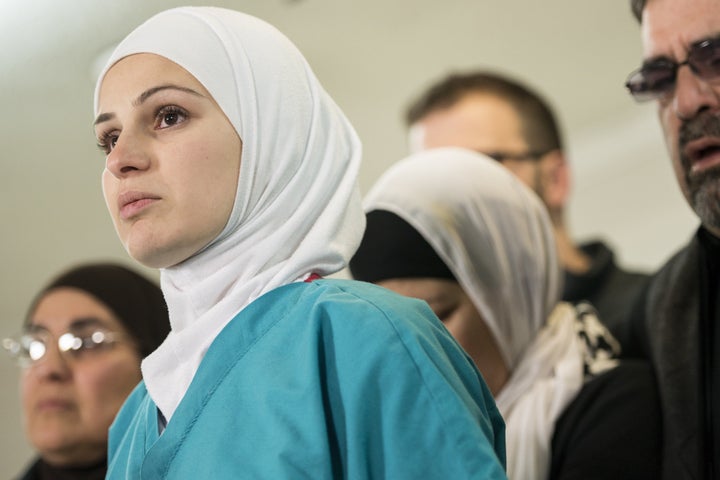 In New York, Sarah Harvard, a staff writer at Mic who happens to be Muslim, said she "woke up with a frightening sense of uncertainty – the uncertainty of not knowing whether or not I will have a home in three months." Then she checked her inbox. 
"I will come over and we can cry together. You are wanted. You are valued," read one message. 
"I love you and if you ever need a safe place I'm here," read another. 
When she got into the office, she said Mic co-founder Jake Horowitz gave her "a warm hug, asked how I was holding up, reassured me that my voice matters more now than ever before and that we were all in this together."
"I became emotional then," she said. "For nearly a year, I have been writing about women like me set on fire, Muslim kids bullied, mosques burnt to the ground, imams killed execution-style and a president-elect proposing a Muslim registry, all while facing the relentless online attacks from Islamophobic Trump supporters."
Also in New York, Simran Jeet Singh woke up to messages of love. Just days earlier, Singh, a senior religion fellow at the Sikh Coalition, had been called a "dirty Muslim" and "ISIS" while running the New York City Marathon. 
Singh and people of the Sikh faith ― a religion separate and distinct from Islam― are often the targets of anti-Muslim attacks and prejudice.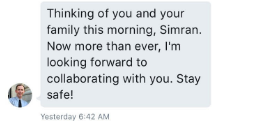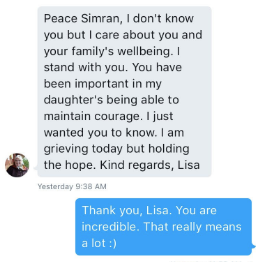 He has proposed banning Muslims from entering the country, called for a national database of Muslims and said that mosques should be surveilled and Muslims should be profiled. 
And his campaign has corresponded ― not coincidentally ― with a steep rise in crimes targeting Muslims because of their faith. On Wednesday there were reports on Twitter of Muslims and other minorities being assaulted and harassed by those who want to Make America Great Again. 
"The fear we have is real," said Modan, the Georgetown student, who wears a hijab and writes for the website Muslim Girl. 
"These are just a few things non-Muslims will never understand or feel," she said. "They don't know what it's like to step outside the house and have to put on a game-face―we have to be prepared to be on the defensive from the time we leave until the time we return home."
What non-Muslims can do for their Muslim neighbors, Modan said, is offer "their help and shoulder." 
"It might sound too simple or easy, but something small like that really does go a long way," she said, adding that the show of support she received Wednesday gave her "hope that the country that disowned me still had people in it who wanted me back."
Invite your pro-Trump friends, co-workers, or relatives to a meal or coffee with your Muslim friends."
Nazir Harb Michel, who studies Islamophobia as a senior research fellow at Georgetown's Bridge Initiative, said he and his wife woke up Wednesday morning to an email from a Christian friend.
"Do not fear!" it read. "You are walking threats to Islamophobia; you win others over by the lovely people you are. We love you guys."
Messages like that matter, he said.
"If America were a playground today, Muslims would be the kid sitting off in the corner trying not to be noticed because she was bullied earlier for wearing a hijab," he said. 
"The bully would be Donald Trump and his supporters. Non-Muslim allies, you're the cool kid - the one with the perfect hair and clothes," he continued. "You're the only kid who can stand up to the bully. You can, and need to, go find the Muslim girl hiding in the corner and tap her on the shoulder."
"When she turns around, you extend a hand and invite her to play or to sit at the lunch table with you. By doing that, you've changed her life. You've beat the bully. It sounds so simple - too simple maybe, but it's the most important, profound thing you can do. It's everything." 
"Invite your pro-Trump friends, co-workers, or relatives to a meal or coffee with your Muslim friends," he said. "Invite a Muslim to Thanksgiving with your family where your more conservative relatives may be in attendance. Talk to your priests, rabbis, ministers, professors, directors, and community leaders to invite them to an event where they can meet Americans who are Muslim. Bring Muslims with you to the gatherings where they might be able to meet people who have never met Muslims but think they know enough about Islam to be fearful and even hateful."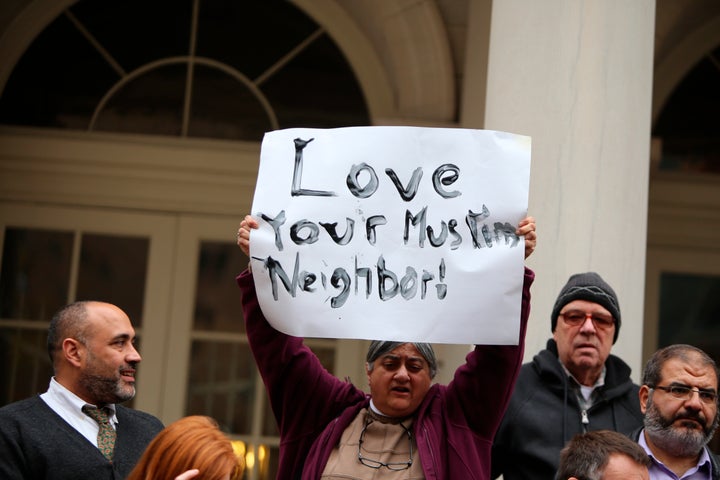 Catherine Orsborn is campaign director for Shoulder to Shoulder, an interfaith organization dedicated to ending anti-Muslim sentiment. She thinks it's "important for non-Muslims to publicly show their support for their Muslim neighbors."
"I know a woman in Kentucky who wrote "Love over Hate" in chalk on her driveway this morning and made cookies for a Muslim neighbor," Orsborn said. "More public displays of solidarity are important too: solidarity banners for Houses of Worship, and "I <3 my Muslim neighbor" yard signs are two good options for that."
Qasim Rashid, a lawyer and Islamic Studies Fellow at Harvard University, said "words of comfort are helpful but I believe solidarity is about educating yourself and taking action." 
Rashid says he's been asking allies to take part in the True Islam program, an effort by the Ahmadiyya Muslim Community USA, "to educate themselves on what Islam stands for and support the campaign by joining the effort, signing their name, and educating their circle." 
Jordan Denari Duffner, a Christian research fellow at the Bridge Initiative, said non-Muslims with kids should "reach out to moms and dads of Muslim kids at school and organize a playdate.
"There have been many concerning cases of anti-Muslim bullying at schools in recent months, and parents will be grateful for their kids to have allies in the classroom and on the playground," she said.
Ultimately, Duffner said, "the best ally you can be is the one your Muslim friends need you to be. One friend asked me to simply pray for him and his young family." 
Being an ally, Duffner added, means "stepping beyond our usual day-to-day habits, outside of our comfort zones, and into situations of risk."
"We allies must ask ourselves how far our ally-ship will go," she continued. "Proposals to ban Muslims, put them in internment camps, and close down their houses of worship once seemed to be impossible, if scary, scenarios."
"But a Donald Trump presidency was also thought to be impossible."
The Huffington Post is documenting the rising wave of anti-Muslim bigotry and violence in America. Take a stand against hate.
Calling all HuffPost superfans!
Sign up for membership to become a founding member and help shape HuffPost's next chapter