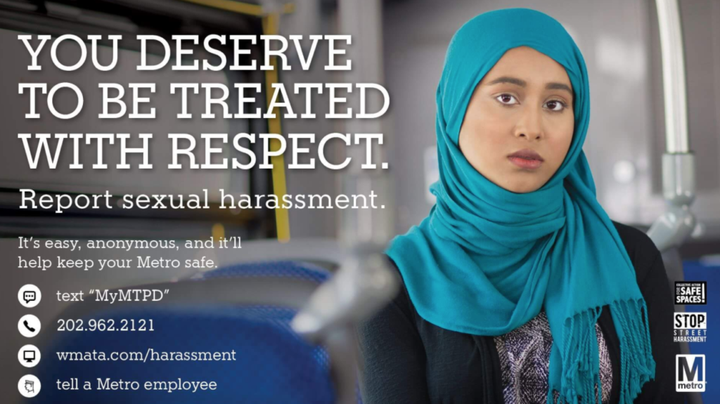 In 2016, Washington, DC became associated with buzzwords and catch phrases like 'drain the swamp' and 'cartel,' functioning as a metonym for Congress and the highest levels of the nation's political power.
What this depiction fails to capture, however, are the city's communities, residents, and their cumulative lived experiences. Namely, the nearly 660,000 Washingtonians – 2 percent of whom are Muslim – who live in the District of Columbia.
With this in mind, how has Islamophobia impacted Washingtonians and District communities in 2016? What were the instances of hate? And, perhaps more importantly, what were the communities' responses?
Standing with Our Muslim Neighbors: A Workshop for Allies in DC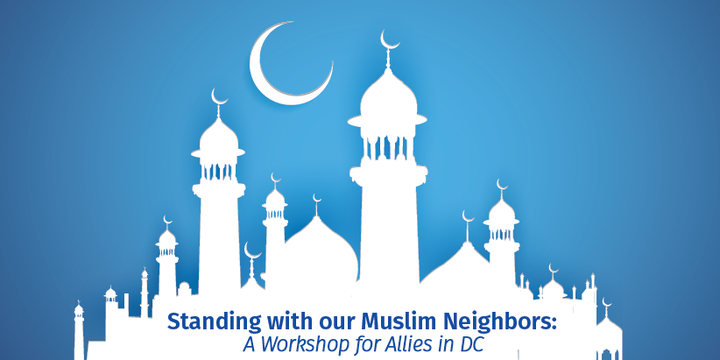 On March 9th, the DC Office of Human Rights, with Shoulder-to-Shoulder, an interfaith organization dedicated to ending anti-Muslim sentiment, and Georgetown University Law Center, hosted a panel discussion and workshop on Islamophobia. According to the stated aims of the workshop organizers, "attendees will leave the training with concrete steps they can take to counter Islamophobia and increase mutual understanding and respect in the District."
Harassment & Rally at the Watha T. Daniel/Shaw Library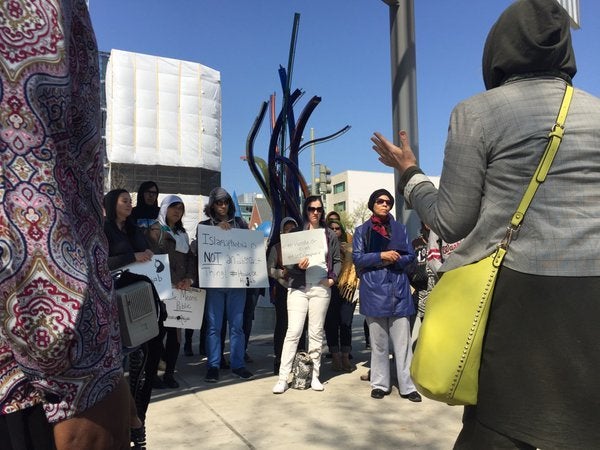 On March 23rd, a library officer at the Watha T. Daniel/Shaw Library, a DC public library, asked a patron to either remove her hijab or leave. When the woman objected, eyewitnesses reported that the officer took out his handcuffs, as if to suggest that the woman would face arrest for failing to comply with his order. The woman left the library.
In response to public outcry surrounding the incident, the DC Public Library (DCPL) Executive Director commented that it was "an isolated incident." As national figures demonstrate, however, incidents of harassment, intimidation and even violence against Muslims and those perceived to be have been far from "isolated."
That weekend, in response to the incident and DCPL's lack of what members of the community deemed an appropriate response, local advocacy groups Collective Action for Safe Spaces (CASS), Muslim American Women's Policy Forum (MAWPF) and Many Languages One Voice (MLOV) organized a rally outside the library to call on DCPL to take action against the offending officer, as well to implement new training policies for its employees.
Testimony at the DC Council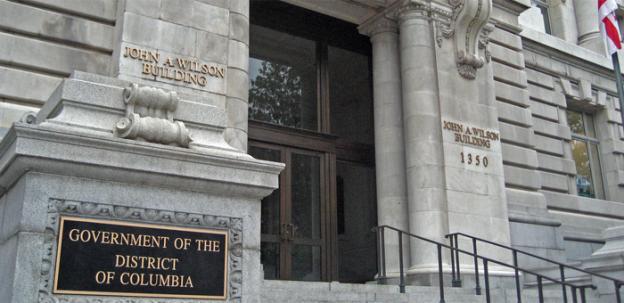 A few short weeks later, on April 13th, members of the community convened at the City Council building to testify at a budget hearing that included discussions of the DCPL. Residents voiced their concerns over the incident at the Watha T. Daniel/Shaw Library and put forward policy recommendations written by the community organizers who organized the rally (see above). They included:
Develop a public awareness campaign to demonstrate that the DC Public Library is a safe and welcoming space for people of all racial, ethnic, religious, and gender identities.
Implement an accessible system to report cases of bias, discrimination, harassment, and bullying by DC Public Library staff and officers.
Expand current diversity training to directly address anti-black racism and Islamophobia.
Convene a joint DC government Listening Session that invites Muslim communities, which includes all various ethnicities and racial groups to discuss ways they experience discrimination, bias, racism, and Islamophobia in the District.
Hate Crime at a Chevy Chase Starbucks
Just one week later, on April 21st, another Islamophobic incident occurred, this time outside a Starbucks in Chevy Chase. There, a passerby berated and verbally harassed a Muslim woman. The woman called the police. The officer who was dispatched to the scene informed her that no action could be taken over exchanged words. After the officer left, the perpetrator returned and poured an unknown liquid on the woman's head. During the commission of this attack, the assailant identified herself as a Trump supporter.
The Metropolitan Police Department is currently investigating the incident as a hate crime and asks that the public call (202) 727-9099 for any information related to this incident.
#FastWithDCMuslims with the DC Office of Human Rights

As Ramadan approached and Muslim Washingtonians prepared for its 30 days of fasting, reflecting, and festiveness, the DC Office of Human Rights with KARAMAH: Muslim Women Lawyers for Human Rights, organized a campaign called "Fast with DC Muslims." The campaign functioned as a pledge to fast on June 29th in solidarity with fellow Muslim residents. According to OHR Director Mónica Palacio,
The vast majority of District residents support their Muslim neighbors and appreciate their contributions to the District, however media and political rhetoric often create misperceptions that can lead to discrimination. That is why on June 29th, we are asking allies and those wanting to become allies to join Muslims in fasting, and to spend the day sharing information with colleagues, family and friends about the vibrant and diverse Muslim community in DC.
CM Brianne Nadeau's Resolution against Anti-Muslim Bigotry

After a long, humid summer, Washingtonians welcomed back their DC Council Members on September 20th. The first item on the agenda for discussion was a resolution submitted by Ward 1 Council Member Brianne Nadeau condemning anti-Muslim bigotry. The resolution can be found in-full here. It was adopted unanimously by the Council.
Physical Assault at DuPont Circle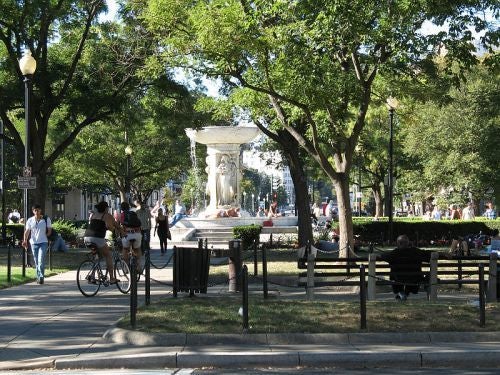 Ten days later, on a Friday afternoon on September 30th, a man made his way towards the DuPont metro station. He was on his way to deliver a sermon for Friday prayer and was wearing what he himself described as "traditional Muslim garb." A man suddenly approached him and punched him in the throat. The man who was attacked believes it was because of the way he was dressed.
WMATA Anti-Harassment Ads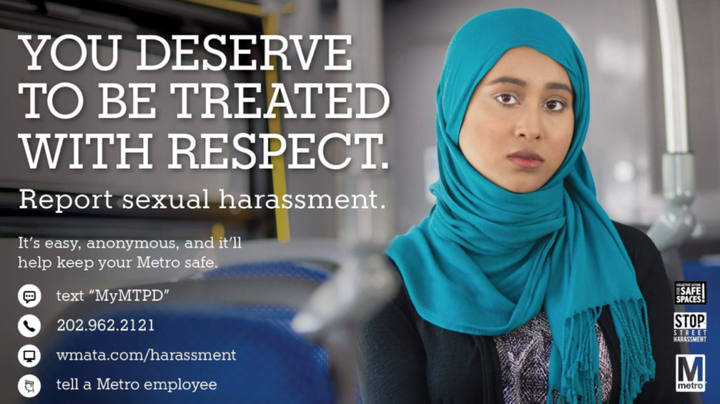 In November, the Collective Action for Safe Spaces (CASS), Stop Street Harassment and the Washington Metropolitan Area Transit Authority (WMATA) launched a new anti-harassment campaign that targeted the Metro and Metrobus system with anti-harassment posters.
They read, "You deserve to be treated with respect" and have a three-fold aim: 1) support people who experience harassment; 2) promote a culture of bystander intervention; and 3) elevate our city's most marginalized identities.
Elaborating on the third point, the campaign "[features] the faces of people who are part of marginalized groups, such as trans women of color and Muslim women, who face harassment most severely and most frequently."
MN Representative-Elect Verbally Assaulted in DC Cab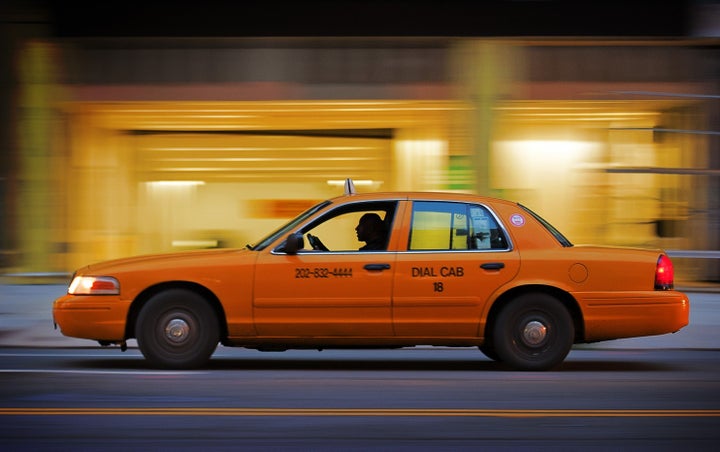 Recently elected state representative of Minnesota, Ilhan Omar, was in Washington, DC on December 6th for a White House meeting. After the meeting, she hailed a cab back to her hotel. During this ride, she reported that the driver verbally assaulted her with vulgar, sexist remarks, called her "ISIS" and threatened to remove her hijab.
Formation of DC Justice for Muslims Coalition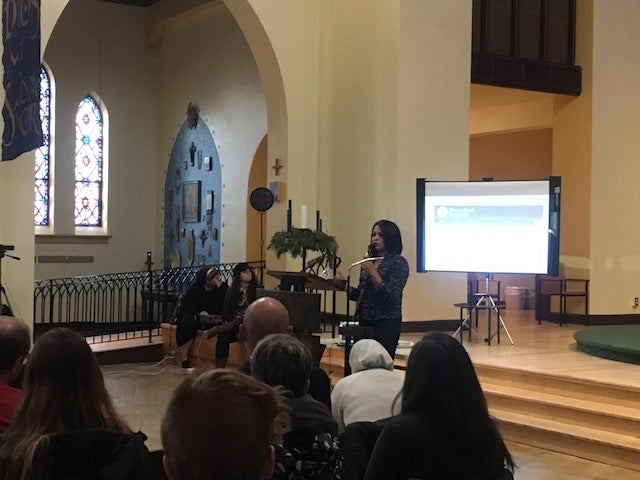 In December 2016, a collaboration of local activist and advocacy groups launched the DC Justice for Muslims Coalition, founded by the Washington Peace Center, the Muslim American Women's Policy Forum, Collective Action for Safe Spaces, the National Coalition to Protect Civil Freedoms, and Hindus for Justice.
In 2016, the Coalition organized a teach-in on the now dismantled National Security Entry-Exit Registration System (NSEERS). Additionally, directors of some of the founding organizations spoke at a November rally to dismantle NSEERS with MoveOn.org, as well as a rally against Islamophobia organized by the DC Metro chapter of Jewish Voice for Peace in late December.
Popular in the Community