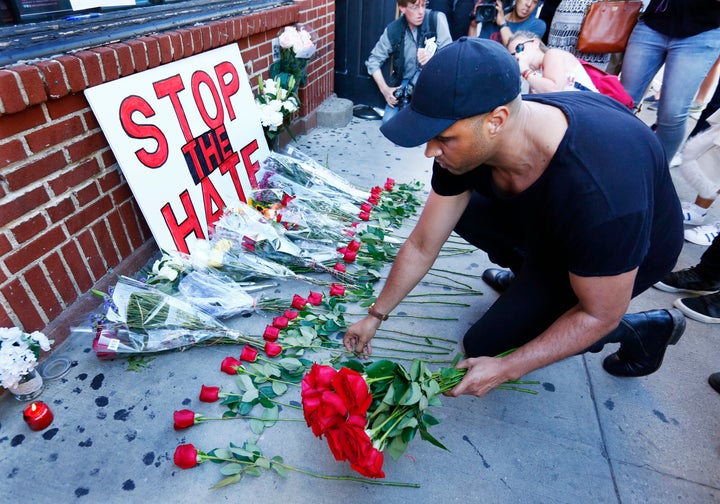 But a New York City woman is reminding us of how much good and love there remains in our communities, with a moving Facebook post she published this week.
Amaira Hasan, 25, was on the train on her way to work on Monday morning when an unidentified white man wheeling a baby in a stroller entered and began yelling at two Muslim women wearing hijabs.
He told the "two terrorist foreigners to go back to where they came from," Hasan wrote in her Facebook post. "The man insisted that the two women go back home and take their bombs with them."
The train erupted in anger as a diverse group of passengers confronted the man, Hasan said.
"A black man, a Romanian, a gay man, a bunch of Asians, and a score of others came to [the women's] defense demanding that this man leave these women alone and get off this train," Hasan wrote.
Hasan told the New York Daily News that the man quieted down after one passenger told him pointedly: "This is New York City. The most diverse place in the world. And in New York, we protect our own and we don't give a fuck what anyone looks like or who they love, or any of those things. It's time for you to leave these women alone, Sir."
Hasan said the man soon got off the train, though it's unclear if a train conductor was involved in his departure. The Metropolitan Transportation Authority told DNA Info that it had no record of the incident.
Hasan, who practices Islam but does not wear a hijab, said she was extremely proud to see her fellow New Yorkers standing up for two strangers, especially given the current climate.
Hasan's story is one example of how people have been challenging hate in the wake of the Orlando tragedy.
LGBT activist Jacob Tobia penned a Facebook post condemning Islamophobia hours after the hours after shooting in Pulse, a gay nightclub in Orlando, on Sunday. It has since gone viral.
Also on Sunday, as his family awaited news of his sister, who had gone to Pulse with friends, Brian Alvear reminded people on social media to not blindly cast blame.
"Listen I know a lot is happening and this a horrible thing and my family is dealing with it firsthand, but don't you fucking dare blame this on a group of people, this was 1 sick mother fucker. Don't blame anything but that," he wrote.
"I know my sister and I know my parents and I know me, and we don't want to spread a message of hate," Alvear told ABC News in a later interview. Amanda would've wanted the family to "unify in love," he stressed.
REAL LIFE. REAL NEWS. REAL VOICES.
Help us tell more of the stories that matter from voices that too often remain unheard.
BEFORE YOU GO
PHOTO GALLERY
Vigils Held In Honor Of Victims Of Orlando Nightclub Shooting