A new study on Islamophobia in 27 European countries offers evidence of how the phenomenon is thriving, threatening ideals of diversity and democracy across the continent and inspiring acts of anti-Muslim violence.
"Muslims are seen as the enemy 'within,'" editors Enes Bayrakli and Farid Hafez write. "Thus, physical attacks and political restrictions can often be carried out and even defended in an atmosphere of wide distrust and enmity. Islamophobia is by no means confined to the working poor or the middle class, who have been misinformed about Islam and Muslims. It is especially true for the so-called educated elite. Discriminating policies like the ban of the hijab for certain professions, the ban of the niqab in public, bans of minarets and other laws restricting Muslims' freedom of religion speak volumes."
This is the second edition of the report. In introducing the concept in 2016, the editors noted that most member countries of the Organization for Cooperation and Security in Europe, or OCSE, did not collect official information on hate crimes against Muslims. They said they wanted to explore discrimination in matters beyond physical and verbal abuse and immigration policy, looking at the ways people suffer because of their association with Islam in overlooked areas like employment, school curricula and cyberspace.
"Criticism of Muslims or of the Islamic religion is not necessarily Islamophobic. Islamophobia is about a dominant group of people aiming at seizing, stabilising and widening their power by means of defining a scapegoat ― real or invented ― and excluding this scapegoat from the resources/rights/definition of a constructed 'we,'" they argue. "We think it is important for civil society to understand that Islamophobia is a problem of institutional racism. The illusion that Europe is a post-racial society prevents large parts of European societies from recognising the severe challenge of Islamophobia to local societies."
They say the problem appears to have been more severe in 2016 than in 2015.
In Germany, for instance, attacks against recently arrived migrants, many of them refugees coming from predominantly Muslim countries, have increased dramatically, according to local authorities. The interior ministry says more than 3,500 such attacks occurred in 2016, compared with 1,031 in 2015.
"Islamophobia has become the most commonplace expression of racist prejudice in Germany … there is now considerable evidence that a growing proportion of the population in Germany not only holds these views, but is prepared to translate them into multiple forms of political action," Aleksandra Lewicki, a sociologist at the Free University of Berlin, wrote. She noted that media outlets appeared far less likely to cover anti-migrant violence than allegations of violence by migrants.
Skepticism toward Muslims has become such a widely held sentiment that top political figures in Albania, a rare Muslim-majority society in the middle of the continent, see promoting Islamophobia as essential to proving their place in Europe, the Free University's Besnik Sinani argued.
Aurel Plasari, the head of Albania's National Library, has called conversion by Albanians to Islam under Ottoman rule a "betrayal of Jesus Christ," while other elites have spoken of the conversions as an unfortunate historical accident and called to restrict the religious liberties of devout Muslims for the sake of security, according to Sinani.
In many countries, Muslim women faced particular victimization ― being denied jobs, being called names and being forced to justify different interpretations of the religion, like the strict and sexist brand practiced in Saudi Arabia. At the same time, concern for women was consistently cited to justify anti-Muslim sentiment. Hafez, a University of Salzburg researcher currently teaching at the University of California-Berkeley, noted in his chapter on Austria that members of the far-right FPO party there use messages like "hands off our women."
In the U.S., President Donald Trump's attempt to institutionalize Islamophobia employs similar tactics: His ban on entry to the U.S. of people from seven Muslim-majority countries controversially suggested that citizens of those nations were particularly responsible for violence against women and girls in America.
In an email to HuffPost, Hafez highlighted a recent European Court of Justice ruling that said a Belgian employer was permitted to fire an employee because she wore a headscarf.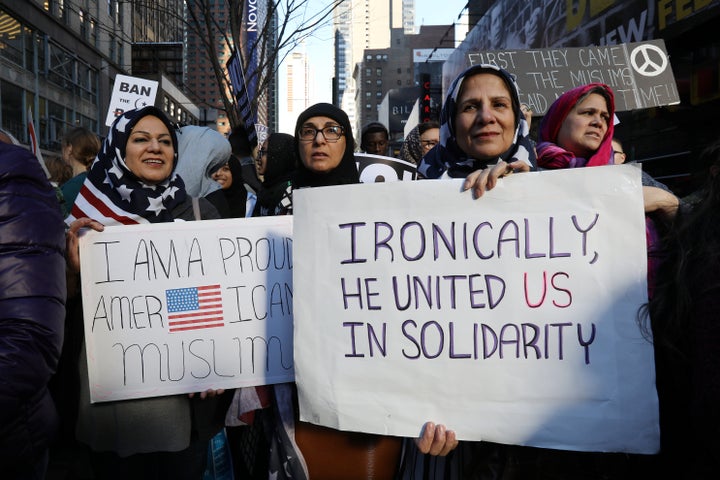 Some of the countries had not yet seen major spikes in Islamophobia, but the experts warned that such hatred could grow. In Ireland, media talk of Muslims centered on the debunked "clash of civilizations" theory that sees Islam and the West as entirely separate from each other and incompatible, and on the idea that Irish Muslims might be undermining society from within, James Carr of the University of Limerick reported. Alexandros Sakellariou, who teaches sociology at the Hellenic Open University in Athens, said influential Greek Orthodox Church figures continued to deny that Islam could have any place in Greek life.
Players hoping to weaken Europe want to keep the fear going. Kremlin disinformation campaigns that support far-right figures in the continent demonize refugees and present supposed security threats from Muslims as a product of weak European policies, Alina Polyakova of the Atlantic Council think tank told HuffPost.
Some governments are trying to push back against misrepresentations and institutional barriers for Muslims, the researchers wrote. But there has not yet been a general change in the trend.
The report was sponsored by SETA, a think tank based in Ankara, Turkey, and seen as close to the government there. The SETA headquarters is the venue for the Friday launch. While many European politicians welcomed the 2015 edition, hosting presentations at the European Parliament and Commission last year, some viewed the project as a Turkish effort to embarrass Europe, with which it has an increasingly difficult relationship.
Hafez told HuffPost he expects another European Parliament presentation for the report this year, in the early summer.
"Already last year with the refugee crisis and the growing Islamophobic populism by European politicians, especially in Eastern Europe, the report really spoke to the time," he wrote. "Obviously, the relevance has not declined after the Trump election and I fear it won't become less relevant. But in a time when the public is made to believe that the far-right danger in Austria and the Netherlands is overcome [because of recent election results] and we only have to fear the AfD in Germany and the French Front National, it is the task of this report [to show] that Islamophobia is larger than the far-right and that we are facing many forms of institutionalized Islamophobia in Europe."
Support HuffPost
The Stakes Have Never Been Higher
Popular in the Community