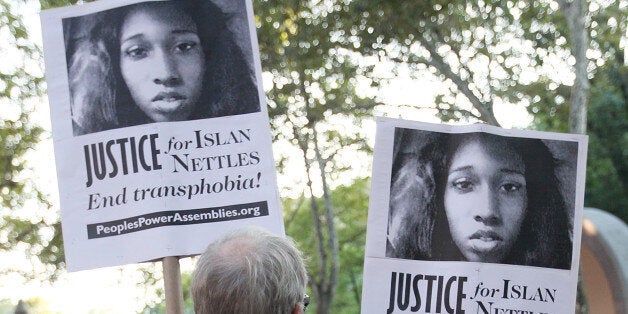 I am ashamed of lesbian, gay, and bisexual people right now. We've had a great tragedy in our community, and few of us have reacted with even an ounce of the effort we've put into the fight for marriage equality.
Islan Nettles, a beautiful 21-year-old innocently walking with her friends, was confronted by a group of men yelling transphobic and homophobic slurs. Those slurs quickly escalated into a brutal punch that was so hard that it knocked Islan unconscious and later led to her death. The man accused of this crime just had the charges dropped. He walked away free.
Haven't heard about this? Haven't seen your lesbian, gay, and bi friends posting about it and changing their profile pictures to raise awareness about this injustice? Maybe that's because Islan was a trans woman.
I do not identify as transgender, nor do I claim to be an expert on transgender issues, but I am a gay man, and that makes me a member of the LGBTQ community. A great injustice befell a member of my community. I cannot sit on the sidelines when transgender people have stood beside LGBs throughout countless battles for equality. Have we not failed when there is no community in community organizing? We must stand together.
Many of us can relate to the constant fear of walking down the street and being targeted by someone who hates us merely for who we are. We all could have been Islan Nettles.
I am calling on all members of the LGBTQ community to raise awareness of this heinous act. Nov. 20 is Transgender Day of Remembrance, and there are hundreds of opportunities worldwide to memorialize and raise awareness of anti-transgender hatred and prejudice.
Prosecutors aren't acting quickly and have already allowed a speedy trial time of 90 days to pass on charges brought against one of the other attackers. Someone's life was taken away from them at the young age of 21. We must become conscious of this injustice and demand a fair and accurate trial.
It is our responsibility as members of this community to stand together and raise awareness in honor of Islan Nettles.
Popular in the Community