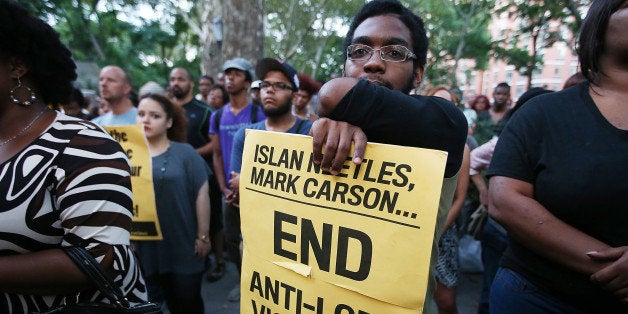 NEW YORK -- On Tuesday night, hundreds turned out for a vigil in honor of Islan Nettles, a 21-year-old transgender woman who died after an attack just blocks from the park where family, friends and LGBT advocates gathered in her memory.
Nettles, who was pursuing a career in fashion, was walking Aug. 17 with a transgender friend when they encountered several men who shouted transphobic and homophobic slurs, and beat them. Nettles died in the hospital several days later. The police are currently investigating the case as a hate crime, according to The New York Times.
Before the vigil, old friends met up and gathered before the stage. Some knew Nettles personally, but many others were there because they felt as though they knew her. Tamara Williams, a 24-year old transgender woman with long braids, said she'd never met Nettles, but they were "in the same scene."
"I feel like I am her," Williams said, adding that she has been repeatedly harassed, bullied and followed both in the Bronx, where she lives, and in Harlem, where she went to school. "Honestly, it's really horrific, really scary."
Nearby, Jeffrey Padilla opened a huge fan he had decorated with photos of Nettles and messages to her. Padilla works as a health educator at the AIDS advocacy group Iris House, and first met Nettles before she transitioned to living as a woman, when she came to volunteer for the group.
"She was artsy, energetic. You never know if maybe she could have been the next transgender city council woman," Padilla said. "We think we're beyond this violence, but then we're transported back into the past again and again."
Nettles' is the latest murder of a trans person to make headlines recently. In July, Diamond Williams, was murdered in Philadelphia, and last week, Dominique Newburn was murdered in her apartment in Fontana, Calif. A recent study found that trans people were murdered at a rate almost 50 percent higher than gay and lesbian people in July in North, Central and South America.
Transgender advocates say that not enough attention has been placed on these attacks. They also point out that growing visibility and autonomy for transgender people are essential, sometimes even within the lesbian, gay, bisexual and transgender community. This tension boiled last night, as a fight broke out over who should be allowed to take the microphone at the vigil. Some were angry about the line up of speakers -- of the dozen or so advocates, friends, and family members to address the crowd, only two were transgender.
The vigil was organized by the Nettles family, along with the Manhattan Borough President Scott M. Stringer, who is running for city comptroller, and a handful of gay rights groups, including Harlem Pride, NYC Black Pride and Gay Men of African Descent.
Carmen Neely, the director of Harlem Pride, an lesbian, gay, bisexual and transgender rights group, opened the vigil by asking the crowd to understand that the evening was meant to be a vigil, not a political rally.
"We all know that things need to change and things need to happen and that's very important," she said. "But tonight, let's focus on Islan, her life, and listening to her family and her mother address us all."
A few speakers later, shouts erupted from the crowd after one of the advocates, Vaughn Taylor-Akutagawa, the leader of Gay Men of African Descent, referred to Nettles as "he."
"She was a woman!" shouted Mariah Lopez, a transgender activist who told The Huffington Post that she asked to speak at the vigil and was turned down by organizers. "Gay Men Of African Descent shouldn't be speaking for trans people, period."
"My girlfriend died last year and the year before," Lopez continued, over the speaker on the stage. "And none of you came, none of you!"
Taylor-Akutagawa said on Wednesday that working with the transgender community at a vigil like this is "still a learning process for me."
"We do our best to include them, but what wasn't being effectively communicated yesterday is that the family determined who was going to speak, and why," he said.
Neely declined to comment on the selection of speakers on Wednesday. "I would just like everyone to understand that it was a vigil to respect the wishes of Islan's family and to celebrate Islan's life," she told The Huffington Post.
Nettles' mother, siblings and friends all took the stage, sharing their memories of her and promising justice.
Afterwards, actress Laverne Cox, a transgender woman who recently played a starring role in the TV show "Orange Is The New Black," took the microphone.
"I know there are lots of people out there who are upset that she's been called by the wrong pronoun," she began. "That hurts me, too. I stand here as a trans woman of color and my heart aches for this loss. I think that what the trans community needs to hear is that our lives matter."
The crowd broke out in applause.
The next day, Cox said the event was not perfect, but the intentions were good. Still, she said, when speakers referred to Islan as a man, it hurt.
"I know as a trans woman, and I think so many trans women in the audience understand, that when we're misgendered, that is an act of violence for us," she said. "It's a part of the violence that lead to Islan's death."
Popular in the Community