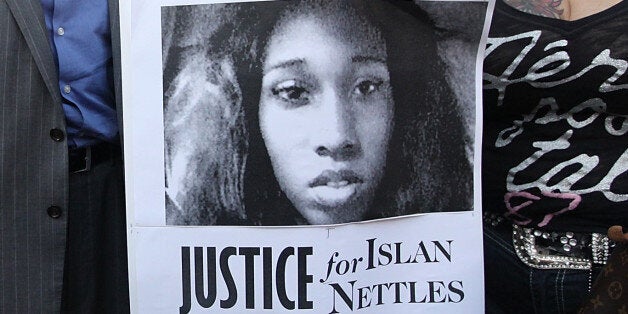 NEW YORK -- When Delores Nettles heard that charges had been dropped against the young man accused of assaulting her daughter, she was hopeful.
"It's a waiting game right now," Nettles told The Huffington Post Tuesday after learning of the district attorney's decision. "But I think they're working hard, I've seen them canvassing in my neighborhood," she continued. "And I don't want my baby to die in vain."
It had been three months since Nettles' daughter, a 21-year-old transgender woman named Islan, was walking with friends in the early morning near her home in Harlem when they ran into a group of young men outside a police precinct. A fight ensued, and Nettles, who was knocked to the ground and beaten by one of the young men, slipped into a coma. A few days later, she died.
Since then, her family and transgender-rights advocates have decried the response from the police as inadequate, and condemned the district attorney's decision to charge a suspect with a misdemeanor assault and not homicide.
But on Tuesday, the DA's office restated its commitment to solving the case, and bringing a murder charge once it gathers sufficient evidence, either against Paris Wilson, who was charged with the misdemeanor in the case, or another man, also identified as a suspect.
At a court hearing Tuesday, Assistant District Attorney Nicholas Viorst announced that the misdemeanor charges would be dropped and that the crime is being investigated as a homicide, not as a misdemeanor. "The case has turned out to be a uniquely complex one," he said. "We continue to actively investigate this case in the hopes of ultimately holding the person responsible for this crime accountable."
Family and a handful of activists gathered outside the criminal courthouse were encouraged by the DA's statements. The office's decision to drop the misdemeanor charges paves the way for homicide charges to eventually be filed, they said. Although there is now no suspect in custody, Nettles' supporters felt more confident about the investigation. "Oh, I still feel like crying," Nariko Wright, the organizer of a small rally outside the courthouse said. "But I think it's going in the right direction now."
Earlier on Tuesday, Wright said she thought the investigation was "botched," and several other transgender-rights advocates gathered concurred. Nettles' case was not unique, they said, she was just one more young transgender woman whose murderer was not brought to justice.
"Our life expectancy is only 25 years," said Brooke Cerda, who was holding a sign that showed images of six security cameras near the scene of the crime with a message for Manhattan District Attorney Cyrus Vance Jr.: "Vance says the perp can't be identified ???" The DA's office is not discussing any additional details of the case publicly.
"And who do we have to support or protect us? Nobody, nothing," Cerda said.
Popular in the Community