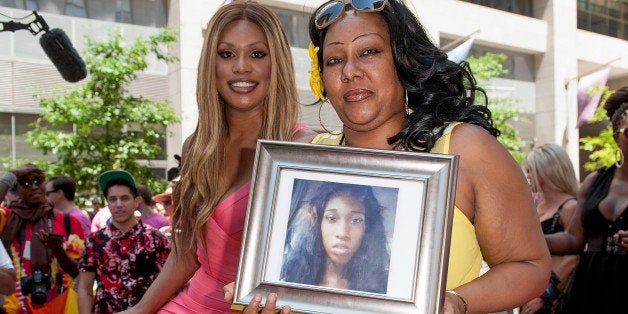 It's been a year since Dolores Nettles rushed to the hospital and listened to her daughter's heart beat for the last time. Since then, she has been waiting for the results of an investigation into her daughter's death. Police say they're on the case, but Nettles is skeptical. "What's taking so long?" she asked. "I'm not really understanding what's really going on."
Nettles is the mother of Islan, the transgender woman who died on Aug. 17, 2013, after a group of men allegedly fought with her outside a police precinct in Harlem, a New York City neighborhood. The police initially brought assault charges against Paris Wilson, who allegedly delivered the blows that would eventually kill her. But authorities later dropped the charges, saying they intended to pursue the case as a homicide investigation.
At a court hearing last November, Assistant District Attorney Nicholas Viorst said the case "turned out to be a uniquely complex one." A spokeswoman for the district attorney declined to comment on the open investigation. The Nettles family says it heard little from the investigators until a few week ago, when a representative from the district attorney's office called with an update, and to assure Nettles that they were still pursuing leads.
"Now we're just waiting to see what adds up, I guess" Nettles said.
Transgender activists who gathered this week at various locations around Harlem are not surprised that nothing has come of the investigation so far. Brooke Cerda, a 49-year-old transgender activist who organized a rally in front of the police precinct where Islan Nettles was beaten, said she thought the police would have given the case more attention if Nettles hadn't been transgender and black.
"Myself, I would like to see justice," she said. "But I am not as interested in getting this guy convicted as much as I am worried about my sisters that are still alive. We are here, we're alive. And we're scared."
Transgender women of color, such as Nettles, accounted for two-thirds of the victims of anti-LGBT murders in 2013, according to the Anti-Violence Project, an advocacy group that tracks violent crimes against the lesbian, gay, bisexual and transgender community. It is not uncommon for such investigations to go unsolved.
"Like so many transgender women of color, Islan was killed simply because of who she is," said Michael Silverman, director of the Transgender Legal Defense & Education Fund, an advocacy group based in New York. "Unfortunately, in most cases we don't see a tremendous amount of effort put into solving the crime. We certainly see a lot of these crimes go unsolved and unpunished."
In just the past few months, officials have reported the killings of at least five transgender women of color in four states: Maryland, California, Ohio and Florida.
"These murders are a steady drumbeat," said Jacqueline Robarge, a lesbian activist based in Baltimore, where two of the murders took place. According to a recent report in The Guardian, there have been eight such murders in that city since 2006, enough to raise fears that there may be a serial killer targeting these women.
"The most simple analysis is there is some person who hates transgender people and plucks them off the street," Robarge said. "But I think that does a disservice to these women in the here and now, for whom this is not random, this is not a freak accident or occurrence, this is in the context of very difficult lives."
Robarge has been working with transgender women in Baltimore since the '90s. In 2001, she founded Power Inside, an advocacy group aimed at serving women affected by incarceration, street life and abuse. The work can be frustrating at times, she said, especially when the cries of LGBT victory grow louder.
"I want to say, why are we so obsessed with marriage equality when we've got these transgender women being murdered, these young lesbians being targeted? And so many of the deaths unsolved?" she said.
Like many of the woman who have come to Robarge for support, Islan Nettles has lived on the street. But she seemed to get her life back on track a little over a year ago after a period of homelessness, her friends and family said. She had her own apartment, and had begun to make headway on her dream of working in the fashion design industry. That all came to an end shortly after midnight last August, when she and her friends encountered a group of young men on the street. According to news reports, the flirtation turned violent after the men realized the women were transgender; one of the men beat her unconscious. Four days later, she was declared brain dead.
Friends and family who gathered to mourn last week hope she will be remembered for more than her death. CeCelia Falls, a former college counselor who advised Nettles at the Harlem Children's Zone, a school and nonprofit aimed at combating the effects of poverty, recalled Nettles as quiet and strong. She'd been hit by someone before, Falls said. "When I would tell her 'I'm worried about you,' she would say, 'I can handle myself.' She wasn't hiding."
On the anniversary of the attack, Falls wandered by the precinct where it had occurred, thinking of Nettles and wondering if anyone else would be there. She was pleased to find dozens of people gathered.
"I wanted to be with people who cared about her," she said. "I wish that more of her friends and peers would share who she was with the world, because while I'm really grateful for people not forgetting her name, I don't want them to forget her as a person."
Cerda, the transgender activist, said she also plans to organize an event on Nettles' birthday in October. "I want to celebrate her life," Cerda said. "I want to reconstruct her personality, and who she really was, rather than the way she died."
CORRECTION: A previous version of this story reported that Jacqueline Robarge started Power Inside in the 1990s. She started it in 2001.
Popular in the Community