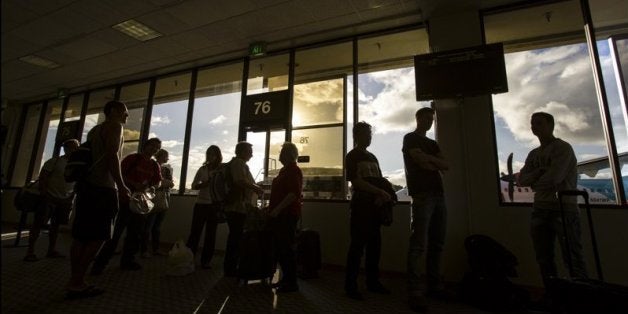 It can take as long to travel to Molokai from Honolulu as it does to reach Hawaii from Los Angeles — if, that is, you are flying Island Air.
That was the case on Oct. 24, when flight No. 208 was scheduled to depart Honolulu at 11:20 a.m. for a 25-minute island hop to Hoolehua Airport.
The 64-seat ATR 72, a twin-engine turboprop, was taxiing on the tarmac and heading toward the runway to take off when the pilot announced the plane would have to return to the commuter terminal gate due to mechanical difficulties.
Because of frequent and seemingly interminable delays, folks who live on the Friendly Island are not feeling very friendly toward Island Air. Dozens of Molokai residents who spoke with Civil Beat said they feel like the company is giving them short shrift, perhaps in favor of routes to Lanai. That island's owner, billionaire Larry Ellison, bought Island Air in March.
Whatever the reason, folks on Molokai are feeling pretty peeved.
"Oh, honey, I'm devastated," said Teri Waros, owner of Kalele Bookstore & Divine Expressions on Ala Malama Street in Kaunakakai. "Every single retailer on this street holds on this time of year for people to start coming back to infuse some dollars into our economy. This is horrible."
'Worst Flying Experience'
Waros, who worked for years in the local hotel industry and has served on the boards of the Molokai Visitors Association and Maui Visitors Association, said the flight delays are hurting island tourism.
While many are drawn to Molokai's seclusion, accommodations are limited, especially after Molokai Ranch closed a high-end lodge and hotel properties in 2008.
"If I am on the East Coast and I want to fly here and I realize I am going to lose a day because of delays, it's going to make it very difficult," Waros said giving an example of a potential dilemma facing tourists. "This is a hard enough sell anyway. So that's going to discourage it that much further."
Judging from airline review websites, complaints about Island Air are not limited to Molokai.
"This was the worst flying experience of our lives," a Canadian traveler posted on Skytrax air travel rating page on Nov. 19. "They held us in the airport for 4 hours and promised repeatedly we would make our 2 connecting flights, meanwhile many flights were going off the island and they held us without putting us on other flights."
A traveler from Down Under posted this review on Oct. 4:
I recently flew from Sydney Australia to Honolulu and then had a flight scheduled to fly to Kauai, leaving at 7.05 pm. This was altered 6 times before we finally departed at 11.05 pm arriving at Lihue at 11.45 pm. During the time of waiting we were offered water, nothing was open and we were hungry. I finally asked a 'Customer Service' person if they could locate something to eat i.e. chocolate bars, her response [was] everything is locked up and we don't have the key. Not every review about Island Air is negative, but even many of the positive ones suggest that Island Air suffers from a PR problem.
"We are totally happy with the service," a Honolulu traveler who flew to Lanai posted on Yelp in July. "It could be just because we heard too many negative stories and did not have any expectations. Both flights were on schedule. Larry Ellison purchasing the Island Air might [have] influenced the schedule, or we might just [have] been lucky."
Civil Beat spoke with more than a dozen people on Molokai and none said that they enjoy flying Island Air. A common reaction among people who deal with the airline is one of mild surprise when a flight departs and arrives on time. (Some customers grumble about a recent $2 increase to $17 for the baggage fee.)
Molokai's air woes are all the more aggravating because many residents are not traveling on leisurely vacations but for work or medical reasons. Two other carriers service the island, Mokulele and Makani Kai. But both operate smaller aircraft, and Waros says it's difficult for patients with certain health problems to fly comfortably on them.
"This is not about you go on holiday, this is about aunty has to get to the doctor's in a wheelchair," she said.
Civil Beat tried several times to speak with Island Air CEO Paul Casey. Ellison hired Casey, the former top boss at Hawaiian Airlines and former president of the Hawaii Visitors and Convention Bureau, to run his airline not long after he bought it.
We did not get much from Casey, though.
"We have a lot going on at the moment and it is too early to speak publicly about them," Casey emailed Civil Beat Monday. "I will let you know when we are ready."
Casey did confirm that he had recently corresponded with Waros about her written complaints to Island Air. She's disappointed that the carrier reduced flights on its daily Molokai-Honolulu route from five to three in April. It's now down to two.
As The Molokai Dispatch reported in April, the carrier also dropped all of its Maui-Molokai flights — and increased its flights to Lanai.
"Island Air shouldn't be catering to Lanai, because that's what it looks like," Molokai resident Chevi Levasa told The Dispatch.
The company said the changes had to do with demand — the same thing Waros said that Casey told her.
"I have to give Casey credit — he responded personally," Waros told Civil Beat. "That impressed me. But his answer basically regurgitated that it's based on demand, and da-da-da-da-da. And I thought about it for a week and I said, 'Bullshit,' because historically demand for this segment increases in November. So you can't tell me the cuts are based on demand."
Waros said she is not sure that Island Air, which has operated for 33 years, is favoring Lanai over Molokai.
"I know that's the first thing that people say," Waros commented, adding that she wants to give the company the benefit of the doubt.
It's getting harder to do that, however. On the plus side, Molokai is serviced by the larger ATR planes rather than the smaller Dash-8 turboprops, which Island Air previously flew. But the carrier has also cancelled the midday flight and now offers only 6:55 a.m. and 5:57 p.m. departures from Honolulu.
Island Air currently operates four ATR 72s, which are described on the airline's webpage this way: "Its excellent landing and take-off performance enables Island Air to uniquely service the communities that are inaccessible to jet service."
Waros believes Island Air, with Ellison's backing, is looking to upgrade its fleet.
"Don't tell me that the third-richest man in America can't afford that," she said. "It's got to be done the right way."
It appears that Island Air may indeed be seeking a more reliable aircraft. Casey would only say that "management is conducting a re-fleeting analysis," adding, "We have not had any conversations with Mr Ellison."
Compared with Molokai, Lanai is a luxury destination that is home to two Four Season resorts. No wonder, then, that Casey has made clear that traffic to Lanai is a top priority for Ellison, as the Honolulu Star-Advertiser reported Oct. 30.
Whether Molokai will be a casualty of Lanai's attraction is not clear. Peter Forman, a local airline historian thinks not.
"While you have already seen a shift of priorities from Molokai to Lanai, I think as Island Air expands its fleet you will see a renewed emphasis on Molokai," he said. "It's an attractive market for its fleet size. Especially with the arrival of Paul Casey as CEO, I think you are going to see a much more reliable Island Air in the future."
This is not the first time Molokai has suffered air transportation challenges.
For years, Pacific Wings had a lock on service to Kalaupapa, the peninsula on Molokai's north coast that can only be reached via air, foot or mule. Pacific Wings charged as much $500 just to fly roundtrip between Kaluapapa and Hoolehua Airport — "topside," as locals say.
Makani Kai Airlines now serves Kalaupapa, and it charges affordable fares. That's because the federal government subsidizes the airline's cost.
Makani Kai's two-year contract is ending, and The Dispatch reports that three other carriers are competing with Makani Kai. One is Mokulele; the other two are based on the West Coast.
Meanwhile, the state's dominant airline, Hawaiian Airlines, hopes to fly to and from Hoolehua beginning in 2014. Signage for its new subsidiary, called "Ohana by Hawaiian" and operated by Empire Airlines of Spokane, Wash., is already on display at the Molokai and Lanai airports.
Ohana will fly ATR 42s with 48 seats, on two daily routes linking Honolulu to both Molokai and Lanai. It will use Gate 49 at the Hawaiian terminal, too, a step up in convenience and quality from the commuter terminal.
The commuter terminal has only the aforementioned Quiznos ($15 for a sandwich and bottled water) and a sports bar. During the long flight delay, five women, all nearing retirement age, passed their time in the bar.
Ann Botticelli, Hawaiian's senior vice president for corporate communications and public affairs, told Civil Beat Monday that Empire "has received word that the FAA has the resources to proceed with its certification requirements. We don't have a timeline yet, but think that the turboprop service will be up and running some time in early 2014."
Hawaiian, consistently ranked high in on-time arrivals and departures, represents serious competition for Island Air.
"Word is that they are expected in the spring," Waros said of Ohana via email Tuesday. "Fingers crossed."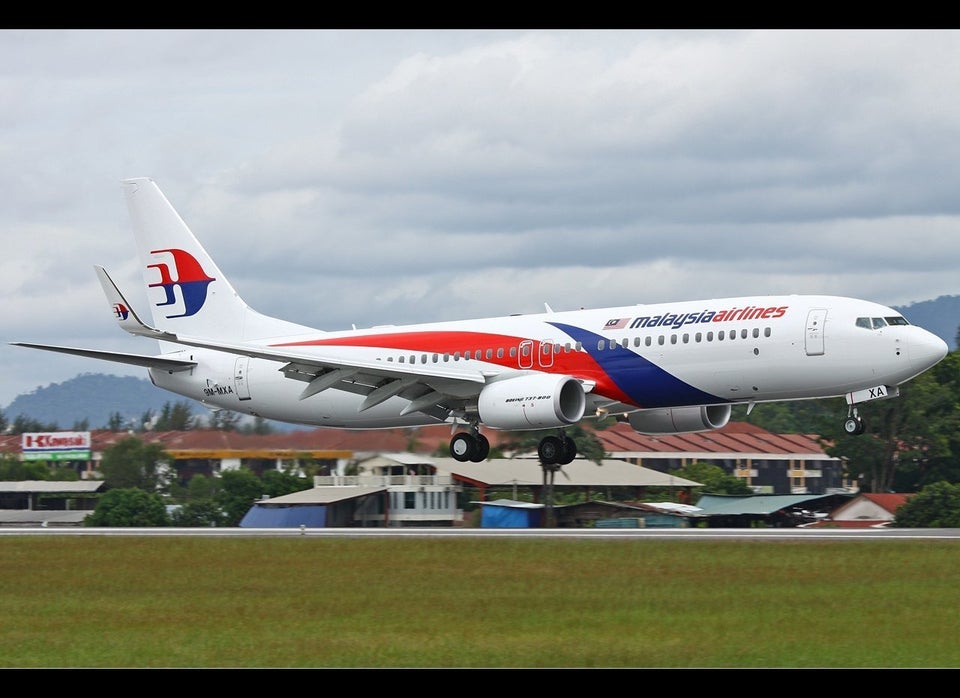 Airline Of The Year 2012