With astounding diversity, the islands of the Indonesian archipelago offer some of the world's best diving, intrepid on-land exploration and cultural immersion. Mark Robba, the owner of luxury cruiser Dunia Baru tells us which islands to head to while sailing across Indonesian waters.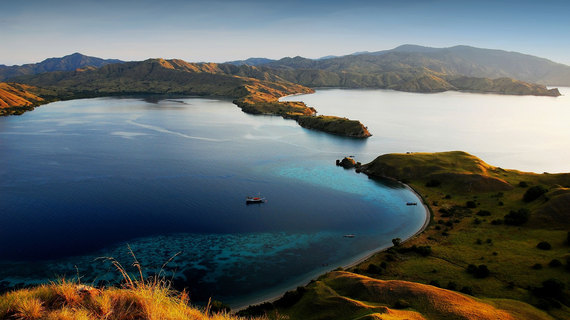 The Indonesian archipelago has a staggering 17,000 islands - 16,000 of which are uninhabited - offering incredible diversity between them. Each group of islands has its own beauty and charm, with some of the world's top diving sites, gastronomic offerings, vibrant culture and solitude. Set sail to visit fishing villages, explore equatorial rainforest and encounter the abundant wildlife both underwater and on land.
"It's always a positive experience to see how happy these people are."
Owner of the traditional-style superyacht Dunia Baru, Mark Robba, has been based in Indonesia for the past 20 years. "I first learned from my motorcycle trips across Indonesia that the people were always friendly, welcoming and intriguing," Mark explains, "It's always a positive experience to see how happy these people are, showing that money is not the key to happiness. Besides taking in the beautiful scenery of Indonesia - this is one of the most valuable lessons people can gain."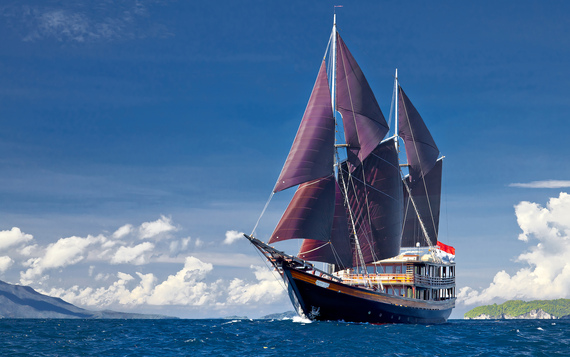 "The islands of Indonesia offer great diversity," he continues, "with more than 700 languages spoken. Traveling by boat is the best way to explore them, as you're always at home but you have the ability to see new places each day."
"One day you can be snorkeling with 50 or more giant mantas and the next scuba diving in the underwater vents of an active volcano."
"Komodo and Raja Ampat are two prime examples, where the scenery is stunning and the marine diversity is unparallelled. One day you can be snorkeling with 50 or more giant mantas and the next scuba diving in the underwater vents of an active volcano; while always surrounded by the warmth and charm of the Indonesian people."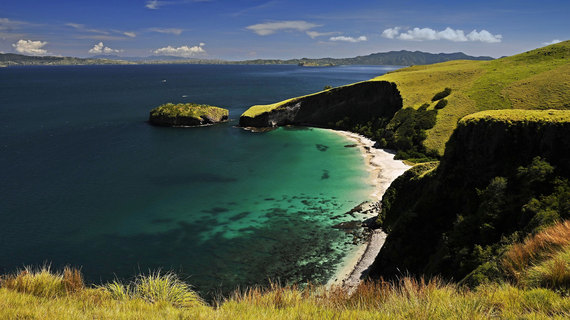 While onboard Dunia Baru, the aim is simply to enjoy each day, at whatever pace you choose. "The day starts with sunrise, a freshly brewed espresso and the smell of fresh bread or pastries baking in the oven," Mark says, "Our dive instructor is always ready to take you diving or snorkeling; on our last trip we snorkeled with 20 mantas."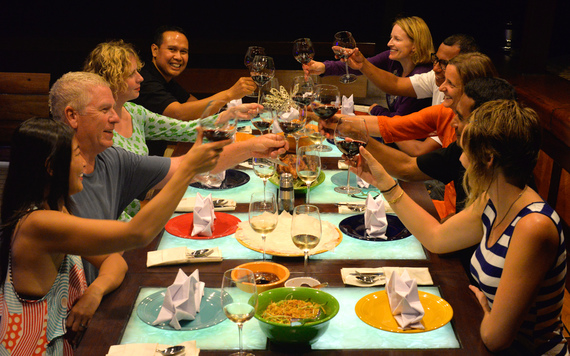 Diving and snorkeling don't need to be the primary activities though. "One of my favorite activities is to jump on the high-speed RIB inflatable boat with the guests, and race ahead to find a new deserted beach to enjoy while the boat catches up with us. Seeing Dunia Baru coming from a distance is always a breathtaking experience."
"Seeing Dunia Baru coming from a distance is always a breathtaking experience."
"The most memorable times sailing around the islands come from bonding with family and friends though," he insists, "Being in these remote areas helps you to touch base again, with the importance of family and how special the bonds are."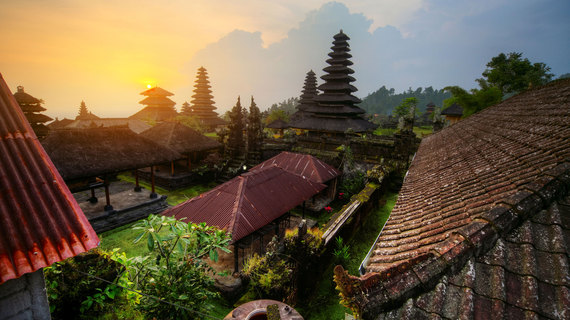 BEST FOR UNDERWATER EXPLORATION
One of the least explored spots for exceptional diving is the Alor Archipelago, with thriving marine-life due to the Pacific and Indian Ocean currents that both flow through. This is also the reason for Raja Ampat's abundance of wildlife, which is just as remote, covering a staggering 40,000 square kilometers, and has become known as one of the world's best diving sites for its sheer beauty as well as boasting 1,300 species of fish and three quarters of the world's hard coral species.
Indonesia's largest Marine National Park is situated along the bay of Cendrawasih, remaining pristine thanks to its remote location and home to species such as dugongs, whales sharks and dolphins.
"The best place for diving is in Raja Ampat," Mark explains, "It's so vast, it makes you feel like you're on a wagon-train crossing America. The remoteness of Raja Ampat is what makes it special. The diving is unspoiled, the reefs pristine and the fish are just so plentiful."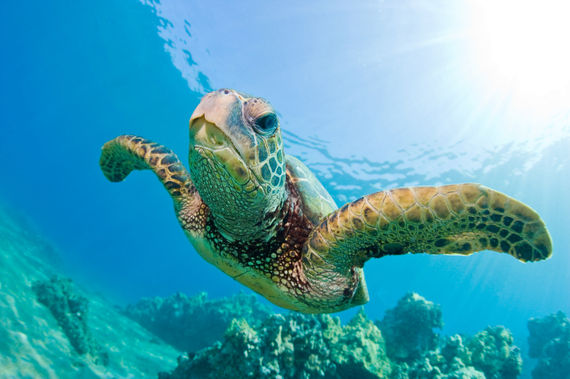 By sailing east of Flores, travelers can find pristine waters surrounding secluded emerald islands. Mark advises: "For remoteness go to Raja Ampat and anywhere else that's east of Flores. On a recent trip from Flores to Alor, we saw no other pleasure boats and no western influence to speak of; it was wonderful."
"We went to a whaling village," he continues, "where they'd just harpooned a 17-metre whale. Whale meat was drying everywhere and giant whale bones lined the street like guardrails. What an experience."
"We explored remote beach after remote beach with our three-year-old son, sometimes choosing coastline where no-one else was, to have it to ourselves, and other times interacting with locals, such as fishermen and seaweed farmers living in grass-huts, while our son played with the local children; it was a priceless experience."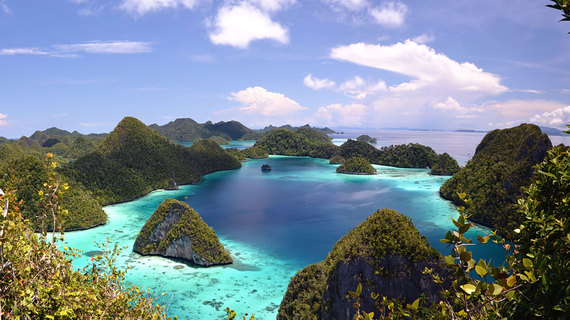 BEST FOR LAND EXPLORATION
You don't have to travel so far for outstanding land exploration, from wildlife encounters and trekking through rainforest, to climbing volcanic peaks and immersing yourself in the local culture. Bali, Lombok and the Komodo Islands all have a lot to offer for cultural and outdoors exploration.
"Komodo has the big draw of being home to the Komodo dragons, which can grow up to 10-foot long," Marks explains, "Your first, second and third times there are so wonderful, it's hard to imagine how any place can be more beautiful; especially in December, which is the start of the rainy season when everything is turning green."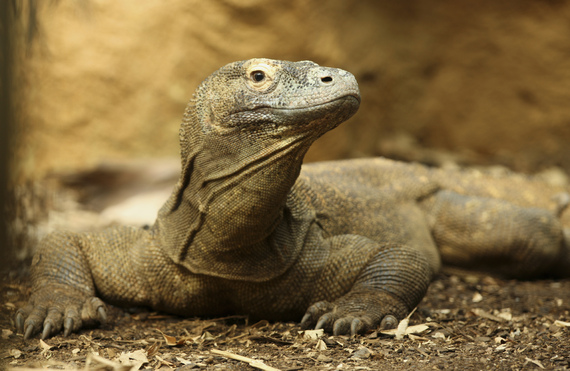 BEST FOR A CULINARY EXPERIENCE
From high-end dining to street eats, Bali is undeniably Indonesia's top foodie location. The local seafood and suckling pig are steamed and roasted with fresh roots, herbs and local spices. "The number one place for good food in Indonesia is Bali," Mark enthuses, "there are just so many choices and it's such wonderful food."
Dunia Baru has two chefs; one hailing from central Java and the other from Bali. "Between the two of them, they can cook-up just about any Indonesian food. Not only can you watch them cook but you can learn their family recipes too and every night on Dunia Baru you have the privilege of sitting at the chef's table."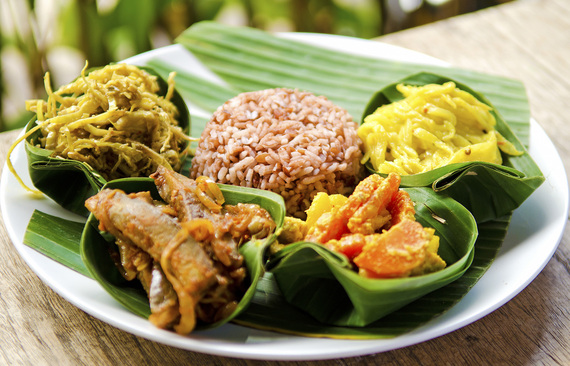 The months of March, April, September and October are recommended for sailing between the islands; during this time, the wind and seas are typically at their calmest.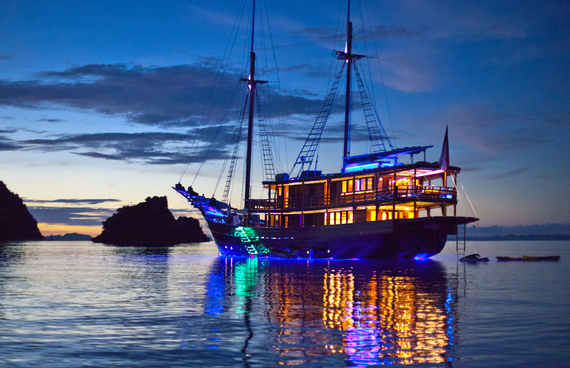 This impressive Indonesian-style superyacht was originally built with family, friends and future adventures with them in mind. "The project took nearly eight years," Mark says, "but the result was worth the wait; Dunia Baru sets a new standard for Indonesian built boats, both in luxury and safety."
As well as practicality and safety, Mark wanted to highlight the skill and craftsmanship of Indonesian shipwrights, as well as Balinese and Javanese artisans.
"Building a massive wooden boat in Indonesia to world class standards seemed like a worthwhile challenge, but it was a challenge that I underestimated the complexity of. The hull took three years to handcraft by fourth and fifth generation Indonesian shipwrights, deep in the jungles of Borneo where big ironwood trees were available."
"Dunia Baru can go anywhere and the dreams are endless."
"The boat was then towed to Bali; a location that not only had talented shipwrights, cabinetmakers and artisans, but foreign experts in design and engineering too, to ensure Dunia Baru would have the attention to detail of a superyacht."
Dunia Baru was finished last November, after which the boat's first trip was a 1,200 mile journey across Indonesia. "We visited Komodo National Park and saw the famous Komodo dragons; we went to Ara, the home of the ship wrights, where the boat was blessed; and Raja Ampat, which is the most beautiful place that I have ever visited."
Dunia Baru is available for charter. The boat is based in the Komodo Islands but can be sailed around the archipelago. "Dunia Baru can go anywhere," Mark concludes, "and the dreams are endless."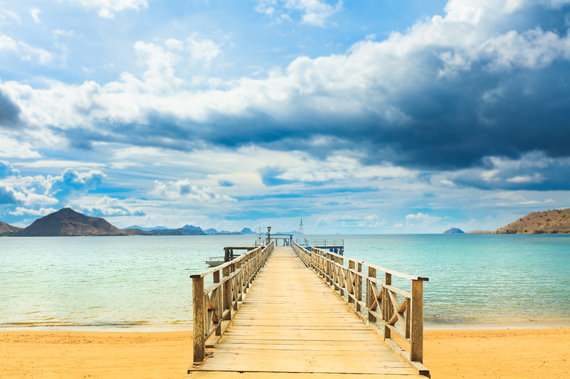 Related