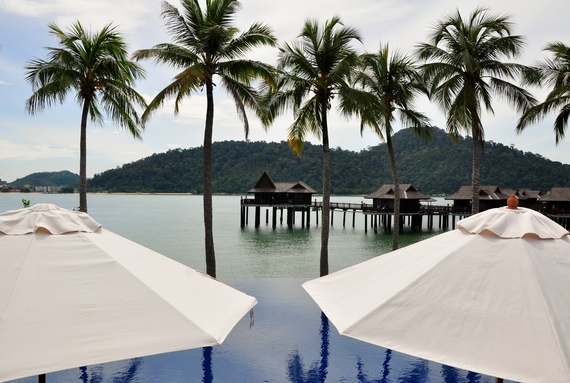 I've never held a fishing rod before, let alone do whatever you do with one. Though the guess is, all going well, that what I should do is catch a fish. No one is holding their breath, however, because I don't even know how to throw the line into the water, but ten minutes later I've landed a sea bass that would feed 12.
Needless to say, I am not wrestling with giant, ocean-going creatures a la Ernest Hemingway, but grappling with more results-oriented angling at a fish farm with several helpers and a few dogs who gallop around the pens to fend off predatory sea otters. We pull up in our boat, hop off, hook our catch of the day and zoom away again.
Instant gratification is not generally a big part of angling, but in the Tropics, it's too hot for things to happen slowly. Especially as this is just the beginning of the Chef's Kitchen Experience at Pangkor Laut Resort.
Roughly half way between the capital Kuala Lumpur and the UNESCO world heritage site of George Town, Penang, Pangkor Laut is a privately owned 300-acre island off the west coast of Peninsular Malaysia that is a destination in itself, or a peaceful place to take a few quiet days while exploring what was once British Malaya.
Blessed with excellent roads and surprisingly good roadside conveniences, Malaysia is an easy country to explore by car. Pangkor Laut is only a few hours by road from either Penang or K.L., and could easily be slotted into a driving holiday.
Lying off the coast of Perak state, it is one of a cluster of small islands with some of the best beaches in western Malaysia. Pangkor Laut and its larger neighbor Pangkor Island, which can be reached by ferry from the mainland, are the easiest to reach and most developed.
Pangkor Island is a laid-back place, with a range of hotels and resorts, known for seafood, fishing villages and traditional Malay homes. In Kashmir I met a Malaysian diplomat who she said she couldn't get her kids to go abroad for holidays -- all they ever wanted to do was go to Pangkor, eat and sleep.
For those who can stay awake, there is a fort to explore (a remnant of Pangkor's Dutch colonial history), Taoism to contemplate at the Fu Lin Kung Temple, and souvenir shopping in Pangkor Town.

Pangkor Laut has a gentle, secluded ambiance. A few hundred miles north of the equator, its climate is sultry and moist, nurturing 130-million-year-old rainforest that is home to 47 species of birds, wild boars and protected fruit bats that sleep in the sea almond trees. Turtles paddle in the waters, and chunky monitor lizards sun themselves on the beaches.
Maybe because little can intrude on an island, Pangkor Laut is very relaxed. Even the animals are relaxed, from the poisonous -- only if you grab it -- viper that's been nestled in a tree for nine days, to the Oriental Pied Hornbills that fly into the beach club at lunchtime.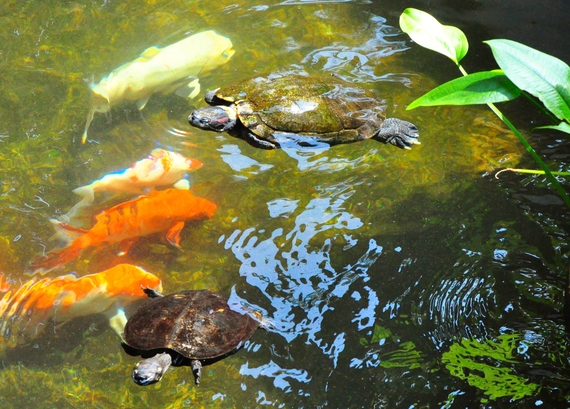 The Chef's Kitchen Experience is firmly focused on enjoying food, but first there is cooking to do with an athletic couple from New Zealand, a former rugby player and his sports broadcaster wife. She tells me "cricket legend" Shane Warne is very charismatic, though "looking a bit strange," since he took up with actress/model Elizabeth Hurley. After returning from the fish farm, we make Szechuan seafood soup with Chef Alan in his open kitchen facing the sea.
In keeping with the relaxed tone of things, after the rigors of making soup, it's off to the spa for a massage to ready us for the task of rustling up stir-fried chicken with chilli and cashews, a prawn tempura with citrussy mayonnaise and oversee our catches being steamed and fried and served with soy and ginger and fresh cilantro. Then a long, late lunch is served which provides the opportunity to eat far too much, and regret not being able to eat more.
As 80 percent of Pangkor Laut is still rainforest, there are gentle jungle treks with a wildlife expert. Shahdan, the guide, is very perky, announcing: "Shah means king in Persian so you could say I am king of the jungle!" He shows us animals (including the viper), plants and shares his passion for the natural world. He also points out the best places for swimming. One beach has coral and sea urchins and everyone laughs when he says: "The Japanese say the sea urchin is a delicacy, but it is not a delicacy when you step on it."
The resort's Spa Village offers delicacies of a different kind, and several hours are put aside for a buffing and bathing marathon. Whereas most spa experiences are over too soon, these begin with an eclectic Asian bath house program that includes Chinese concubine foot pounding, a Malay waterfall, a heated pool, Japanese exfoliation and a Shanghai scrub in a kind of wet-room where you are washed down with warm water. This takes an hour and is only the prelude. It's followed by massage, facial, hair treatment, herbal bath and steaming. I stagger out, flop onto a sun lounger as the sky turns pink, and lie there like a strand of overcooked, and deeply satisfied spaghetti.
Pangkor Laut seems to seduce everyone. When I depart, two girls are crying on the boat back to the mainland marina. They've been on the island for two months as part of training for a hospitality degree, and they can't bear to leave. And they weren't even there on vacation.
Popular in the Community