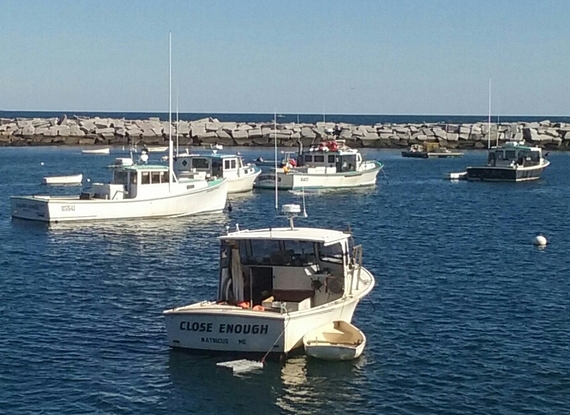 A friend of mine had recently taken a job on a tiny Island, 24 miles off the coast of Maine. She was the new teacher in a one-room schoolhouse on Matinicus Island. Being an early retiree, with lots of time on my hands, I was happy to accept her invitation to visit and experience the island life. In picturesque Rockland, $23 bought me one-way passage on a small ferry. The next ship wasn't scheduled for several weeks so I would return to the mainland on the "mail-plane" in four days -- weather permitting! Once we loaded three cars, two pickups, a dump-truck (which barely fit), and four passengers on foot, we set sail for the 2.5-hour trip. It was a majestic Autumn day with blue skies, crisp air, clear water, and lobstermen plying their trade. We weaved through hundreds of colorful lobster pot buoys; the captain skillfully avoiding them remarkably.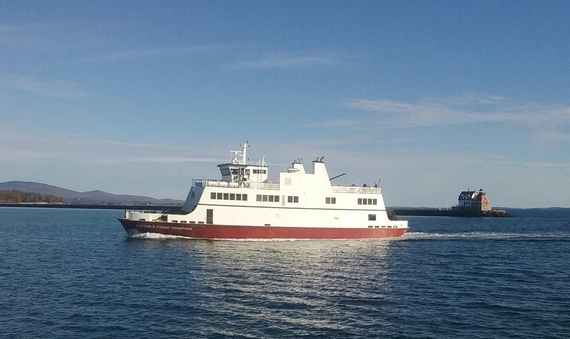 As the ferry cautiously made its way into the picturesque Matinicus Harbor, there was simple beauty all around. A long stone breakwater protected the moored lobster boats and colorful waterfront homes sat high atop stilts, as did the docks, to accommodate the considerable tides. There was activity on the dock and cars lined up waiting to board as we pulled in and docked. The ship lurched upwards as the dump truck with its heavy load drove off the ferry, onto the ramp.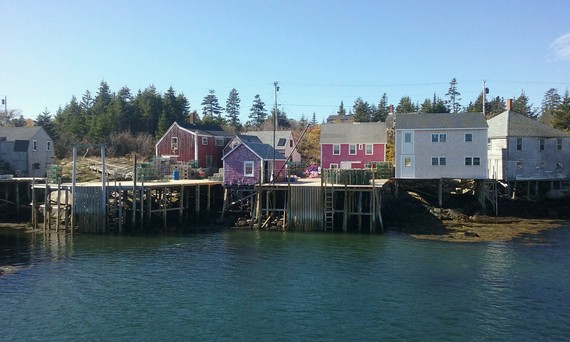 My teacher friend had somewhat prepared me for life on this remote island -- no paved roads, stores, restaurants, or even bars. The 2000 census had the population at 51 but in the dead of winter, the population can dwindle to around 20. So, when I stepped ashore with just my backpack I had some idea what to expect. I made my way along the gravel road, walking past small scattered homes, some with mountains of lobster traps neatly stacked in the yards. Shortly, I arrived at the white school house and was enthusiastically greeted by the teacher and entire student body (grades 1 through 8) -- two brothers and their cousin! As a school project, the three students had helped make "stone soup" to share with their visiting guest. We all dined together and then headed to the beach, walking past the island graveyard, to explore for the rest of the day. The sand was dark and very fine. Pools of water formed among the rocks by the receding tide, leaving behind small crabs and other marine life to be discovered by curious students. What a glorious natural classroom!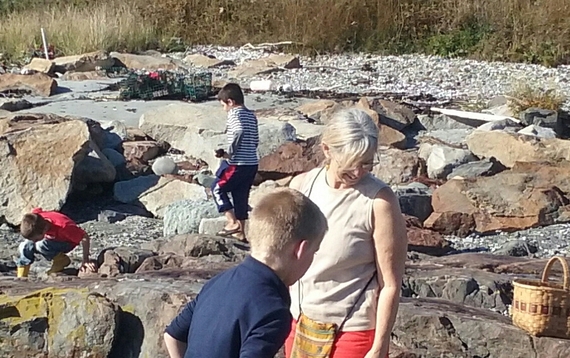 Upon returning to the school, we found a surprise left at the door by the brothers' uncle, who just happens to be a lobsterman -- imagine that. A couple of lobsters and a slew of crab claws for the new school teacher and her special visitor. Crabs that are found in lobster traps are relieved of their claws and returned to the briny depths to regrew them. Being the school teacher in this very tightly knit island community apparently has its benefits!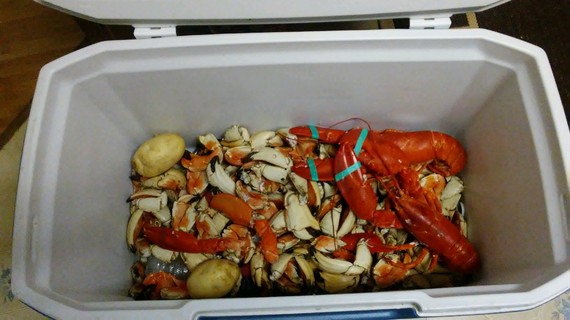 There's no garbage collection on the island and no dump, so what does one do with lobster shells and claw remains? Throw them out in road of course. The passing vehicles crush them, paving the road with red shells. It's an island tradition! But how about other trash? Well some islanders still burn their trash, but there's a small recycling center generously managed by several conscientious volunteers. That's the island way! Most materials are accepted, but old lobster traps are not interestingly. Indeed, many old battered traps can be found on the beach, apparently washed up in storms.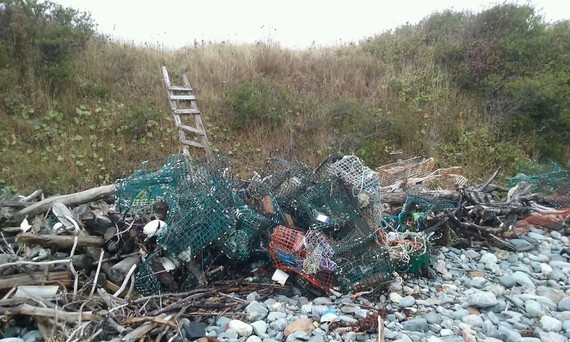 Since there are no stores, except for a "bakery" which operates out of a residential kitchen in the summer, many islanders have their own gardens. One couple, in addition to having an amazing vegetable garden, has the only cows on the island (4), as well as chickens, ducks, and turkeys. They sell raw milk, eggs, and occasionally cider. They invited us over on Sunday to watch the Patriots game, using an old-time antenna to receive the signal. Apple cider, hard from aging a year in mason jars, was served and enjoyed. You can't go anywhere on the island without running into an apple tree; they are everywhere. Many of the apples are quite sour, but there are also good ones, and the locals know where they are!
For groceries, islanders can place an order with a grocery store on the mainland and have them delivered on the daily mail-plane for $8 per banana box and left beside the landing strip with their name on it. Not a bad deal I think!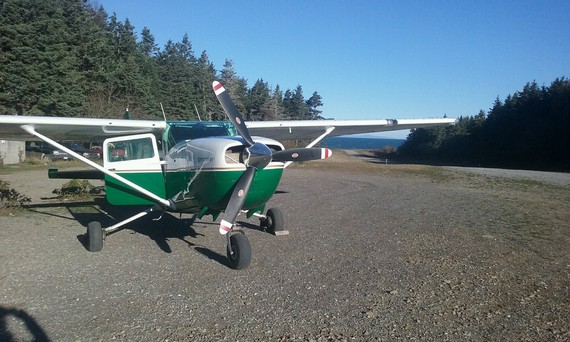 And speaking of the mail-plane -- it was my only way off the island. Well, it was grounded Friday and Saturday due to heavy fog and again on Sunday because of very strong winds. But things settled down Monday morning and for the first time in four days we heard the roar of the arriving plane buzzing over the island before landing.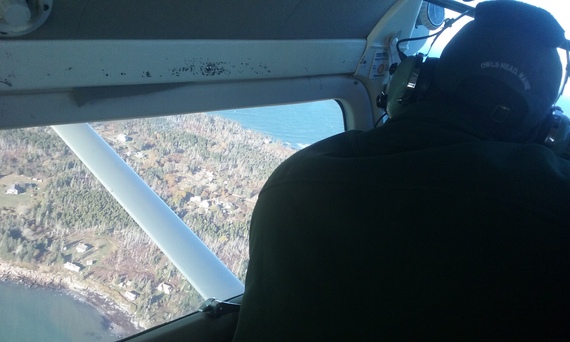 I had only a half hour before it departed so I said my goodbyes, agreed to be a pen pal to the students, and walked to the airstrip, picking and eating an apple along the way. The pilot jokingly asked for our tickets, stowed our belongings (including a large metal chair), and directed the four of us to our seats. The short gravel runway ends at the water's edge, so as we rumbled full throttle toward the crashing waves I was hoping things would go as intended! What an amazingly beautiful flight, accented by Autumn's fiery leaves. We circled the island and headed across the water toward Owl's Head. It's only a 15-minute flight so we never got very high, resulting in amazing views.

In a tiny office, you pay your $60 upon landing.

It's such a refreshingly different way of life -- the island life!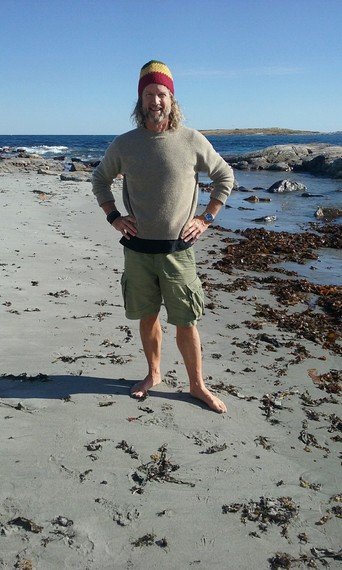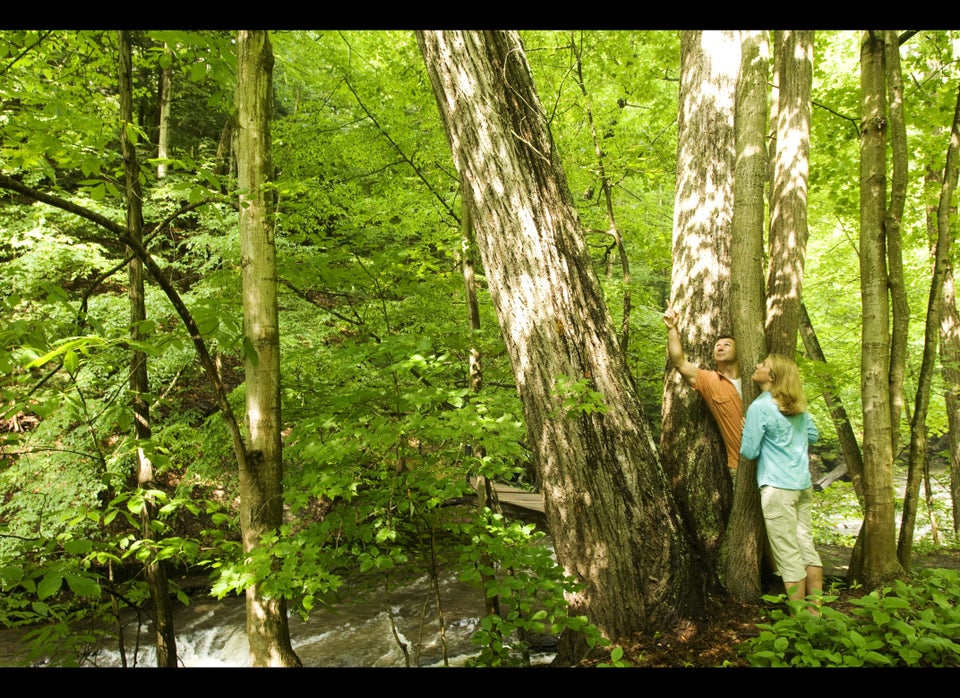 7 Hot Travel Trends For Boomers
Popular in the Community