As a non-Jewish East Indian woman, raised in an all-American Christian household, I feel compelled to counter the current feeling of hopelessness regarding Mideast peace. Even the most well-informed observers and pundits would think there is less hope than ever for productive dialogue between Israeli and Palestinian leaders. Understandably, violent scenes of Hamas rockets arcing toward populous Tel Aviv and horrific images of children dying on Gaza'a beach are filling the hearts, minds, and front pages of newspapers worldwide. This is not the only story though. Having just returned from a stint working at Tel Aviv University, my experiences suggest that below the radar, there are a number of positive examples of Israeli-Palestinian cooperation.
First, I worked on a Fulbright program at the Arava Institute of Environmental Studies, which is an academic program that promotes cooperation amongst all peoples on subjects of importance to the environment. I taught a course on water management that included environmental professionals from around the developing world and interaction with youthful technical personnel from Israel, Jordan, Palestine and the United States. Shoulder to shoulder, these students learned about desalinization, water recycling, and drought-tolerant agricultural practices from Israeli experts (Israel is a world leader in water management). In my view, the critical nature of water sources in arid regions transcends issues of citizenship or nationality. Arava's tagline - "Nature Knows No Borders" - reflects this viewpoint and students visiting from Thailand, Myanmar, Cameroon, Kenya, Bosnia, and Serbia to participate in the Israel Foreign Ministry-backed program tend to agree.
I next traveled to Tel Aviv to work with the Cohn Institute - Minerva Humanities Center. Based at Tel Aviv University, the Cohn - Minerva project is an academic research institute that is dedicated to examining citizenship, ethnicity, history and possible solutions to the difficulties of Palestinians and Israeli Jews living in the same space. Cohn - Minerva, which is primarily funded by New York philanthropists Bert and Barbara Cohn, is dedicated to its teams of Palestinian and Israeli scholars who debate these issues on the academic playing field. While there is no right or wrong, no arguments won or lost, a deep and highly sophisticated body of work has been produced here with many contrasting viewpoints. I did sense some genuine animosity beneath the surface in some cases, but these professional scholars delve deeply into the history of other societies that were challenged by issues of bi-national citizenship and ethnicity to better understand the current Israeli-Palestinian conflict. Overall, the Cohn - Minerva project is a living, breathing example of how Israelis and Palestinians can live and learn together productively, even when the subject matter is very sensitive. Another example of joint cultural cooperation organization is Polyphony Foundation, a classical music society that features Israeli and Palestinian musicians playing together. Polyphony is at its core a classical music education program for elementary school children. It was formed by Palestinians in Nazareth in 2006. Along the way, a sort of master class orchestra was formed featuring Palestinian and Israeli student-musicians. This orchestra in turn has matured into one of the finest in Israel, drawing large crowds whenever and wherever it performs. Polyphony is now working with the Cohn - Minerva Center to expand its music-only curriculum into yet another cultural platform featuring Palestinians and Israelis working together to build a dialogue and break down centuries-old preconceived notions and prejudices.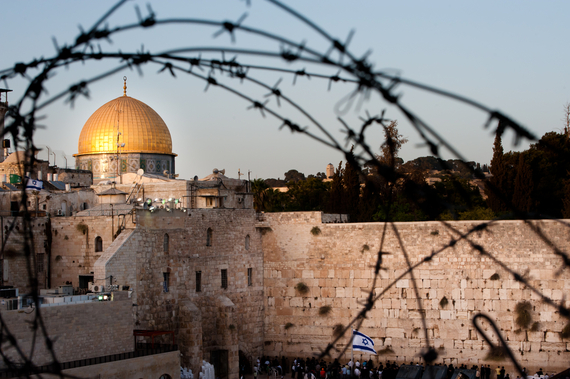 Two of Islam and Judaism's holiest sites, Jerusalem's Dome of the Rock and the Western Wall, seen through barbed wire.
Admittedly, these initiatives are fairly highbrow and focused on a highly educated audience. However, it is hoped that the improved dialogue, cooperation and mutually productive work being done at these institutions can trickle down to a wider audience through firsthand reports from opinion leaders on both sides. Having little connection to the Jewish state and Arab surroundings prior to my Fulbright program, I can claim a fairly objective viewpoint on all this. While perhaps cultural solutions will continue to take a back seat to "tanks and troops," I can attest that these programs are helping in some small way to create a positive atmosphere of Israeli-Palestinian cooperation - even against a backdrop of what may lead to the next Intifada.
Jennifer Schwab is a sustainability expert, environmental designer and consultant. Her column, "My Inner Green" can be found in Huffington Post.
REAL LIFE. REAL NEWS. REAL VOICES.
Help us tell more of the stories that matter from voices that too often remain unheard.