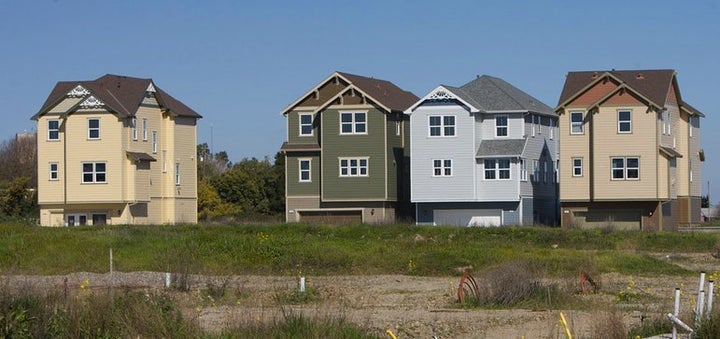 ISLETON, Calif. -- Judging by the brass plaque prominently posted outside the bar of the Del Rio Hotel and Casino in this tiny Sacramento-San Joaquin River Delta city, the people of Isleton do not easily forget when they've been bullied.
No sooner had a hotel with a casino opened in 1949 than the state of California outlawed gambling. The sheriff raided the establishment and threw its slot machines into the Sacramento River. The casino's owner hired divers to retrieve them and then put them back to work on the casino floors.
"It was during the following raid," the plaque records, "that the machines met their demise by sledgehammer."
"Sledgehammer" is the kind of word current Isleton residents use to describe the way Sacramento County District Attorney Jan Scully came down on a more recent form of local commerce: a project to grow medical marijuana approved by the struggling city of 840 residents earlier this year.
The case exemplifies the gray areas of the law in states where cannabis has been approved for medical uses despite the drug remaining federally illegal. California legalized medical marijuana in 1996 under Proposition 215, which allows patients with a valid doctor's recommendation to possess and cultivate marijuana for personal medical use. Prop 215 has since been expanded to protect a growing system of collective and cooperative distribution throughout the state.
But according to members of Isleton's city council, Scully moved to squash Isleton's lucrative operation before it had a chance to get off the ground, ordering a grand jury investigation that cost the city hundreds of thousands of dollars. And soon after the state attorney came knocking, the federal government got involved.
"I don't agree with how it was handled by the D.A. in Sacramento. There was no delicacy," said the current co-owner of the Del Rio, Linda Pace. "She had the power, and she decided to use it."
'THEY TREATED US LIKE WE'RE CRIMINALS'
In July of last year, a nonprofit called Delta Allied Growers approached Isleton with a proposal to cultivate cannabis in seven greenhouses they would build, ultimately, on the site of a failed housing development abandoned during the 2008 recession. After extensive discussion and deliberation, the Isleton City Council approved in November a development agreement for Michael Brubeck, president of DAG. The agreement, entirely predicated on its compliance with state law, allowed DAG to grow medical marijuana on the property and ship it to dispensaries in Southern California. (Scroll through the images below to see the model homes and local faces of Isleton.)
There would be no sale or distribution on site, no storefront presence, no cash or sales on the property. DAG would grow it, pack and ship it -- a wholesale cannabis nursery. Security for the operation, Brubeck said, would be designed and delivered by a consultant formerly with Homeland Security.
"It was all in plain sight. We could have been growing asparagus for all anyone would know," said Isleton Police Chief Rick Sullivan.
The city stood to benefit directly: The growers would pay a minimum of $25,000 a month in fees (in lieu of a tax) directly into its coffers, essentially doubling Isleton's annual revenue. Payment was to begin in January of this year.
But the law caught up only a few months later. On Feb. 8, Sacramento County Chief Deputy D.A. Cindy Besemer sent a letter to Isleton officials advising them that she had concerns with the legality of the project, despite the fact that California law permits the cultivation and use of marijuana for medical purposes. Besemer followed with calls described as "hostile" to city manager Bruce Pope, city attorney Dave Larsen and Sullivan, warning them that city council members and officials might be subject to criminal prosecution.
Isleton officials, believing they had acted within their rights to approve a local development agreement that adhered to state law, asked Scully and Besemer to articulate their concerns. According to all three of said officials' accounts, Scully and Besemer would not discuss the matter further, other than to question the paid role Larsen played in helping DAG prepare the terms of its agreement with the city.
The state D.A.'s office said the large-scale nature of the project initially prompted their investigation. "[The DAG project] was represented in the media as an industrial marijuana growing operation, and there isn't anything in Prop 215 that authorizes a commercial industrial growing enterprise," Besemer told The Huffington Post. She added that the D.A. would issue its statement "soon," but would not specify a release date. Scully's office has not commented on the matter further.
But that explanation was no condolence for Pope. "In my opinion, the state D.A. was out of control, and left the city hanging," he said.
Pope and Larsen proposed filing a declaratory relief lawsuit so that the California courts could determine the legality of the project. The D.A.'s office refused to participate, responding instead that Scully intended to conduct an investigation. When pressed for specifics, Besemer replied that the district attorney's office was not going to cooperate with Isleton "at the risk of preparing the city's legal defense," according to both Pope and Larsen. Communications stalled and the city/state relationship went downhill from there.
"For whatever reason, the D.A.'s office seemed bent on pursuing this matter at all costs," said Larsen. "It felt like the pursuit of a political agenda rather than a legitimate inquiry."
By April, with the local land use agreement in effect, DAG began constructing the greenhouses. Without Pope's knowledge, he said, the company also moved a thousand cannabis seedlings into the garages of the abandoned model homes it had leased on the site.
That same month, Scully's office served subpoenas on all the parties involved in the Isleton grow project to appear for a grand jury investigation, ostensibly to evaluate its legality. The D.A. never stated whether it would be a civil or criminal investigation, but the conduct of the proceedings and the lack of cooperation led city officials to suspect the latter.
"The atmosphere they created was adversarial," said Sullivan. "They treated us like we're criminals. I really took umbrage to it."
In May, the feds joined the legal fray. With the grand jury investigation underway, the city received a letter from U.S. Attorney Benjamin Wagner warning that their grow project violated federal law.
According to testimony at the proceedings, Brubeck told his workers to level the new greenhouses. Then Pope learned through the small-town rumor mill that marijuana plants were still alive in the garages of the model homes. Sullivan ordered the remaining plants to be destroyed, and they were subsequently plowed under the sandy Delta soil.
"It's done," Sullivan asserted. "They buried it. It's official, and very green. No pun intended."
DAG's monthly payments to Isleton were put on hold. Scully held her tongue; residents and city officials fumed; and the grand jury prepared its report.
'CONFUSED, INCOMPLETE LAWS'
The grand jury's June 30 report, colorfully titled "Trouble In River City," concluded, "The DAG marijuana cultivation project places the city of Isleton directly into the mess created by the confused, incomplete state law and sometimes conflicting federal law."
Disillusioned residents and disbelieving city officials are now shaking their heads.
"This production has cost poor Isleton dearly," said Larsen, citing the cessation of DAG's land use fees, witnesses' lost wages and the expert legal representation required.
On July 19, the Isleton City Council approved a defiant response to the grand jury investigation, slamming the D.A.'s office for failing to clarify whether the marijuana growing facility complied with California state law while pressuring DAG to close it down under threats of prosecution.
Responding to the investigation has cost the city of Isleton "over $100,000 to no avail, because the grand jury report fails to accomplish its stated purpose and adds almost nothing of value concerning how Isleton conducts its business," the city's reply concluded.
Scully's office had no input into grand jury's report and never clarified whether the investigation was civil or criminal, leaving some city officials anxious despite their efforts to cooperate. The jury did, however, note that the situation "might never have arisen if state laws and guidelines regarding medical marijuana were more definitive."
Hundreds of medical marijuana grow sites and dispensaries with storefront distribution flourish in other towns and cities around California, including dozens in the city and county of Sacramento.
In 2009, U.S. Attorney General Eric Holder announced that the Obama Administration would no longer raid medical marijuana clubs or grow sites that remained legal under state law. But countless raids continued to take place across the nation, and a federal memo issued in June 2011 asserted that state laws "are not a defense" from federal prosecution against marijuana charges.
The letter Isleton received from Wagner in May 2011 was nearly identical to letters received by towns with similar growing collectives and facilities across the country.
Last month, Congressmen Barney Frank (D-Mass.) and Ron Paul (R-Texas) introduced a bill they called "Ending Federal Marijuana Prohibition Act of 2011," intended to end the interference of the Federal government in state governance of marijuana. While it would not actually legalize marijuana, it proposes removing cannabis from the list of federally controlled substances.
Pope said the Isleton case clearly demonstrates the failings of existing law, both state and federal, and the crippling of local government powers. "What is the policy?" he asked in frustration.
"The Barney/Paul bill would solve at least one problem," he added. "It would let the states decide what's legal within their jurisdiction."
One law remained clear to Isleton officials: Local governments enact local legislation. Larsen explained the city handled the DAG proposal by drafting a development agreement with a land use permit, one of its most common responsibilities.
So when the D.A.'s office first contacted Isleton city officials, a few months after the papers with DAG had been signed, it came as a total surprise to them.
"All we did was enact a development agreement," insisted City Council member Robert Jankowitz.
That shock was only compounded by Scully and Besemer's subsequent failure to articulate their real concern.
"We asked: Is it state or federal law you're concerned with? She wasn't really clear," Larsen said. "I've been a city attorney for 30 years. We're not hayseeds here. But all we could get from them was that they were going to conduct an investigation."
"We tried to cooperate," added Pope. "We kept asking 'What's your issue here? Let's work to resolve it.'... We never got an answer."
'THERE'S NO INDUSTRY HERE'
Isleton, a tranquil settlement along the winding Sacramento River surrounded by cornfields and pear orchards, has had more than its share of troubles with the law over its 88-year history. The labyrinths of the river delta's sloughs and tributaries have long provided privacy to smugglers and other kinds of people looking to live below the radar. Locals still mention the former brothels on the two-block long Main Street, which today features only few restaurants, shops and art galleries.
More recently, the city's failure to file annual audits and charges of corruption in the police department and city government have resulted in other grand jury investigations -- until Pope and Sullivan were hired a few years ago to straighten things out.
"There is nothing we've done that has not been fully public," said Pope.
The economy now victimizes Isleton more than any criminal activity. Half the storefronts on Main Street have "For Lease" signs in their windows, and businesses elsewhere in the city limp along with the patronage of loyal locals and a limited number of tourists, bikers and boaters.
"Isleton is not a river stop anymore. The canneries are gone. Asparagus is being grown elsewhere," said John Romero, a boater and Bay Area telecommunications specialist who lives in an unincorporated part of town. It was no wonder, he said, that a city with no remaining economic foundation saw in the cannabis project a hope of survival.
"We're really bummed it's not happening," said Karen Franscioni, a stained glass artist and gallery owner. "All the people we know in town were in favor of it. Because it was going to bring money into town. There is no industry here."
Hair stylist Maria Vasquez, proprietor of The Hairloom on Main Street and the mother of two school-aged children, said that not everyone in Isleton initially supported the cannabis farm.
"I was concerned at first. None of my family or friends do drugs, and my children are young, so I didn't really know what this proposal was going to do, and whether it would create a drug environment here, or what," she said.
But as she found out more about the nature of the project, "I came to agree that it would do a good thing for this town," she said. "Because of the money, and also those people who really need it."
"Where was the harm? Who was going to be hurt by it? No one," said Pace, sitting in her bar among sparse customers on a recent weekday afternoon. "All the money would've been put to good use."
While it was too soon for any sort of allocations to have been devised, Pope said that every department in the city government would have benefited from the increase in funding, from the volunteer Fire Department to youth recreation programs. More than 50 Isleton area residents would have found employment on the project, including a local architect and contractors.
Pope disputes the grand jury's characterization of DAG as an "elusive" company that "exploited" a city "highly vulnerable to a seemingly lucrative proposal." He said that the jury's charge that DAG came in and offered to beef up the local police department with new computers and video surveillance equipment to secure the grow facility -- and the town -- was also false.
"They didn't offer -- I insisted on it," Pope said.
Sullivan felt particularly angered by the grand jury investigation's implications that he stood behind the proposal for personal or departmental gain.
"Some media have painted me as being blinded by greed for these things," said Sullivan. "It's not greed. It's reality ... Here we've always been poor. But when the economy tanked, this place suffered even more."
Sullivan added that revenue from the project could have been used to pay his reserve officers, who currently volunteer, an hourly wage. "We could have a state of the art police department here," he said.
As a former enforcer of marijuana law, flying helicopter patrols with the California Highway Patrol, Sullivan explained that things look different to him now, on the ground.
"I've educated myself: What's a collective, a dispensary, that there are people already growing medical marijuana within our city and around the state," he said. "I also know about the Mexican cartels and the white boy grows up in Humboldt County. I know there are people in it for the money. The real problem is we have people who are legitimately ill and need it. I'm not opposed to that; I am opposed to abuses of a system that permits it."
"I think the D.A.'s and the A.G.'s concern is that it's going to get so big -- we're talking beaucoup bucks," he added. "And they haven't figured out what they want to do about it."