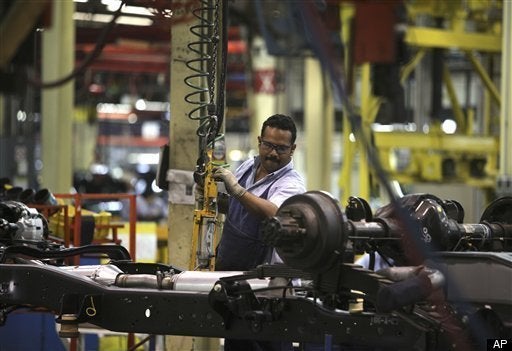 American manufacturing continued its rapid growth last month, according to a new report released Tuesday, suggesting a broader economic recovery could take hold this year.
January marked the eighteenth straight month of growth in the manufacturing sector the fastest rate of growth seen since May 2004, according to the Institute of Supply Management's Report On Business. The report gives a crucial overview of the U.S. manufacturing sector, which likewise serves as a sign of the overall health of the economy.
Manufacturing is in "full economic recovery mode," said John Silvia Chief Economist at Wells Fargo, "And this is good for the economy. It does suggest we have sustained economic growth."
As for when manufacturing's recent brisk expansion will translate into new jobs, Silvia is less optimistic.
"My view is that a lot of this unemployment is structural. We have some improvement in the unemployment rate already. I think we're going to continue to see improvement in the next year, it'll continue to decline." But, Silvia added, "there's just a lot of people in the wrong spot with the wrong skills. A lot of construction workers -- they're not going to be IT engineers tomorrow."
Last year, the U.S. manufacturing sector created more jobs than it eliminated for the first time in more than a decade. That number will likely continue to increase in 2011, according to the Wall Street Journal, which quoted one economist who described manufacturing as "the shining star of this recovery."
Despite the recent spate of strong signs of improvement -- a rising GDP, strong manufacturing, consumer spending up this recovery, as a recent Time cover story put it, may be cruelly uneven:
"None of this means that we're going back to an old-fashioned economy. One of the less attractive features of this job recovery is that it will be cruelly uneven. It will favor, more than ever, the college educated over blue collar workers. It will favor cities that have developed industry clusters in which skills match demand. It will favor the Dakotas over states such as Florida, Nevada and California. It will favor those who work in the private sector over those who work in the public sector."