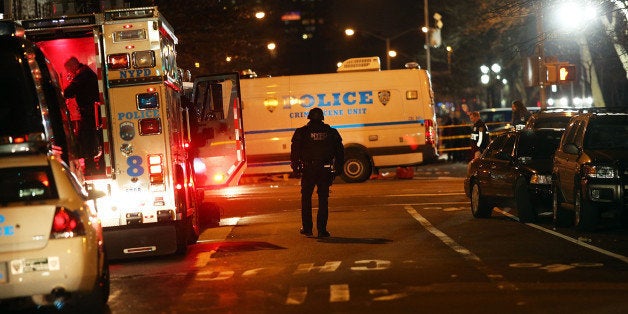 Two New York City police officers were shot dead "execution style" in Brooklyn on Saturday. Not much is known about the gunman, who was identified by officials as Ismaaiyl Brinsley, 28, except that he was a suspected gang member from Baltimore who allegedly posted on social media that he wanted revenge for the deaths of Michael Brown and Eric Garner, two black men that died at the hands of police.
According to the New York Daily News, Brinsley, who was pronounced dead, had ties to the '"Black Guerilla Family" prison gang, which is also known as "Black Family" or the "Black Vanguard." The gang was formed in 1966 by Black Panther member George Jackson at the San Quentin State Prison in California, and soon grew into a multi-million dollar business with chapters stretching from Los Angeles to Kansas City and Detroit.
"BGF has been talking about getting back at cops for Eric Garner and Ferguson," a source told the News, which also reported on a suspected Black Guerrilla Family plot to kill NYPD officers in the wake of a grand jury decision not to indict an officer in Eric Garner's chokehold death earlier this summer.
A federal law enforcement official, however, told the Baltimore Sun that Brinsley had no known ties to the BGF.
The gang is affiliated with leftist groups, including the Black Liberation Army, Symbionese Liberation Army, Weather Underground, Red Guerrilla Family, and Chicano Liberation Front, and one of its stated missions is the overthrow of the U.S. government. Gang members identify with tattoos and symbols including the letters "B-G-F," the corresponding numbers of the alphabet 2-7-6, a crossed machete and rifle, and a black dragon climbing a San Quentin prison tower, according to Police Mag. It is structured on a paramilitary ranking system (its leader holds the rank of Supreme Commander), and many of its members use the Swahili language to communicate.
The gang still operates today under James (Doc) Holiday, who was incarcerated in 1987. According to Police Mag, BGF actively recruits members from other gangs (Crips, Bloods, N.O.I., Black Panthers, or members of the 415 gang) and encourages them to continue to claim their prior affiliation. Doing so allows the BGF to operate covertly within the prison system.
Last year, Baltimore officials cracked down on the gang because it essentially took over the Baltimore City Detention Center, after members allegedly extorted people, intimidated witnesses and dealt drugs with the aid of correction officers. Five corrections officers, two inmates, and a kitchen worker are currently on trial in the ongoing racketeering conspiracy case.
The Baltimore FBI office issued a memo on Friday warning that the BGF was targeting "white cops" in Maryland, per the Sun. The memo, based on a contact who had given officials reliable information in the past, said the plan was to target white officers in order to "send a message."
Calling all HuffPost superfans!
Sign up for membership to become a founding member and help shape HuffPost's next chapter