Those who are not fluent in Latin may wonder how Philadelphia came to be known as The City of Brotherly Love. The name was chosen by William Penn who, in addition to being a Quaker, had also studied Latin and Greek.
The creative process that gave Philadelphia its name had nothing to do with repressed homoeroticism in our nation's first capital. The word Philadelphia is comprised of two Latin words: "philos" (meaning love) and "adelphos" (meaning brother). Only if Penn had used the Greek spelling (Phyllo) might there have been any kind of insinuation that one's male friend could also be a tasty treat!
In the world as we know it, male-male relationships usually fall into four basic categories which have changed the old-fashioned "brotherly love" to the more modern, metrosexual era's "bromance."
In some cases, two men may share a purely platonic love.
In others, one person may develop a "man crush" on someone he admires. These fixations can often lead to painful bouts of unrequited love.
In rare cases, there may be a primal link between two men (especially those born as identical twins).
For many others there are complex, multi-layered relationships shared between two men that are sexual, intellectual, spiritual, and emotional.
There's an old saying that if you throw a frog or lobster into a pot of boiling water, its muscles will tense up from the shock and its meat will be tough when served for dinner. If, however, you put the animal into cold or tepid water and slowly raise the temperature, the creature will be lulled to sleep and perfectly delicious.
As one experiences the subtle delights of Zabou Breitman's The Man of My Life, one sees how a straight man starts to fall in love with his gay neighbor over the course of many late-night wine-fueled philosophical discussions and joint joggings through southern France's lush countryside.
The film starts off as Frédéric, his wife Fredrique, their young son, and their extended family arrive at their country home for an extended vacation. Upon meeting Hugo (a graphic artist who lives in an adjacent cottage), Frédéric invites his newfound neighbor to join the family for dinner.
Whereas Frédéric is a attentive, affectionate, and devoted husband, the sexual spark has gone out of his marriage. As he listens to the uninhibited Hugo talk about being gay, Frédéric starts to wonder if something is missing from his life. Soon, the two men have become running partners and developed a level of intimacy in their long, late-night conversations that Frédéric has never shared with another man.
Hugo, who has absolutely no interest in relationships, enjoys the kind of freedom that a married man with a child like Frédéric can only dream about. Not only does Hugo drag home one man after another from the local gay bar, he frequently has late night skinny dipping sessions in his pool.
The Man of My Life is not about Hugo seducing Frédéric for, in fact, that's never Hugo's intention. Instead, it is about the spiritual awakening fueled by the warmth of the growing -- and glowing -- intimacy between two men (one a hardened cynic with total freedom to indulge himself, and the other a romantic who is starting to wonder about life beyond his traditional marriage). Filled with beautiful imagery from the Rhone valley, Breitman's film is one of those quiet, subtle treats. Here's the trailer:
In Korean filmmaker Josh Kim's 15-minute video entitled The Postcard, two female postal workers flirt with a quiet, lonely customer who keeps mailing postcards to himself. When the more aggressive of the women misinterprets the flirtatious hints written on the postcards as an invitation, she pays a surprise visit to the young man at his apartment.
What she doesn't understand is that the messages were intended to capture the attention of the hunky postal delivery boy, who finally gets up the courage to answer the young man's invitation -- only to see his female co-worer knocking on the man's apartment door. Later that night, both young men head to a public bathhouse where they may (or may not) get up the courage to speak to each other. You can watch the entire film in the following clip:
Give Me Your Hand (Donne-moi la main) is by no means a typical road trip film. It begins with a curious animation segment in which two young men who have a near-psychic connection alternate between good-natured teasing and attempting to pummel each other to bits.
After the initial title sequence, we meet the film's two protagonists: 18-year-old identical male twins who are hitchhiking through the French countryside as they head south to attend their mother's funeral in Spain. Antoine (Alexandre Carril) is straight, has a distinctive scar above his left eye, is noticeably the more outgoing of the two, and has no qualms about trying to pimp out his gay twin brother when confronted with a desperate need for cash. Quentin (Victor Carril) is hypersensitive, artistic, frequently seeks refuge in his sketch pad, and tends to be moodier and more introspective than Antoine. One twin likes to amuse himself making strange sounds (which he knows will drive his brother crazy) on a small harmonica he always carries in his pocket.
Pascal-Alex Vincent's hauntingly beautiful film is not about the kind of incestuous physical attraction between identical twins that so many gay men fantasize about. Instead, it is one of those "can't live with him, can't live without him" stories in which Antoine and Quentin's differences seem more and more to be two parts of a confused, frustrated, and often angry whole. While the twins seem to share an unwritten form of communication that is often quite noticeable in their body language, each knows how to infuriate his brother. It's obvious that these two young men have been fighting their "other half" for most of their lives.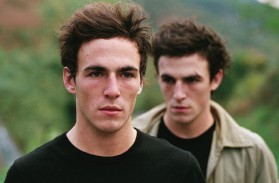 The dialogue in this film is quite sparse. Much of the conflict is captured with careful editing underwritten by a curiously insightful musical score from Bernd Jestram and Ronald Lippok. As the brothers head south on foot, by car, by truck and by train, they are seen enjoying various sexual liaisons (Antoine with several women, Quentin with a migrant farm worker). The strength of the film comes not just from the near-magnetic force that keeps the twins bound to each other, but from the stunning cinematography by Alexis Kavyrchine which provides viewers with a rich visual treat.
The linear narrative that sets Give Me Your Hand on its path is quite secondary to the ways in which the film examines the behavior of two testosterone-laden teenage twins and how they respond to a series of peculiar challenges. Here's the trailer:
Kim Jo Gwang-Soo's 30-minute short, Just Friends?, is essentially a love story sandwiched between two very happy music videos. In this tender tale, Seok-i (Lee Je-hoon) travels by bus from Seoul to visit his boyfriend Min-su (Seo Ji-hoo), who is serving in the South Korean army.
The plot takes a curious turn when Min-su's mother interrupts their meeting at the barracks and brings both young men home for dinner. When Seok-i discovers that there are no more buses to Seoul that night, the three protagonists end up sleeping together on the floor (their faces covered with moisturizing cream) in a scene unlike any I've ever watched in a romantic comedy. As the filmmaker notes:
"There are many Korean films that give distorted portrayals of gays. I wanted to make a real gay film of 99.9% purity. Through this film, I wanted to give a true view of gays -- not only the gay couples, but the relationships that surround them -- and how they 'unconsciously but inevitably' hurt those around them."
Thankfully, Just Friends? is available on YouTube with English subtitles. Kim Jo Gwang-Soo's romantic comedy has such charm and wit that you can't help but fall in love with its characters. Enjoy!
Calling all HuffPost superfans!
Sign up for membership to become a founding member and help shape HuffPost's next chapter