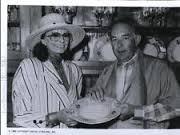 Robin Leach is on the phone, and instantly it's 1984. That was the year Lifestyles of the Rich and Famous, the proto-reality series Leach hosted, debuted and became an era-defining staple of the culture. His signature catchphrase, "Champagne wishes and caviar dreams," resonated in the era of Dynasty and Dallas, which chronicled the lifestyles of the rich and ruthless. Greed, as Michael Douglas' Gordon Gekko proclaimed in the 1987 film, Wall Street, is good, and it was very good for Leach, who each week took viewers into the opulent homes of the world's celebrity royalty (and actual royalty as well, as witness the episode the royal family of Monaco).
Leach is featured in the first episode of CNN's new seven-part miniseries, The Eighties, which premieres Thurs. March 31. The Eighties, is the natural progression from The Sixties and The Seventies. As with those earlier top-rated miniseries, The Eighties is a treasure trove of archival news footage, film clips, and interviews that measure the depth and breadth of the era. The first installment is a two-hour Very Special Episode that focuses on television in a decade in which the medium was elevated to an art form with such signature series as Hill Street Blues, St. Elsewhere, Cheers, Miami Vice, Murphy Brown, The Wonder Years, and such under the radar critical darlings as The Days and Nights of Molly Dodd.
Lifestyles of the Rich and Famous was anything but a critics darling, a bemused Leach noted in our phone interview. "The show was absolutely lambasted by critics," he said. "They wrote that television had reached an all-time-low. But I looked at the ratings every Monday morning, and I was rubbing my hands with glee. We were a hit."
London native Leach came to America in 1963, a year ahead of the British invasion, but his presence and impact was no less revolutionary in regards to television. A seasoned show business reporter and celebrity interviewer, he was present at the creation of CNN and Entertainment Tonight.
A disagreement with an Entertainment Tonight producer inspired Lifestyles, Leach recalled. "This is not a joke," he said. "I was told that I had to interview (former Three's Company star) Suzanne Somers about why she hadn't done Shakespeare in the Park. I responded that people have no interest in actors and actresses stretching their so-called television skills, but they do want to see how much they spend on their cosmetics in the bathroom. I was laughed at. The outcome of that was the managing editors that came in were replaced."
Leach approached Al Masini, a pioneer in independent, non-network programming who created such series as Entertainment Tonight, Star Search and Solid Gold, which was what Masini thought Leach's concept for Lifestyles would be. "He asked me if I could get magnates T. Boone Pickens or Sam Walton to do the show. In my naiveté, I said, 'Of course.' And thus, Lifestyles of the Rich and Famous." The series ran for 14 years.
Touring the homes of the mega-rich to the delight of the hoi-polloi was not a new concept. In the 1950s, legendary newsman Edward R. Murrow interviewed celebrities in their homes in "Person to Person." Leach himself conducted celebrity home tour pictorials during his stint with Star magazine. Lifestyles took the concept to "11," with Leach providing top-decibel commentary about the lavish homes and their spectacular amenities. "It was all deliberate," Leach stated. "The loud voice, the alliterations, the rapid pace of my talking. I was the kid in short pants from England whose mouth opened in awe and wonderment at the way people spent their money, and I had to project that I was, and I still am, amazed at what I see."
Lifestyles began as a series of four two-hour specials. The ratings demanded a weekly series.
Leach became one of show businesses' most imitated voices. When Dana Carvey unleashed his indelible impression on Saturday Night Live ("I'm Robin Leach. I'm yelling and I don't know why"), Leach himself knew he and the show had arrived.
"A story I love to tell," he says with a laugh; "Joan Collins told me that the cast would all meet to watch Lifestyles so they could tape lines of dialogue from the people on my show and use it on Dynasty."
As for the catchphrase that Leach says he still hears shouted at him on a daily basis ("I'm grateful but sick to death of it," he jokes): "We were drunk," Leach confesses. "We wanted a catchphrase people talk about at the water cooler the next morning when they were talking about the most unbelievable thing they'd seen on television the night before. I was working with an English writer named Jeff Samuels. For the life of us we could not come up with one that was short, powerful and potent that described the show. We ran out of British beer and I opened up a bottle of bubbly. Literally as the cork flew off, Jeff and I looked at each other and said, 'It's staring us right in the face.' Being a connoisseur of drinking large quantities of Champagne over the years, the best thing to eat with it is caviar. And so on a drunken Friday night past midnight, 'Champagne wishes and caviar dreams' came into being."
The show made Leach himself rich and famous ("or infamous," he jokes). What was his first extravagance? "It is the dream of every Englishman who was raised in a country where it rains all time to buy a house in the Caribbean," he said. "I built my dream house on the island of Jumby Bay."
Today, Leach, 74, has a new role and lifestyle as a chronicler of Las Vegas society and attractions. He is not one to look back, he said, but when he thinks of the 1980s, it is of a decade of change in the world of entertainment. His own story is of the David vs. Goliath variety in how himself and Masini challenged network domination. "It was a fascinating time to be involved in television," he states.
This article originally appeared on millionairecorner.com.
Popular in the Community