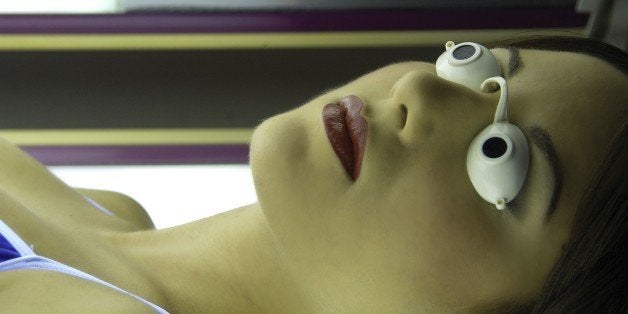 I don't know a mom or dad who doesn't remember tanning before prom -- or even just to feel some "sunshine" during a long New England winter. When I was a teen, I signed up for tanning in packages of 10 or 12 sessions at a local fitness center, at a price easily afforded on a teen's meager budget, and I enjoyed baking in the bed or dancing in the heat to the too-loud music in a booth for 8-12 minutes. Having never sunburned in my life, I didn't give a thought to the dangers of the concentrated UV rays penetrating my young skin. No parental permission was required and, although that has changed in some states, it's not enough.
At the Massachusetts Conference for Women in December, I met Meghan Rothschild, a vibrant and beautiful Marketing & PR Manager and Melanoma survivor. Meg told me the frightening story of her diagnosis and treatment. At age 19, she mentioned to her doctor that a mole on her abdomen was itchy. The doctor thought it looked "a little funny," so it was removed and biopsied. Two weeks later, Meghan was told that she had Stage 2 Malignant Melanoma, the deadliest form of skin cancer. Her head reeling from the news, she headed in for surgery to remove eight lymph nodes, which left her with four disfiguring scars. Luckily for Meghan, her cancer was caught early and she was declared cancer-free after her surgery. She was now a survivor, but also a 20-year-old covered in disfiguring scars, knowing that her own choices -- her own pursuit of beauty through tanning -- had led to her nightmare. Meghan is as tough as she is beautiful, so it's no surprise that her next step was to share her experience to help spare others. Eleven years cancer-free, she is an outspoken advocate for Melanoma education and prevention and is the spokesperson and marketing & PR manager for Melanoma Foundation New England.
According to a 2014 study by Wehner and colleagues, more than 400,000 cases of skin cancer may be related to indoor tanning in the United States each year. On July 29, 2014 the Surgeon General issued a Call to Action to address skin cancer as a major public health concern. Lawmakers are taking notice -- at least 41 states have already passed some type of legislation that regulates minors using tanning beds. Just last Wednesday, New Hampshire's House of Representatives passed a bill that will ban tanning beds and booths for minors, but leaving it up to states creates too much gray area. National legislation, like the laws that regulate alcohol and tobacco, would be the best way to reduce teens' exposure to the dangerous UV rays in tanning beds. Today, Meghan is in Washington DC, with over 100 other survivors, working with MFNE, Melanoma Research Foundation and the American Cancer Society to push for national tanning legislation to protect others from Melanoma and other skin cancers.
As parents, it's our job, not only to apply sunblock to our babies, but to educate our teens and ourselves about sun safety. As my 16-year-old excitedly plans for her prom -- she already has her gorgeous dress!! -- I'm happy to say that tanning will never be on her to-do list!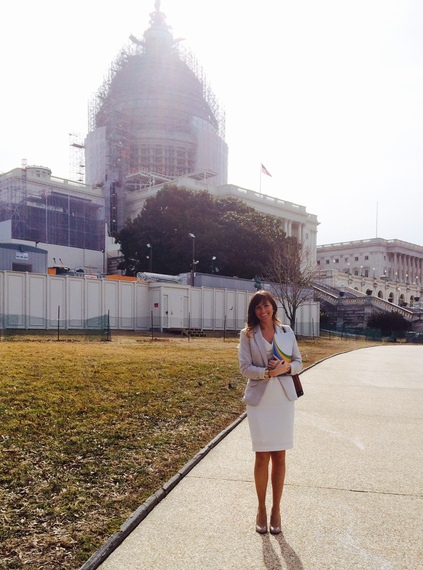 Meghan Rothschild, in DC to speak about her experience with Melanoma, is hoping to ban use of indoor tanning devices by minors.
Calling all HuffPost superfans!
Sign up for membership to become a founding member and help shape HuffPost's next chapter