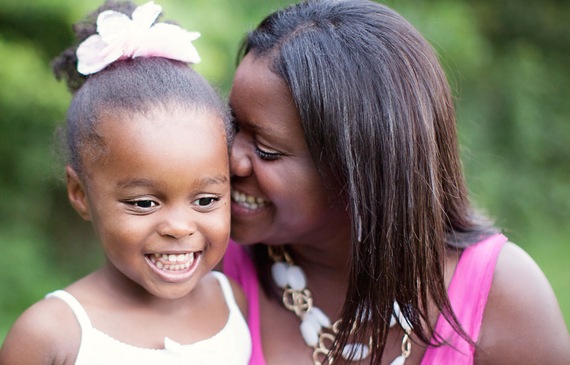 By Georgia Lobban for mater mea
Photo credit: Vintage Daisy Photography
"Mommy, why is my hair different?"
"Mommy, why don't I look more like her?"
These were the questions that started it all.
Less than a year ago my daughter Zola, who is now 5 years old, began asking a lot of questions about her physical appearance, comparing herself to many of the characters she sees and enjoys in books, toys, and on TV, such as Snow White with her skin like snow or Elsa and her long, blonde Rapunzel-like hair.
I'm a mom of Jamaican-Canadian origin, raised among people who looked like me as well as many other ethnicities that united to create one culture. Despite this background, it wasn't until I started seeing the world through my daughter's eyes that I realized I too had been influenced by the lack of diverse characters in my world as a child. I began to recognize insecurities that followed me through adulthood. Now in my late 30s I've begun to embrace what I once thought made me different as what makes me a unique and a worthwhile contribution to society.
My daughter's clear dislike for what she looked like broke my heart. My daughter is beautiful and I want her to know it every time she looks in the mirror. I wondered, do other parents of minority children share this same experience?
So, I set off on a mission, and started visiting libraries and other local stores for toys. I was shocked that I couldn't find any storybooks or dolls to give my daughter with pictures of girls that look like her. I needed to give her something that would show her that she isn't just unique -- she's beautiful.
While sharing my story with a few friends who also have children of diverse descent, I was overwhelmed with nods of agreement. They too struggle with finding images and messages that communicate to their children that they are beautiful exactly the way they are. For minority parents, it's discouraging to find so few educational materials that uplift our children and make them feel proud. I knew in that moment this was a problem and one becoming too common for comfort. And that's when I decided to do something about it.
I'm starting Little Proud Kid, an all-inclusive online marketplace that offers an array of books, toys, dolls, films, and more that represent minority and multicultural children. It eliminates a parent's search for diverse products and provides parents with the resources they need to make their child proud to be who they are. It's also for the any parent who wants to teach their child about different cultures.
I recently launched a crowdfunding campaign on Indiegogo to help us meet these goals and more, such as developing products and supporting creators who typically have to wait years to recoup their costs through larger vendors. Funding our campaign allows you make a difference in the lives of so many children. We want Little Proud Kid to be a hub for diverse products and a way to celebrate all people, one people.
This journey is about arming our next generation with the tools and resources to lead, become good citizens, and solve the problems of the world. It begins with how they feel about themselves and each other.
Little Proud Kid is a parent's resource for promoting diversity, celebrating multiculturalism and teaching children to embrace their beauty. For more information, email info@littleproudkid.com, visit the Little Proud Kid website: www.littleproudkid.com or follow them on Facebook or Twitter.
mater mea is a website that celebrates women of color at the intersection of career and family. Visit matermea.com for more great articles on work-life balance from a Black woman's perspective.
REAL LIFE. REAL NEWS. REAL VOICES.
Help us tell more of the stories that matter from voices that too often remain unheard.