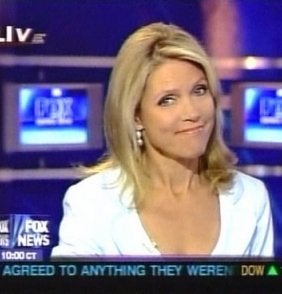 Looking for a calendar to keep track of your social commitments in 2009? Forget Pirelli and its nudish, high fashion models photographed in Africa by Peter Beard. Look no further than the Clare Boothe Luce Policy Institute's "Pretty in Mink" calendar, celebrating "smart, conservative women role models" like Ann "Total Fag" Coulter and Michelle "In Defense of Internment" Malkin.

These paragons of intelligence and good sense have been styled like stars of a bygone era, "back when the big screen was a little more glamorous, women were a little more feminine, the men a little more charming -- and the world a little less politically correct," i.e. a Glamour Shots mall outpost circa the late 80's. In a word -- awesome.
I've only got one bone to pick with this calendar, and that is its gussying up of Malkin in a mink coat. I get that that is the conceit of this beauteous must-have object. And I have no issue with fur, as a vintage ocelot coat hangs in my closet that I would wear more if I didn't live in southern California and if I wasn't so afraid some deranged PETA vegan would throw a tofu pie at it.
I just don't understand why someone would skin scores of rodent-like creatures (35 to 65 on average) only to outfit another. Doesn't make sense really.
To see all the Pretty in Mink pictures, click here.