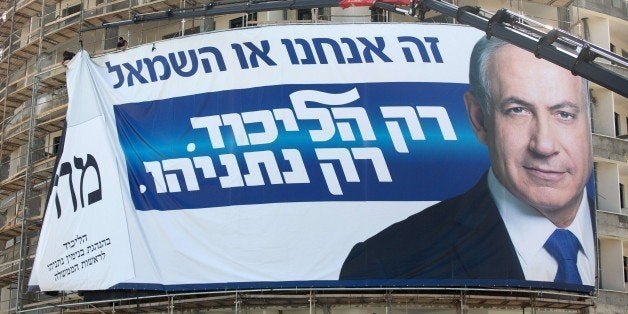 As poll-watching eyes turn to the Israeli elections, the uncertainty of coalition math makes it difficult to predict the ultimate winner. First reactions to Clinton's email controversy are as polarizing as you might expect. And some wonder if the Congressional approval rating is too low to be measured. This is HuffPollster for Monday, March 16, 2015.
Israel's voters will cast their ballots in a nationwide election on Tuesday, and while the Likud party of Israeli Prime Minister Benjamin Netanyahu is consistently trailing the left-wing Zionist Union party in polls, the election results alone are unlikely to indicate which of the contenders will be able to assemble a ruling coalition.
More than a dozen opinion polls conducted during the final week of the campaign have consistently favored the newly formed Zionist Union party, showing it winning 24 to 25 Knesset seats, with Netanyahu running behind with 21 to 22 seats. The Knesset has 120 seats, however, so if taken at face value these poll projections leave both parties well short of the 61 seats either would need to form a government. Most observers agree that despite trailing, Netanyahu will retain a key structural advantages over Zionist Union's Isaac Herzog in building a ruling coalition in the second phase of Israel's election, which will commence after Tuesday's vote. His natural allies remain more numerous than parties pledged to oppose him.
Consider the likely coalition math, based on the results polling averages created by Haaretz and the poll tracking site Jeremy's Knesset. The final polls project 41 Knesset seats to Zionist Union and its most likely allies, the left-wing Meretz party and center-left Yesh Atid, whose leader Yair Lapid has pledged to oppose Netanyahu. However, polls project 57 seats for the Likud and the various right-wing and religious parties that are either pledged to support Netanyahu or are ideologically aligned with him.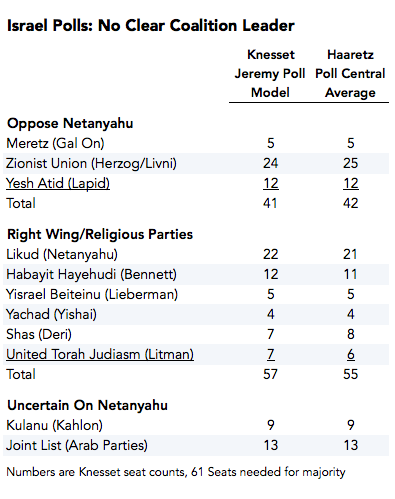 The key wildcards are a handful of small parties that have not pledged to support either Netanyahu or Herzog or who might be coaxed to abandon Netanyahu to join a ruling coalition. The most important is Kulanu, a center-right party that split from Netanyahu's Likud. Its members are far closer to Netanyahu ideologically, but party leader Moshe Kahlon has been critical of Netanyahu and has refused to commit to him or Herzog for Prime Minister. The 12 to 13 seats projected to the Joint List of Israeli Arab or Palestinian parties are technically up for grabs, but this alliance has pledged to refuse to join any ruling coalition, even if asked, "as long as the occupation continues." Israeli governments traditionally cobble together ruling coalitions with the help of small religious parties, but Yesh Atid's Lapid has fiercely opposed those parties, making it harder for Herzog to coax them into his coalition.
Should Zionist Union finish first in the voting, Herzog will likely get the first chance to assemble a ruling coalition, but that advantage is more customary than automatic. The process depends on the decision of Israel's president, Reuven Rivlin, after each party submits their recommendation for Prime Minister to him. This nod has traditionally gone to the party with the most seats, but Rivlin could also recommend a unity government.
All of this speculation is based on the final polling snapshots, but there are good reasons to expect surprises. First, Israeli polls often understate the number of seats won by parties that experience a final surge of support in the campaign's final days. In 2013, for example, Yair Lapid's Yesh Atid party won seven more seats than polls projected. The strong potential for late shifts is not surprising: As with multi-candidate primaries in the United States, there is greater potential for strategic voting, with some voters torn between smaller parties that might be a better ideological fit and larger parties vying for their support. Israeli news outlets are also prevented by law from publishing results from polls less than five days before the election, so there are no last minute polls to capture late shifts.
The published poll results consistently factor out voters who are totally undecided, reporting seat counts based on voters with a choice and rarely, if ever reporting straight percentages. Only a small handful of the Israeli polls have reported the percentage undecided, uncertain or potentially still willing to shift their support. One exception was a poll conducted by Haaretz in late February that found 21 percent of Israel's voters totally undecided about their vote, with more than third of supporters of Zionist Union and Likud saying they could consider alternatives.
Finally, the media outlets sponsoring polls released in the final week have disclosed little or nothing about their methods. HuffPollster's review of recent articles on the results, in both Hebrew and English, found mention of nothing beyond survey dates, sample size and the "margin of error" (which applies to percentages, not to the seat counts reported by virtually all polls). Like their colleagues in the U.S., Israeli pollsters must deal with the challenges of a rapidly rising "cell phone only" population, while facing their own unique challenge in interviewing critical minority populations who speak only Arabic or Russian. Those familiar with the workings of Israeli polls tell HuffPollster that many of these polls are relying on a combination of automated telephone polls and non-random internet panels, but again, virtually none of these details have been disclosed in the public reports. That lack of methodology alone should give poll watchers reason to be cautious in waiting for Tuesday's results.
HuffPost's Talia Lavin contributed reporting.
NO SURPRISE, CLINTON EMAIL CONTROVERSY PROVES TO BE A POLARIZING ISSUE - HuffPollster: "After a week of stories about Hillary Clinton's use of email during her time as secretary of state, the controversy is more polarizing than ever. A new poll shows that Republicans are increasingly convinced of the issue's importance and Democrats are increasingly sure that the media is overhyping things, while independents remain somewhere in between… In the aftermath of Clinton's press conference Tuesday, during which she fielded a number of questions about her use of a personal email account, attention to the story has continued to grow, a new HuffPost/YouGov poll finds. Sixty-five percent of Americans now say they're following the story at least somewhat closely, up from 53 percent in a survey last week. The percent of Americans who call the issue at least somewhat serious has also ticked up, from 47 percent to 54 percent… In the earlier poll, Republicans were 27 points more likely than Democrats to consider the email issue "very serious." That partisan gap now stands at 52 points, with members of the two parties moving in opposite directions. [HuffPost]
SATIRE: APPROVAL RATING FOR CONGRESS NO LONGER DETECTABLE - Andy Borowitz: "After a challenging week for the legislative body, the approval rating of the United States Congress has shrunk to a point where it is no longer detectable by the technology currently available, a leading pollster said on Friday. Davis Logsdon, who heads the highly regarded Opinion Research Institute at the University of Minnesota, said that his polling unit has developed highly sensitive measurement technology in recent years to gauge Congress's popularity as it fell into the single digits, but added that 'as of this week, Congress is basically flatlining...' Logsdon said that the swift descent of Congress's approval rating below detectable levels has surprised experts in the polling profession. 'A couple of years ago, when they shut down the government, I wondered, What could they possibly do to become less popular than this?' the pollster said. 'Now we know.'" [New Yorker]
HUFFPOLLSTER VIA EMAIL! - You can receive this daily update every weekday morning via email! Just click here, enter your email address, and click "sign up." That's all there is to it (and you can unsubscribe anytime).
MONDAY'S 'OUTLIERS' - Links to the best of news at the intersection of polling, politics and political data:
-Hillary Clinton is a clear leader among Democrats in favorability. [Gallup]
-Charlie Cook explores the challenges for Jeb Bush evident in polling data. [National Journal]
-Democrats and Republicans are about equally likely to say "poll" or "polls" on the congressional record. [WashPost]
-Favorability dips below 40 percent for both Democrats and Republicans. [Gallup]
-A readers' poll by conservative blog Hot Air shows Scott Walker as the most popular GOP candidate. [Town Hall]
-Report says not to worry, millennials do read news, they're just unwilling to pay for it. [Media Insight]

Before You Go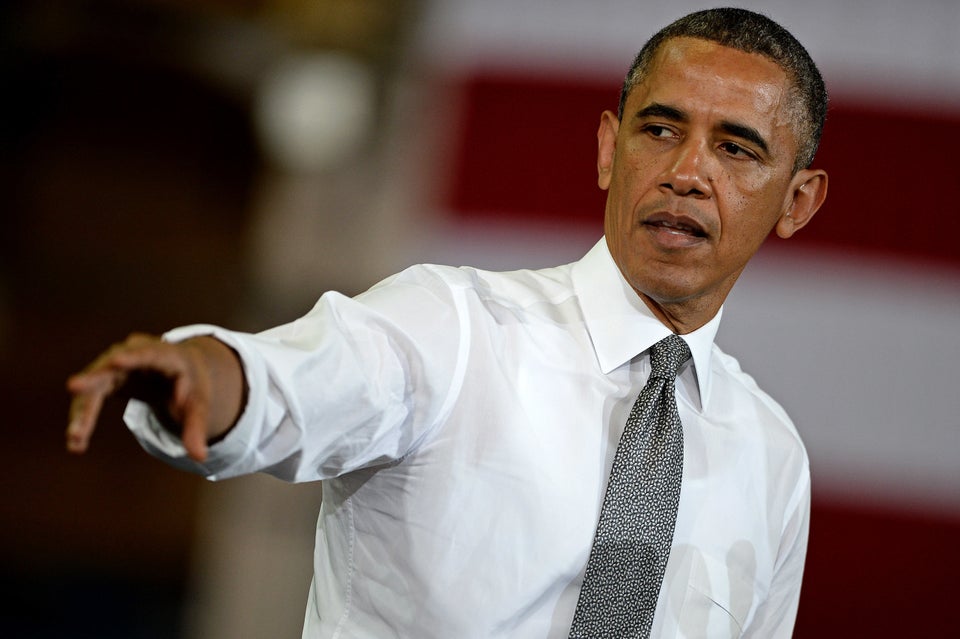 The Second-Term Curse
Popular in the Community