WASHINGTON -- Israeli Prime Minister Benjamin Netanyahu reaffirmed on Monday that he does not envision a two-state solution for Israel and the occupied Palestinian territories any time soon.
During a parliamentary committee meeting, Netanyahu told members of the Knesset that he has no current plans to surrender control of the occupied West Bank to the Palestinians as part of a peace agreement. "At this time, we need to control all of the territory for the foreseeable future," he told lawmakers, reported Haaretz.
Netanyahu accused members of the opposition government, who have lobbied for renewed two-state solution negotiations, of indulging in an unrealistic fantasy.
"You think there is a magic wand here, but I disagree," he told them. "I'm asked if we will forever live by the sword - yes."
Just last month, Netanyahu publicly called for a return to peace talks without preconditions at the United Nations General Assembly. On Monday, he reiterated that he is, in theory, ready to concede territory to the Palestinians, but that he lacks a legitimate negotiating partner on the other side.
"Half of the Palestinians are ruled by extreme Islam that wants to destroy us; if there were elections tomorrow, Hamas would win," Netanyahu told lawmakers.
While Palestinian President Mahmoud Abbas' popularity is declining, there is no evidence to suggest that Hamas would easily win an election. When the Palestinian Center for Policy and Survey Research asked Palestinians last month who they would vote for in an impromptu election, Hamas and Abbas' Fatah party were tied with 35 percent of the vote.
By announcing his intention to retain control of the occupied Palestinian territories for the time being, Netanyahu is effectively fulfilling an election guarantee, in which he promised pro-settlement voters that there would be no Palestinian state if he remained prime minister.
Even so, during the parliamentary meeting, pro-settlement lawmakers criticized Netanyahu for continuing to entertain the long-term prospect of a Palestinian state. "Why do you even talk to Abbas? Why pull the world's leg?" asked Knesset member Betzalel Smotrich of the Jewish Home party.
Netanyahu's latest renunciation of Palestinian statehood comes shortly before the 20th anniversary of the assassination of former Israeli prime minister Yitzhak Rabin. He was killed by an extremist Israeli who opposed Rabin's push for a peace agreement.
Two years before Rabin's assassination, Netanyahu, who was chairman of the Likud Party at the time, compared him to British Prime Minister Neville Chamberlain for championing a phased Israeli withdrawal from the occupied Palestinian territories. "Instead of giving peace a chance, it is a guarantee of increased tension, future terrorism and, ultimately, war," Netanyahu said in 1993 of the proposed peace agreement.
The Oslo Accords, first set in motion by Rabin, called for the Israelis to transfer authority of the West Bank to the Palestinians by 1998. The peace deal is now largely defunct, with the exception of security cooperation between the Israelis and the Palestinian Authority.
In the absence, however, of any current political process aimed at reaching a two-state solution, Israel and the occupied Palestinian territories have descended into a month-long wave of violence that has killed nine Israelis and 53 Palestinians. Uncoordinated stabbings, shootings, and vehicular attacks by young Palestinians have this month become near-daily occurrences in Jerusalem. Israeli security forces have responded with an aggressive use of lethal force against suspected Palestinian attackers.
In an effort to quell tension over Muslim and Jewish access to the Al-Aqsa mosque in East Jerusalem -- the flashpoint for the current conflict -- Secretary of State John Kerry suggested on Saturday that the mosque be placed under constant video monitoring.
Palestinian Foreign Minister Riyad Al-Maliki responded skeptically to the proposal, saying he feared video footage could be used by Israeli security forces to arrest Muslims worshipping at the mosque. Although Abbas has not yet commented directly on the surveillance cameras, Saeb Erekat, secretary general of the Palestinian Liberation Organization, said that the Palestinian leader told Kerry "that he should look into the roots of the problem, and that is the continued occupation."
CORRECTION: A previous version of this article stated that Rabin supported the two-state solution. This article has been updated to reflect that while he backed the Oslo Accords, he envisioned a final Palestinian entity that would be "less than a state."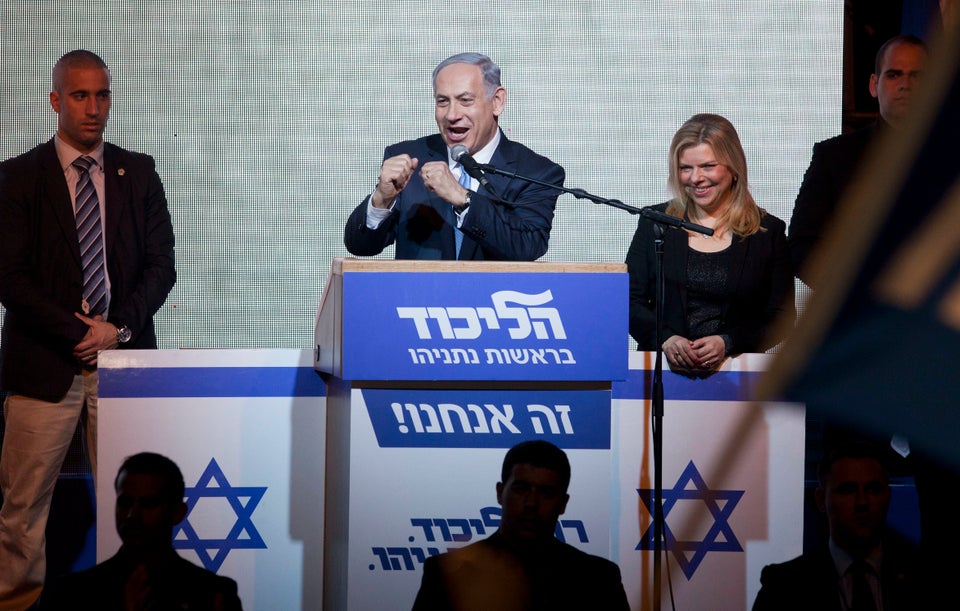 Israeli Election 2015
Related
Popular in the Community