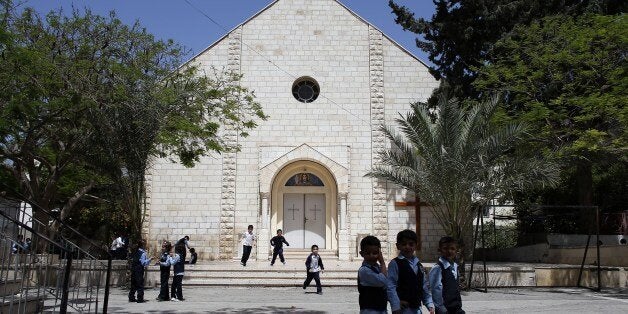 Americans of all faiths and backgrounds are looking forward to Pope Francis' first visit to the United States. The Pope's humility and profound commitment to issues of global peace, social justice and the fight against global warming have made him one of the most popular religious figures in recent history. Pope Francis' upcoming historic visit to the United States comes at a critical time for the Catholic Church in the U.S. as it suffers grave financial trouble and is forced to close churches and schools as a result of having lost millions of members over the past 14 years.
While the Pope prepares to visit the U.S., where he is expected to meet with school children, he has been called upon by members of the oldest churches at the roots of Christianity in the Middle East to intervene to end the financial crisis of nearly 50 schools serving the Palestinian community inside Israel. These schools provide education to over 33,000 Palestinian students in Israel; both Christians and Muslims alike, and have been on strike since September 1 in protest of the Israeli government's decision to further cut governmental funding of elementary church-run schools in Israel. Unlike the United States, where there is separation between church and state, Israel has no such separation and religious schools are partly funded by taxpayer money. Church-run schools in Israel, some of which were founded centuries ago and served children of all faiths who lived in historic Palestine, have been under gradual governmental cuts that have caused a serious financial crisis. Their mission and ability to provide high quality education to the indigenous national minority within Israel is threatened. These government actions are discriminatory because similarly-situated Jewish religious schools receive full funding even when they are not following the Israeli Ministry of Education's requirements to teach core subjects such as math and science.
There are 47 church-run schools that for many decades have served the Palestinian community that survived the war and ethnic cleansing in 1948 and now live within Israel. During the 1948 war, some schools had a humanitarian role, protecting Palestinian orphan children and later helping the devastated community rebuild itself during Israel's military rule that lasted until 1966.
My father and mother-in-law were orphans during the war in 1948 and were two of hundreds of children who were cared for by the Catholic Church. They were placed in a refugee camp in Lebanon and were fortunate enough to eventually be allowed to return to their homeland while many other refugees were denied this right. Upon his return to Israel, my father was supported and embraced by the local church-run educational system, eventually becoming a principal in one of the Catholic elementary schools in Nazareth. My mother-in-law went on to graduate from Nazareth Nuns' school in Haifa and subsequently became a teacher.
Thousands of people of my generation, who were born after the Nakba (which refers to the 1948 catastrophe) and the creation of the State of Israel, were educated in Church-run schools and owe their professional success to the tremendous education and opportunities afforded by such schools.
Each church-run school in Israel is affiliated with a different Christian domination (like the "Baptist school" and the "Latin school" in Nazareth), however, they all are referred to by the Israeli education system as "recognized but unofficial" schools. This group includes church-run schools as well as religious Jewish Orthodox schools. These schools receive governmental funding per number of children attending the school, which is usually supplemented by parents' fees towards their child's education.
Dr. Riad Kamel, my high school Arabic teacher who currently serves as the principal of Mar Joseph school in Nazareth, maintains that church-run schools have been suffering from "gradual desiccation" for years. This gradual reduction of governmental funding to church-run schools over the last few years has resulted in the current situation of unequal distribution of educational funding in the country.
Church-run schools receive funding to cover only 29% of their total operating costs in comparison to similarly sized Jewish Haredi and religious schools which have 100% of their costs covered by the government. Since school tuition fees are regulated by the Israeli government, religiously-run schools have not been able to make up for the lack of government funding by raising their fees to parents. This has made it impossible for many schools to obtain the money required to operate.
Since Israel has instituted two separate public education systems in Israel, one for Arab Palestinian children (Muslims and Christians) and one for Jewish children, church-run schools carry the burden of providing high-quality education to the Palestinian community. The Arab public school system not only has been historically denied equal funding but has been used by successive Israeli governments as a tool to monitor and control rather than educate the Palestinian community.
Church-run schools also play a vital role in hiring Palestinian intellectuals and academics who face discrimination in getting access to the Israeli academia and business sectors, especially in science, technology, engineering and mathematics (STEM). Their relative autonomy provided some protection against government interference in regard to teacher appointments. And the autonomy helped ensure that criticism and activism against government discrimination and dispossession of the Palestinian people since 1948 were not monitored or silenced. As a result, this relatively independent school system has become a major source of power to resist and push back against structural racism and continued policies of discrimination.
Many Arab leaders in Israel rightly refer to the church-run schools within the Palestinian community as 'national forts' because they provide high-quality education and vital opportunities to the marginalized and oppressed Palestinian community. These institutions strive to preserve the identity and culture of the Arab population.
The crisis of church-run schools should be understood in the context of ongoing government attempts to isolate and separate its Palestinian Christian citizens from the larger Palestinian community as evidenced by the recent concerted efforts to enlist Palestinian Christians in the Israeli army. These acts are part of a long policy of divide and conquer that aims to disempower the Palestinian community and force it to submit to second-class citizenship status. Some Palestinians in Nazareth believe that the reason for this latest governmental cut is simply retaliation for the Pope's signing a treaty recognizing the State of Palestine in June 2015. Yet the cuts have been building for years so it cannot be solely attributed to the Pope's stance on Palestine.
Pope Francis's heartening humility along with his sincere devotion to ending inequality gives me faith that he will support the call to pressure the Israeli government to end this crisis and ensure equality between Jewish religious schools and Christian schools serving the Palestinian community. Israel's failure to rectify this situation may lead to escalations in the current protest that will not only hurt the educations of thousands of children, but may also result in the closure of churches that continue to be the main source of tourism in Israel.
Dr. Reem Khamis-Dakwar is an Associate Professor and Chair of the Communication Sciences and Disorders Department at Adelphi University, Long Island, New York. She is a Palestinian citizen of Israel who was born and raised in Nazareth.
** This piece was first posted at Mondoweiss.
Popular in the Community