Ran Feinstein and Ofer Ra'anan, both from the city of Ra'anana, were exploring a shipwreck near the ancient port of Caesarea in western Israel last month when they made the discovery. They left the first artifact they found on the seabed, but after unearthing more, they decided to search the area and report their discovery to the Israel Antiquities Authority.
Divers dispatched to the scene by the IAA for follow-up excavations recovered many other items, including a bronze lamp depicting the sun god Sol, a figurine of the moon goddess Luna, a bronze faucet shaped like a wild boar and the remains of an old merchant ship. They also unearthed thousands of coins lumped together in the shape of the container in which they were kept, weighing some 44 pounds.
This was the largest underwater discovery of ancient artifacts in Israel in 30 years, the IAA noted.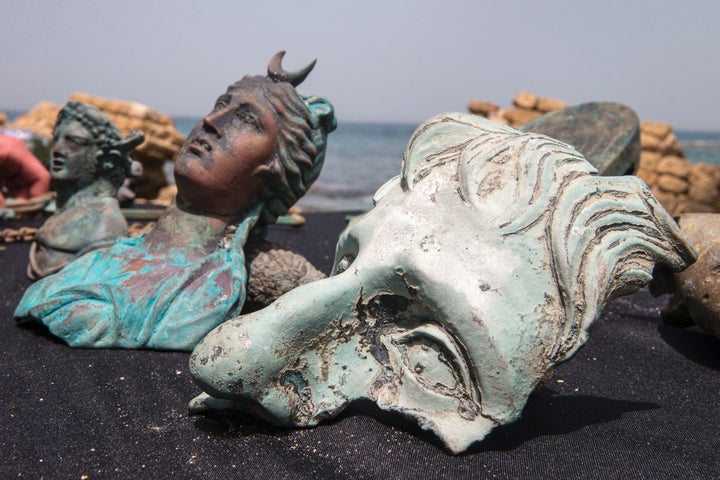 The items likely came from a large merchant ship caught in a storm that drifted at sea before smashing into the seawall and rocks sometime during the Late Roman period, some 1,600 years ago, said Jacob Sharvit and Dror Planer, directors of the IAA's marine archaeology unit. The condition of some of the vessel's broken anchors suggests that people onboard the ship had unsuccessfully tried to keep it from drifting ashore, Sharvit and Planer added.
Archaeologists discovered that a large amount of sand had shifted in the seabed, exposing the treasures to the divers. Because the sand covered and protected the artifacts for hundreds of years, they have remained in surprisingly good condition.
The relics "are in an amazing state of preservation -- as though they were cast yesterday rather than 1,600 years ago," said Sharvit and Planer.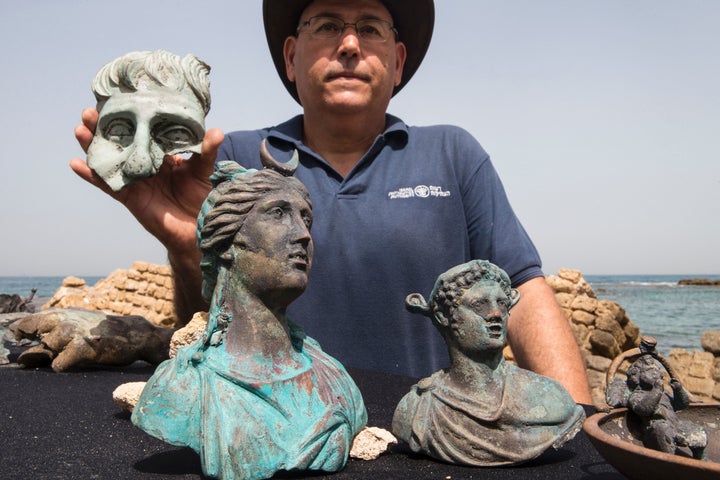 The last year and a half has been an exciting time for Israeli archaeologists. In February 2015, divers in Caesarea discovered 2,000 gold coins dating back some 1,000 years -- the largest cache of gold coins ever found in the country. In March, an American hiking in the Galilee mountains discovered a rare coin depicting Augustus, the Roman emperor who ruled from 27 B.C. to A.D. 14. It is one of two such coins known to exist in the world.
Finding the treasures was "amazing," Ra'anan told the AP. "I dive here [at Caesarea] every other weekend and I've never found anything like that, ever," he said.
The two divers will receive a certificate of appreciation and a personal tour of IAA storerooms for alerting the antiquities authority about their findings, the Times of Israel reported.
Read more:
Calling all HuffPost superfans!
Sign up for membership to become a founding member and help shape HuffPost's next chapter
BEFORE YOU GO