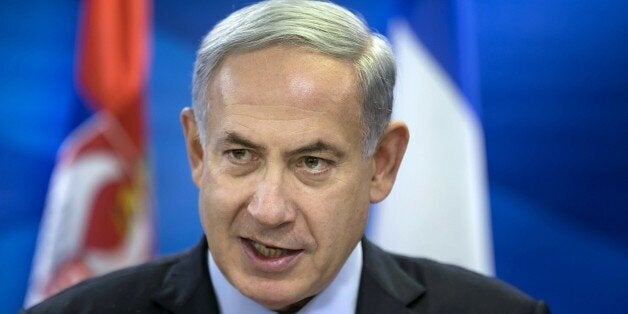 JERUSALEM, Dec 2 (Reuters) - Prime Minister Benjamin Netanyahu sacked his finance and justice ministers on Tuesday, signaling the break up of his bickering coalition and opening the way for early national elections in Israel.
Netanyahu's government, which only took office last year, has been unraveling over an array of issues, including the 2015 budget and a Jewish nation-state bill that critics say discriminates against Arab citizens.
A poll published at the weekend said Netanyahu would almost certainly win a fourth term as prime minister if elections were held today, with his rightist Likud party set to remain the biggest political force in Israel.
A statement from Netanyahu's office said he would "call to dissolve parliament as soon as possible" in order to seek early an early national ballot, which was not scheduled until 2017.
He also ordered the dismissals of Finance Minister Yair Lapid and Justice Minister Tzipi Livni, the heads of two separate centrist parties who have been chaffing against the right-wingers that predominate in the cabinet.
"In past weeks, including the past day, ministers Lapid and Livni have harshly attacked the government that I head. I will no longer tolerate an opposition inside the government," Netanyahu said in the statement.
With next year's budget not agreed and growth slowing in the wake of the July-August Gaza war, Lapid accused Netanyahu of shunting Israel into elections for his own political gain.
"The firing of ministers is an act of cowardice and loss of control. We are sad to see that the prime minister has chosen to act without consideration for the national interest and to drag Israel to unnecessary elections," his Yesh Atid party said.
A motion to dissolve parliament is expected to be heard on Wednesday and the Knesset could be dissolved next week once a date for an election had been decided.
In that case, the government would remain in power until a new one was sworn in. Without the backing of Lapid and Livni's centrists parties, it would be a minority caretaker administration mainly dealing with day-to-day business.
Relations between Netanyahu and Lapid disintegrated over the finance minister's drive to exempt first-time home buyers from value added tax -- a measure critics said would weigh on the state budget and raise housing prices by increasing demand.
As with the 2013 election, campaigning for any 2015 vote is likely to be dominated by domestic issues, such as the cost of living, rather than international affairs or the possibility of resuming peace talks with the Palestinians.
Livni fell out with Netanyahu over the nation-state legislation, which won cabinet approval a week ago, but she has looked uncomfortable in the government ever since peace negotiations with the Palestinians collapsed in April.
A new mandate could give Netanyahu more leeway domestically to pursue his settlement policies on occupied land Palestinians seek for a state and push ahead with the Jewish nation-state bill that the prime minister says is essential to protecting Israel's Jewish identity.
Commentators said an election could come as early as March.
Israeli markets fell on the election news, with the shekel sliding 1.3 percent to a two-year low against the dollar.
(Additional reporting by Maayan Lubell, Allyn Fisher-Ilan and Steven Scheer; Editing by Crispian Balmer)
Related
Popular in the Community