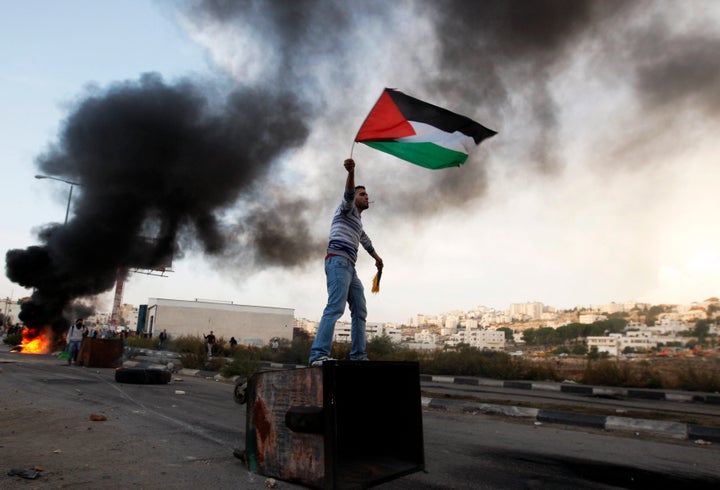 For Americans following the Israel-Gaza conflict through mainstream television news, Sunday marked a welcome departure from the frequent unbalanced analysis that has long prevented any meaningful understanding of the situation. MSNBC's Up With Chris devoted a lengthy segment to the conflict with a guest lineup that actually lent itself to an informative and balanced conversation about the escalating conflict.
WATCH part one of four segments from Sunday's Up With Chris:
The Up With Chris producers' choice of guests for the panel is worth highlighting and commending. The panel refreshingly included Yousef Munayyer, the executive director of the Palestine Center in Washington DC, which works to distribute accurate and timely information regarding Palestinian and broader Middle East issues to policymakers, journalists and the general American public. It also featured Noura Erakat, a Freedman Teaching Fellow at Temple Law School, who participated in the National Lawyers Guild's fact-finding delegation to Gaza in February 2009 in the aftermath of Operation Cast Lead. In their professional and academic careers, Munayyer and Erakat have both extensively researched the Israeli-Palestinian conflict, in addition to how U.S. policy has directly affected realities in the region.
Chris Hayes and his producers have done a great service to journalism as well as to the American people who are the ultimate beneficiaries of exemplary coverage of an issue that affects them (and their tax dollars). One can only hope that the Up With Chris Team team has blazed a trail that their counterparts on other shows and in other networks will follow.
In the meantime, those following the conflict through mainstream American news can benefit from another wise move by the peacock network, which sent its Middle East correspondent Ayman Mohyeldin to Gaza as soon as the conflict began. Mohyeldin, who has the advantage of being previously based in Gaza for two years with Al Jazeera English where he covered the 2008-2009 war, is reporting for NBC and MSNBC.
REAL LIFE. REAL NEWS. REAL VOICES.
Help us tell more of the stories that matter from voices that too often remain unheard.