Israel's army launched strikes on two locations inside the Gaza Strip on Thursday, according to Israeli media reports. The attacks targeted Hamas, the Islamist militant group that rules Gaza, and used both tank and air power.
Residents in the Gaza Strip reported that there were no casualties from the strikes, according to Reuters.
The Israeli strikes were apparently in retaliation for rocket attacks from Gaza earlier in the day. The Israeli military said two rockets were launched toward Israel, but fell short of their intended destination and landed inside Gaza. A third rocket reportedly did reach Israeli territory, but landed in an open area and caused no harm or damage.
An Islamist militant group called the Al-Tawheed Brigades took credit for firing the rockets at Israel. The Israeli Defense Forces issued a statement holding Hamas accountable for the attack, as Israel considers the group responsible for any actions coming from Gaza.
The attacks come one day after President Donald Trump controversially announced that the United States would recognize Jerusalem as Israel's capital and begin the process of moving the U.S. Embassy there. The move sparked international opposition and prompted Palestinian leaders to call for three days of protest.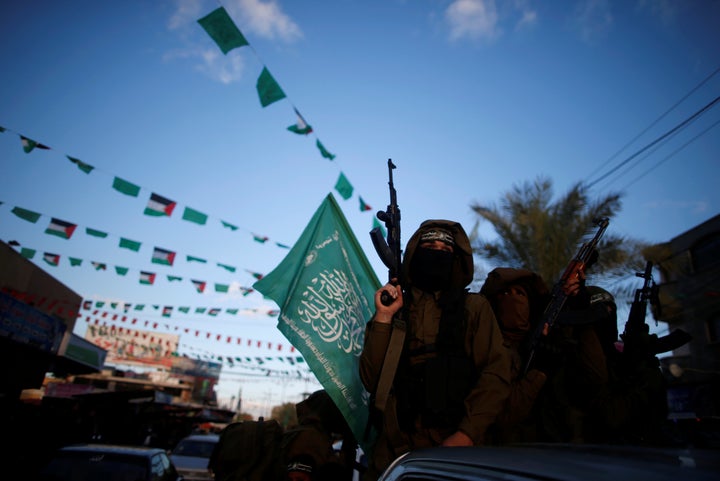 Demonstrators in cities including Jerusalem, Bethlehem and Ramallah rallied against Trump's shift in policy, some burning American flags and photos of the U.S. president. The protesters also clashed with Israeli security forces firing tear gas and stun grenades, as well as rubber bullets and live ammunition.
At least 31 people were injured in the demonstrations, according to Israeli medics, including one person who was in critical condition.
A lengthy list of U.S. allies, regional powers and Palestinian politicians warned Trump against recognizing Jerusalem as Israel's capital in the lead-up to his announcement on Wednesday, saying that it would inflame tensions and provoke violence. Although the decision's long-term effects on the Israeli-Palestinian conflict and attempts at peace remain unclear, the announcement has caused an immediate wave of unrest.
The Palestinian Authority called for a general strike in Palestinian cities as a result of Trump's declaration, while Hamas has taken a harder line and is advocating for a new Palestinian uprising.
Both Israelis and Palestinians lay claim to Jerusalem, although Israel has retained control over the city since 1967. The final status of the city is one of the most sensitive issues in terms of finding a negotiated settlement between Israelis and Palestinians, and most United Nations states don't recognize Israeli sovereignty over the city while the peace process is ongoing.
Calling all HuffPost superfans!
Sign up for membership to become a founding member and help shape HuffPost's next chapter