While the Israeli army and Gaza militants were busy pounding each other with rockets in the past two days, representatives for both sides fired salvos across the Twittersphere.
Accounts for the Israeli military and Hamas' military wing, the al-Qassam Brigade, have tweeted "live updates" from the war for their followers, and on Wednesday morning @IDFSpokesperson announced the launch of a massive operation in Gaza, which began with a targeted attack against the leader of Hamas' military wing, Ahmed Jabari.
@AlqassamBrigade reacted quickly:
While Hamas mourned, the IDF rejoiced:
And each issued warnings to the other:
According to dailydot.com, Twitter temporarily suspended the @IDFSpokesperson account. Twitter has a rule that forbids tweets that include "direct, specific threats of violence against others."
In another technological spinoff, YouTube briefly removed a video on the official IDF channel that showed footage of the Ahmed Jabari's assassination. YouTube later said the removal was a mistake, AllThingsD.com reported, and that the video had been reinstated.
Israeli Prime Minister Benjamin Netanyahu also took to Twitter to weigh in on the current crisis. After tweeting a photo of a young bleeding girl earlier, Netanyahu warned Hamas that Israel will not tolerate rocket attacks on its citizens.
Israel launched a major offensive against Hamas in the Gaza strip on Wednesday after militants hit southern Israel with hundreds of rockets in the previous days. Three Israelis were killed when a rocket hit a building in Southern Israel, the Associated Press reported, with 15 Palestinians dying and more than 200 wounded.
Before You Go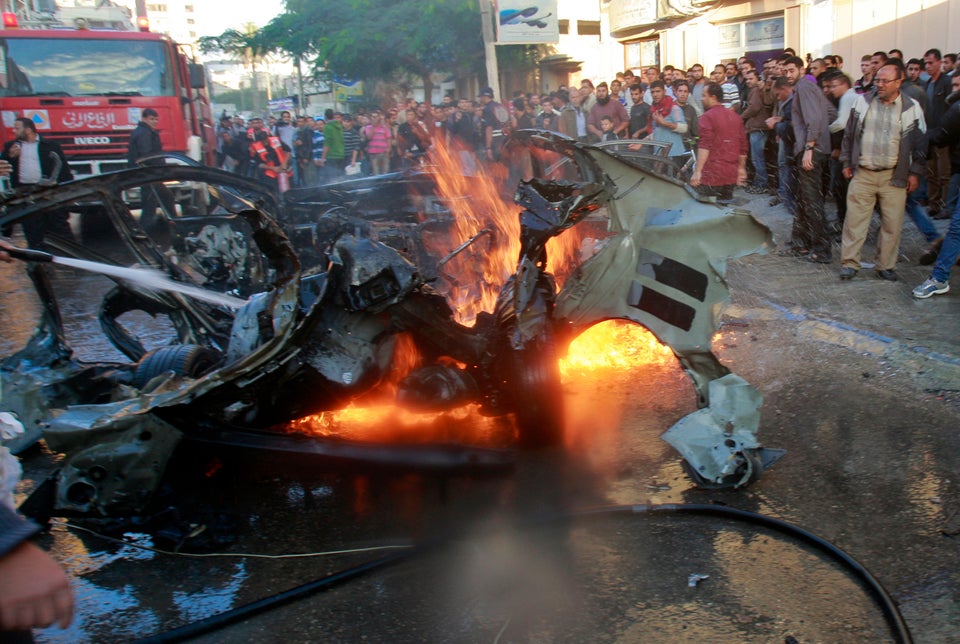 Israeli Strike Hits Gaza
Popular in the Community