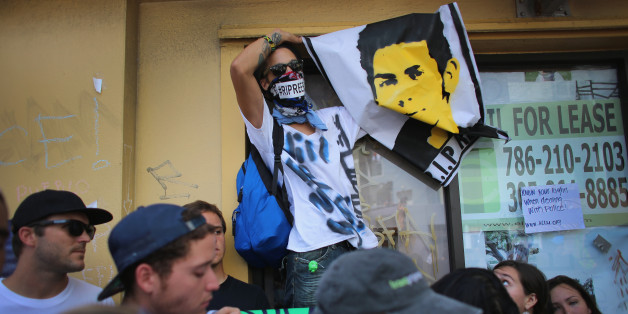 Upset that a police officer who fatally tasered him has not been charged, family and friends of the late Israel Hernandez are planning a protest march in Miami Beach.
The march, scheduled for Sunday, October 6th, will begin with a demonstration at 3:30 p.m. on Lincoln Road and Washington Avenue, according to a press release.
Hernandez, an 18-year-old artist known as "Reefa," was shocked in the chest with a Taser after he ran from Miami Beach Police officers who spotted him painting on an abandoned, graffiti-covered McDonald's on the morning of August 6. The chase reportedly grew to involve more than half a dozen officers, some of whom shoved him against a wall, according to Hernandez's friends, then high-fived as he lay motionless.
Hernandez was shortly pronounced dead at Mt. Sinai Medical Center; cause of death and toxicology screens are pending.
Marchers will demand the arrest of Officer Jorge Mercado, who according to files obtained by The Huffington Post has previously been accused of excessive force, including a 2008 incident during which two Iraq war veterans were beaten -- and one tasered -- in their South Beach hotel room.
Records also show Mercado is alleged to have broken a man's nose while brawling off-duty and was disciplined for failing a drug test, investigated for arresting a woman trying to ask for help getting home in 2012, and caught up in a scandal over questionable overtime. The drug test failure was the only accusation to stick against Mercado after the Iraq veterans dropped their complaint because of the damage a court battle would have done to their careers and families.
Herndez's friends and family will also send letters to the State Attorney's Office, the Miami Beach city manager and police chief, according to the release:
To date, no results have been released regarding the autopsy or the investigation. Officer Jorge Mercado, who has a history of alleged misconduct, has not been held accountable and no Miami Beach Police policies or practices have been changed to prevent more needless deaths. In response to inaction in the face of this horrible tragedy, Miami residents plan to march through Miami Beach demanding that the Officer Jorge Mercado be charged and disciplined and that the city of Miami Beach change its policies so that no one else will ever meet Israel's fate again.
The march, part of a community campaign called "Justice for Reefa," will take place on the two-month anniversary of the teen's death.
His family has also sued the city of Miami Beach and its police force, arguing that Hernandez's crime would not likely have been prosecuted and officers lacked "reasonable basis to fear for their own safety or the safety of the public" in using a Taser.
The lawsuit charges the department with excessive force, inadequate training and supervision to prevent excessive force, and a lack of training regarding the use of Tasers and medical treatment.
The incident is under independent review by the Florida Department of Law Enforcement. Meanwhile a previous rally drew hundreds of attendees, and graffiti tributes to Hernandez have popped up all over Miami:
PHOTO GALLERY
Reefa Tributes
REAL LIFE. REAL NEWS. REAL VOICES.
Help us tell more of the stories that matter from voices that too often remain unheard.
BEFORE YOU GO
PHOTO GALLERY
Israel Hernandez Rally