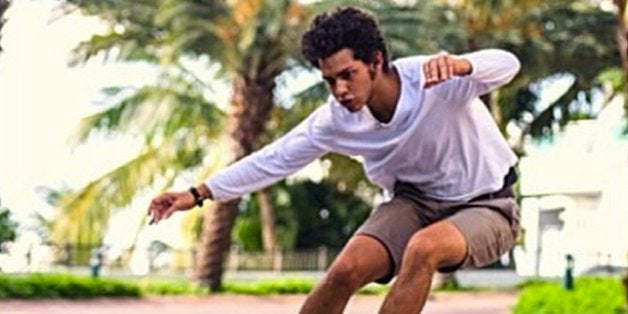 MIAMI, Oct 12 (Reuters) - When police spotted Israel Hernandez Llach spray painting a shut-down McDonald's in August, the Miami teenager decided to make a run for it.
Moments later the unarmed, 18-year-old graffiti artist was dead. He had been struck in the chest by a police stun gun.
The Florida Department of Law Enforcement is still investigating what caused the Aug. 6 death of the Colombian-born teenager. His death in Miami Beach, where police conduct has come under intense scrutiny in recent years, has triggered protests calling for a change in the way officers use the stun guns known as Tasers.
It has also reignited a debate about whether the electrical shock the Taser delivers can sometimes trigger a cardiac arrest when fired at the chest area.
"The fact that he was shot in the chest is something we are analyzing," said Jose J. Rodriguez, a lawyer for Hernandez Llach's family. "We're working with the assumption for now that the Taser caused his death."
Tasers, used by police officers in the United States and globally, have been the target of criticism from advocacy groups like Amnesty International and the American Civil Liberties Union (ACLU), which argue they can be lethal and have called for more stringent rules on their use.
Proponents of Tasers say stun guns are a very useful tool for law enforcement officers, enabling them to subdue suspects without deadly force.
"It's not a magic bullet," said Steve Tuttle, a spokesman for Taser International. "But it is the most effective, accountable tool that officers have."
A study published last year in the American Heart Association journal, Circulation, analyzed the cases of eight people in the United States who suffered cardiac arrest after being shocked by a Taser in the chest.
Seven of the people died and one survived, leading the study's author to conclude that electricity delivered by a Taser can speed up the heart rate and provoke cardiac arrest in some cases.
"Cardiac arrest can happen," said Dr. Douglas Zipes, a cardiologist and distinguished professor at the Indiana University School of Medicine who led the study. "It's infrequent, but how infrequent, we don't know."
Taser International has questioned the study's results, saying it fails to establish a clear connection. In 2009, the company adjusted the guidance it provides to police departments on Taser use, warning officers to avoid, if possible, shots to the chest because of extremely low risk of an "adverse cardiac event."
"If there is going to be a cardiac arrest, it's going to be extraordinarily rare," Tuttle said.
In its safety materials, Taser recommends users aim away from the chest area as well as the head, throat and any areas with an existing injury, if possible.
John Burton, a California lawyer who has successfully tried several cases against Taser involving chest shots, said the language needs to be clearer about potential risks, and more data is needed.
"No one is going around collecting these incidents, studying their frequency, studying what happened," he said.
When a person dies from being Tasered, sometimes the cause of death is not clear, Burton said.
"I just want some answers," he said. "Was it the Taser? Was it something else?"
Tasers, which were first introduced in 1994, can deliver a charge of up to 50,000 volts that paralyze a person's muscles, allowing officers to easily subdue them. Officers can use a Taser from a distance of up to 25 feet (7.5 meters); the weapon fires prongs connected to metal string that pierce the skin.
The devices are used by nearly 17,000 law enforcement agencies in 107 countries, including police forces in most major U.S. cities, according to Taser International. Tasers for law enforcement start at around $500.
Earlier this year, a Connecticut state lawmaker unsuccessfully introduced a bill supported by the ACLU to set training and reporting standards for Taser use in the state.
Concerns about the risk of cardiac arrest have led at least one police department to tighten restrictions on their use. The Cincinnati Police Department prohibited frontal shots last year except in situations of self defense, said Sargent Julian Johnson, a department spokesman.
It is not known if Hernandez Llach had a pre-existing condition, such as heart disease, or other factors like drug or alcohol use that could have contributed to his death. Miami Beach Police officials have suggested he may have died from a pre-existing condition or physical exertion.
Hernandez Llach's sister, Offir Hernandez, said her brother did not use hard drugs, such as the counter-culture psychedelic drug acid, or cocaine, but said his friends told her he smoked marijuana that morning.
"He took care of himself," she said. "He was very healthy and wouldn't even drink sodas, and only ate salads and fish."
She said that detectives who came to their house to break the news of her brother's death immediately asked the family if Hernandez Llach had been using acid.
"He'd never put acid in his body," she said.
Hernandez Llach died after leading officers on an early morning foot chase through alleyways on Miami Beach. When he was cornered, he bolted toward the officers. A policeman responded by firing a stun gun at his chest, according to the Miami Beach Police Department.
Once in police custody, Hernandez Llach showed signs of medical distress and officers rushed him to a hospital. Shortly afterward, he was pronounced dead.
Miami Beach Police spokesman Sargent Bobby Hernandez declined to discuss specifics about the case pending the investigation.
He said the department's officers have to be Tasered themselves during training to understand how much pain it can cause, and added that the department's guidelines spell out that the department "prefers" that officers aim for the abdomen.
"Now when you're dealing with someone who is resisting and not complying, when it shoots it doesn't exactly land where you were aiming," he said.
Hernandez said he had recently completed the department's regular training for Tasers. The course offered no explanation why the chest area should be avoided, he said.
Emma Andersson, an attorney with the ACLU Criminal Law Reform Project, said she worried that officers were reaching too quickly for their Tasers, particularly in non-violent situations because some police officers may view a Taser as non-lethal.
"It's a lot easier to whip out your Taser if you have it on your belt than it is to spend 10 to 15 minutes trying to negotiate with someone," she said. (Editing by David Adams, Frances Kerry and Philip Barbara)
Calling all HuffPost superfans!
Sign up for membership to become a founding member and help shape HuffPost's next chapter
BEFORE YOU GO
PHOTO GALLERY
Israel Hernandez Death: Rally, Tributes, And A Family Funeral