WASHINGTON -- An Israeli-linked airstrike in Syria on Sunday is drawing attention to an element of the messy Syrian civil war that the U.S. has tried to downplay: the Obama administration's failure to check the growing influence of Iran and its Lebanese proxy, Hezbollah, within Syria, as the U.S. and its allies have focused instead on rooting out the Islamic State.
Analysts say the strike could force the U.S. focus away from the fight against the Islamic State, fuel retribution against Israel and bolster tensions with Iran -- just as the West tries to achieve a deal on that country's disputed nuclear program.
Hezbollah said Sunday that the strike in Syria's Quneitra region, which is near the Israel-controlled Golan Heights, killed six members of the group, including the prominent son of one of Hezbollah's top leaders. The strike took on even greater importance when Tehran later said it had also killed a top Iranian general.
Iran has long been the chief geopolitical concern of Israel, the major U.S. ally in the region. Tehran is the main backer of both Hezbollah and the regime of Syrian President Bashar Assad. Analysts say it has poured resources and fighters into the Syrian conflict to shore up Assad so that it can preserve its weapons supply routes to Hezbollah and retain its ability to threaten Israel. Hezbollah itself fought a monthlong war against Israel in 2006, and it continues to threaten the country, most recently when its leader boasted in a Jan. 15 speech about the Iranian missiles his group had amassed.
But the U.S. has not directly confronted Iranian forces, Hezbollah militants or fighters for Assad in Syria. Instead, America and its allies have bombed the Islamic State -- the group that both the U.S.-led and Iranian coalitions are opposing. U.S. officials told The Huffington Post in November that a key reason why Washington is loath to condemn the nexus of Iran-supported Shiite power in Syria is because of American interests in Iraq, where Iran and its Shiite militia proxies are influential and could threaten the growing U.S. military presence. The U.S. has also expressed its support for Iranian actions against the Islamic State, and it is keen to avoid antagonizing Iran as America and five other world powers negotiate for a deal on Tehran's nuclear program.
But observers of the Syria conflict have warned that the U.S. is ignoring Iran's power in the country to the detriment of long-term Middle East stability -- and the strike suggests Israel is worried enough about Iranian influence that is willing to take its own actions, regardless of the fragile interplay between U.S. and Iranian interests.
Israel has neither officially confirmed nor denied the strike, just as it has not verified previous suspected strikes within Syria. Still, the United Nations said Monday that its observers saw drones crossing from Israel to Syria before the strike and returning, in a violation of the ceasefire between the two counties, and an Israeli security source confirmed the strike anonymously to Al Jazeera. Israeli Defense Minster Moshe Yaalon told Israeli media after the strike that "Hezbollah should explain what it's doing on Syrian soil."
"The Israelis have no interest in getting involved in the horrific civil war in this country that's eating itself alive, [but they have] two red lines: One is the transfer of weapons to Hezbollah and the other is the possibility of extremist jihadis" attacking Israel from within Syria, said Sachs, who works on Israeli foreign policy and U.S.-Israel relations.
Fouad Hamdan, the executive director of the organization Naame Shaam, which tracks Iranian influence within Syria, told HuffPost on Sunday that Israel's strikes were unlikely to have completely eradicated the risk from weapons transfers to Hezbollah.
"They have such missiles already in Lebanon, and many in Syria," Hamdan said, citing sources within Syria. By communicating with these sources and monitoring Iranian and Syrian media, Hamdan's group last year produced a report on Iran's role in Syria that drew attention in Washington as the U.S. reached a November 2014 deadline for negotiations with Iran on its controversial nuclear program.
"It's too late, in my opinion," to check Hezbollah's arsenal, Hamdan said. He added that he believes Hezbollah-controlled areas in Syria are "full of arms," including shoulder-held anti-aircraft weapons and Iranian bombs that could be used in suicide attacks against Israeli targets.
Even if the U.S. were to risk Iranian retribution in Iraq and potentially derailing its nuclear negotiations with Tehran to help Israel tackle Hezbollah in Syria, Hamdan added, Hezbollah would still have the capacity to make Israel "really hurt for a couple of days" before being weakened or eliminated.
The State Department did not immediately return a request for comment on the U.S. position on Hezbollah's activities in Syria or support it may be providing to Israel to combat the threat.
Al Jazeera reported the day after the strike that analysts and citizens in Lebanon were expecting a prompt and likely brutal response from Hezbollah. A Hezbollah member told The New York Times that it appeared that Israel was "trying to modify the rules of engagement, and Hezbollah will never allow that."
The organization may already have been preparing for an assault on Israel. Unnamed Western intelligence sources told the Israeli outlet Haaretz that the Hezbollah unit targeted Sunday was thought to have been planning such an attack. Retired Israeli Major General Eyal Ben-Reuven suggested in a conference call with reporters that the fact that an important Iranian general was also killed in the strike showed that the group could have been "planning an operation against Israel on a high level."
Yet some reports say there could be a more cynical reason for the strike: domestic politics in Israel, where an election is set to be held in March.
Sources within Lebanon told international media that regardless of any previous plans for an attack, any Hezbollah retaliation is expected to fall short of a major operation because the group is already stretched thin as it fights the Islamic State, al Qaeda and moderate rebels in Syria.
Israel is suspected to be making that fight more difficult for Hezbollah, Iran and Assad by providing assistance to the Sunni Arab rebels that the Shiite alliance is fighting. A U.N. report released in June described apparent coordination last spring between the Israeli army and rebels in the Golan Heights. Wounded fighters went into Israeli territory and treated fighters returned, the U.N. said.
Syrian activists have claimed that Israel has gone as far as coordinating with the Syrian al Qaeda affiliate, the Nusra Front, which has fought against Assad's forces alongside more moderate rebel groups in the south.
Israel's security cabinet will meet Tuesday to discuss how to manage security concerns following the Syria strike, an official told Haaretz.
The outlet also reported that some Israeli army soldiers posted in the country's north, near Syria, had been forbidden to take leave as tensions rose. The Israeli news channel i24news said forces in the north were on high alert, and that part of the country's Iron Dome missile defense system had been deployed.
Before You Go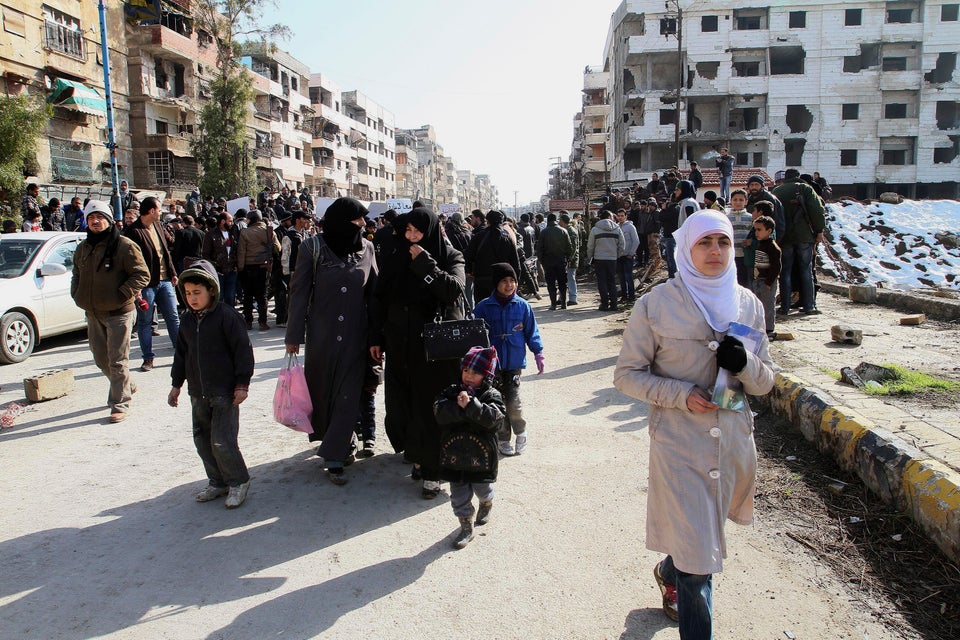 Syria War In January
Popular in the Community