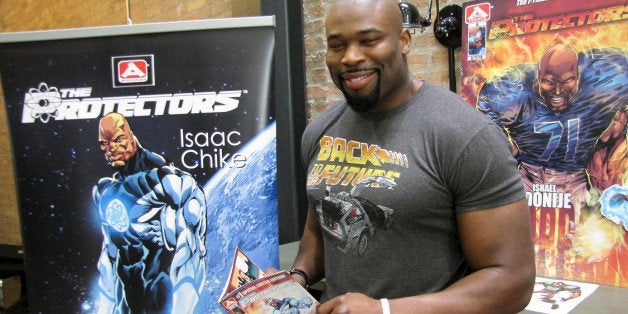 Some of Israel Idonije's fondest memories as a child are of curling up with a comic book copy of The Green Hornet and escaping into the world of masked vigilantes and make-believe.
Yes, the six-foot-six, 275-pound Nigerian-Canadian defensive end who has spent 12 years in the NFL told The Huffington Post that, during his childhood, his parents -- whom he said always valued education -- allowed him and his siblings to watch just one hour of television each day. So the young Idonijes read books as another source of entertainment.
"That was kind of the environment we grew up in," Idonije said. "And when it was my reading time... I read comic books."
As each enchanting reading session nourished Idonije's growing interest in comic books, he never imagined that he would later create a comic book series of his own.
Fusing sports with fantasy, The Protectors follows fictional football player Isaac Chike and other star athletes as their celebrity worlds get turned upside down when they learn that they are destined to be among the so-called Protectors, a group of gifted superheroes with miraculous powers.
(Story continues below image.)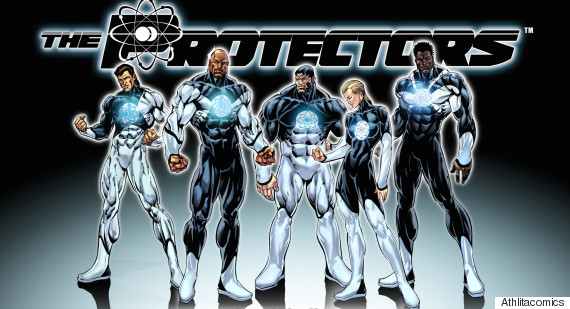 Idonije insists Chike is not based on him, but there are striking resemblances: Chike is a defensive end and so was Idonije; Chike is a member of the Chicago Blaze and Idonije was a member of the Chicago Bears.
"It's always funny especially with my teammates and stuff. They're always like 'it's the comic book that's about you but it's not about you,'" Idonije said with a chuckle.
Similarly, the storyline of The Protectors may mirror the personal journey many professional athletes face when they retire or suffer a career-ending injury -- they identify as sports stars throughout their athletic careers but once that career ends they are forced to realize their gifts or "miraculous powers" off the court, field, or track.
"The reality of it is that all of us have multiple gifts," Idonije said. "All of us have the ability to be great and elite at multiple things, and sometimes it just takes the realization that you know there's more to you than just this."
"All of us have the ability to be great and elite at multiple things."
Idonije came to this realization during his fifth training camp with the Chicago Bears in 2007. While his teammates were playing cards or video games in between practices, Idonije sat in his dorm room and envisioned the fabled tale of the Protectors.
What happened next? Idonije worked with acclaimed comic writer Ron Marz and artist Bart Sears to bring the idea of the Protectors to life in a printed book series. And now it seems as if The Protectors has invigorated Idonije's passion for the comic book world even more.
When asked who his favorite X-Men character is, Idonije responds with a grin and no hesitation, Wolverine. Batman or Superman? Batman. Star Trek or Star Wars? Star Wars.
"People who love comics have always been there and have always supported that comic platform and space. There's people who only go into their local comic shop and pick up comics," Idonije said. "The people who are the heartbeat of the comic industry are still there."
Before You Go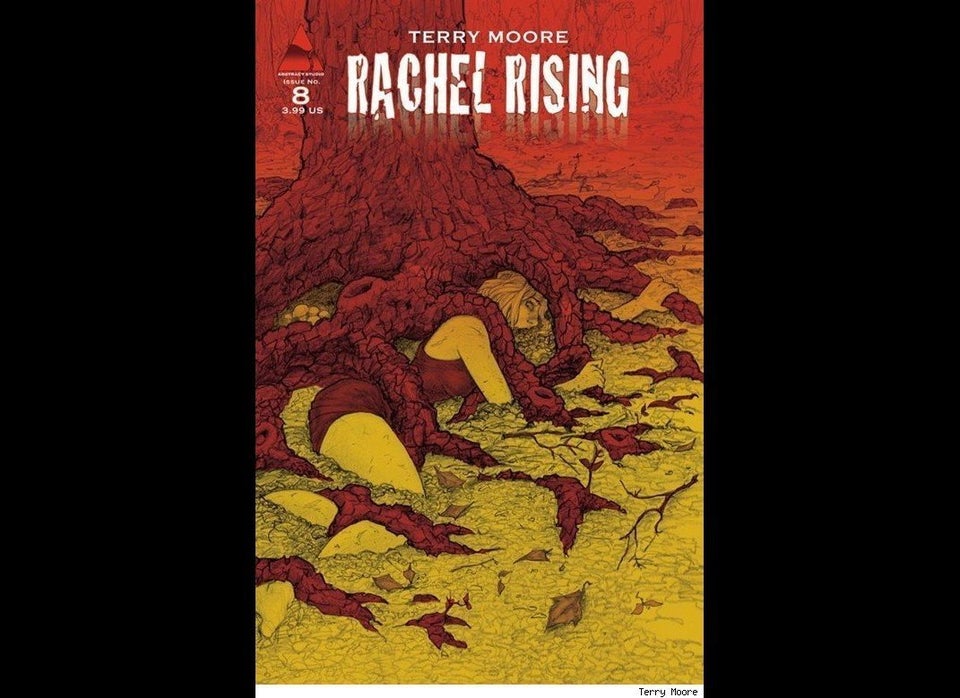 10 Amazing Contemporary Comic Book Covers
Popular in the Community