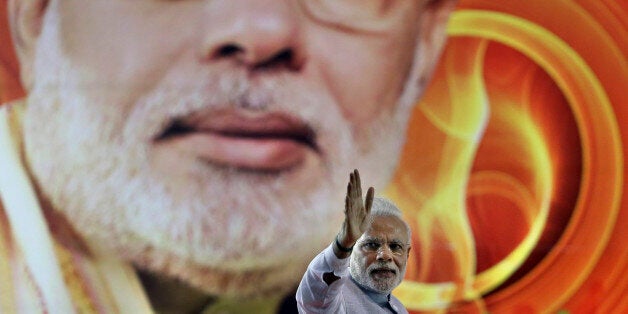 Given his recent muddling in U.S. nuclear talks with Iran and his stance on a two-state solution with Palestine, the re-election of Israel's Prime Minister Benjamin Netanyahu didn't exactly win him a ton of new friends. But there is one leader in particular who has been buddying up to Bibi of late: the head of the world's largest democracy. "Mazel tov, my friend Bibi," read Indian Prime Minister Narendra Modi's tweet once the results came in. That's not all — he tweeted the congratulations in Hebrew.
The move is indicative of more than a budding friendship — it's a telling sign of Israel's quickly growing, but not well-publicized, relationship between India and a host of nations throughout Asia. While Israel has long partnered with Asian countries, now that its traditionally close ties to the United States and Europe are on the rocks as a result of Netanyahu's various maneuvers, the country's Eastern ties are becoming stronger and more important. Not only does Israel trade in sectors such as agricultural tech, pharmaceuticals and military equipment with its Asian partners, including Muslim-majority nations like Indonesia, trade with the continent is now about $600 million more than it is with the U.S. The country also exchanges critical intelligence and, experts say, is courting pro-Israeli pronouncements mostly in relation to Palestine. Call it Israel's pivot East and, as Bibi says in reference to Israel's bond with India, "the sky is the limit."
Of course, the United States is still, by far, Israel's most important ally and that's unlikely to change anytime soon — especially with a conservative Congress. And while Israel would love to have a powerful nation like China have its back, politically speaking, it's not always the case that economic and diplomatic relations go hand in hand. Indonesia, for one, would never support Israel politically despite conducting extensive trade, some say. Still, that can't stop a leader from trying. "Israel wants friends wherever they can get them," says Michael Kugelman, senior program associate for South and Southeast Asia at the Wilson Center, a D.C. think tank. And, he adds, they are finding them in Asia.
With Israeli defense minister Moshe Ya'alon's visit to India earlier this year, it's now official: The India-Israel coupling is "out of the closet."
While Asian-Israeli relations don't go back as far as Israeli ties with Europe or the U.S., they certainly aren't a 21st-century creation. India and China established full diplomatic relations with Israel in 1992 and the former bonded with Israel during the 1999 Kargil War between India and Pakistan in the Kashmir region — India needed weapons, Israel had them in spades. Between 1992 and 2014, India purchased some $11.5 billion in military equipment from Israel, estimates Nicolas Blarel, author of The Evolution of India's Israel Policy: Continuity, Change and Compromise Since 1922. But only recently, with Israeli defense minister Moshe Ya'alon's visit to India earlier this year, has it become official: The India and Israel coupling is "out of the closet."
Why now? For one, it's not a secret that global power is shifting, in general, eastward. Asia has the majority of the world's wealth, population and economic growth. "We're looking at an Asian century, maybe even centuries," says Kugelman. India has also become a crucial intelligence source for Israel. Though India doesn't exactly have a renowned diplomatic track record, it has been able to maintain solid relations with various Middle Eastern nations like Jordan and Egypt. An intelligence-sharing agreement signed last year between Bibi's and Modi's countries means that Israel can keep a better eye on neighbors while India can work to stop one of its biggest fears: ISIS on its borders, says Sumit Ganguly, director of the Center on American and Global Security at Indiana University.
It's not all about guns and spies, of course. Aside from India, the vast majority of Israel's relations are focused on commercial technologies going to China — where trade runs roughly $11 billion, an all-time high — as well as Indonesia, Vietnam, Japan and others. Israel is one of the world's high-tech hotbeds, exporting a whole lot of agricultural tech, like drip irrigation and seed breeding, and pharmaceuticals. While European nations and their companies are becoming more hesitant to deal with Israel, citing its occupation of Palestinian territories, Israel is in the process of negotiating a free-trade agreement with China and India — which would be huge for Israel, says Emanuel Shahaf, CEO of Technology Asia Consulting and chairman of the Israel-Indonesia Chamber of Commerce.
Outside investments are always welcome, but what the Israelis really want are friends. With the West chafing at Netanyahu's continued aggression in occupied territories, Israel feels increasingly isolated in a dangerous neighborhood and is looking to Asia for some backup, says Ganguly. There's obvious incentive for Israel to get China on its side when it comes to the Palestinian conflict, seeing that China has become a more active mediator in peace talks and has a coveted seat at the U.N. Security Council. India, too, has softened its historically pro-Palestinian stance, particularly as of late with the election of the center-right Modi.
Maybe a fresh start is just what Netanyahu needs. With President Obama giving him the cold shoulder, he'll surely accept Modi's declaration of "warmth" between the two with open arms.
Related
Popular in the Community