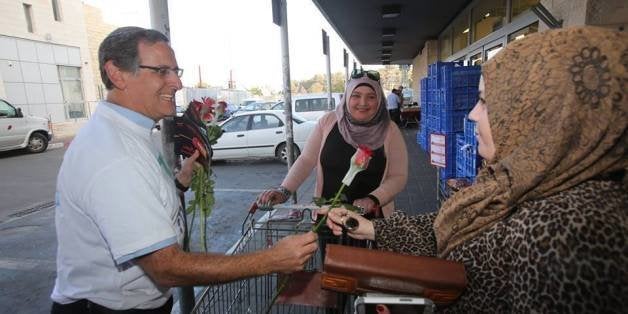 A plan to bring religious groups together in and around Israel for an interfaith "pray in" got derailed just days before the event as tension escalated throughout the country.
Violence between Israelis and Palestinians has increased in recent days following the release of video footage which allegedly showed an Israeli police officer fatally shooting a 22-year-old Arab man. Thousands took to the streets in protest on Saturday, and on Monday an Israeli officer was stabbed and critically wounded in what appeared to be a retaliation attack.
Gadi Gvaryahu, chairman of Jerusalem-based anti-racism organization Tag Meir, told HuffPost by email that he had hoped to host a communal "pray in" at Jaffa Gate, one of the entrances to the Old City of Jerusalem, but was told by the police that congregating at the site was forbidden "in light of the sensitive security situation."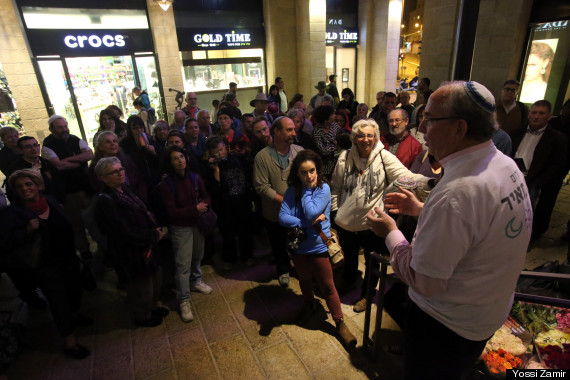 Rabbi Ron Kronish addresses the crowd at the Tag Meir event.
"At Tag Meir, we thought that by offering people in Israel the opportunity to pray together, it might give a sense of hope, and deepen the belief that we have to recognize how similar we are, and not just how different," Gvaryahu said.
Jerusalem's Old City -- and particularly the site known to Jews as the Temple Mount and to Muslims as the Noble Sanctuary -- is at the heart of much of the unrest, as the religious groups have long disputed who should have primary agency in the region. Palestinian President Mahmoud Abbas delivered a speech on Tuesday claiming that Israel was leading the groups into a "religious war" over Jerusalem, and the country has been on heightened alert for several days.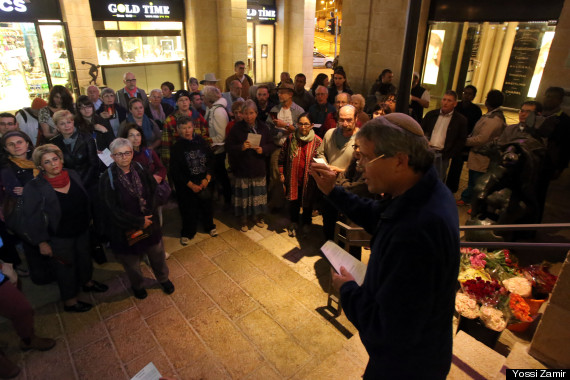 Gadi Gvaryahu addresses the crowd at the Tag Meir event.
Despite present security concerns, Gvaryahu said the "pray in" would go forward on November 12 with a slight modification. Instead of hosting a communal prayer, representatives from Tag Meir's coalition of 48 organizations will stand near the Jaffa Gate and distribute flowers and printed copies of the prayer in multiple languages to passersby.
Representatives will also distribute the prayer in four other sites around the country, including two in Galilee, one on the Peace Bridge near the Azrieli Towers and one in Wadi A'ara, Gvaryahu said.
The prayer, entitled "Peace in the World," was written originally in Hebrew by Rabbi Nachman and reads:
May it be Thy will, O God and God of our ancestors, that Thee banish war and bloodshed from the world and bring a great and glorious peace into the world. "Nation shall not lift up sword against nation and they shall no longer practice war," just that all inhabitants of the world know the truth that we did not come into this world for fighting and disputations, and not for hate and jealousy and bloodshed, we have just come into the world to know your blessed self forever.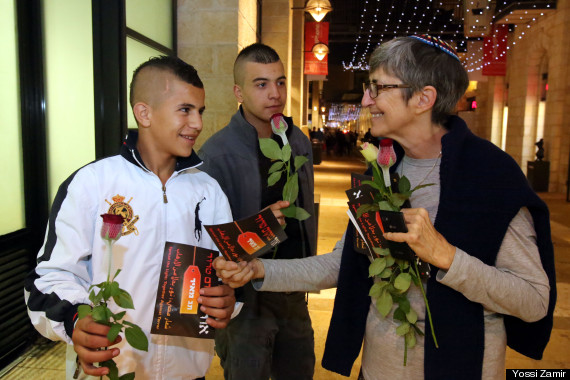 A Tag Meir volunteer hands out flowers to Palestinian teenagers in Jerusalem.
Ron Kronish, director of the Interreligious Coordinating Council in Israel and Tag Meir steering committee member, told HuffPost he hopes the event will help raise "moderate voices for peace so that extremists are not the only voices heard."
While prayer, alone, might not solve the crisis, it can "inspire people to take action for peace," Kronish said, and "activate people to overcome apathy and despair."
Gvaryahu added: "In such a violent environment any ray of light can bring hope."
Support HuffPost
The Stakes Have Never Been Higher
Related
Before You Go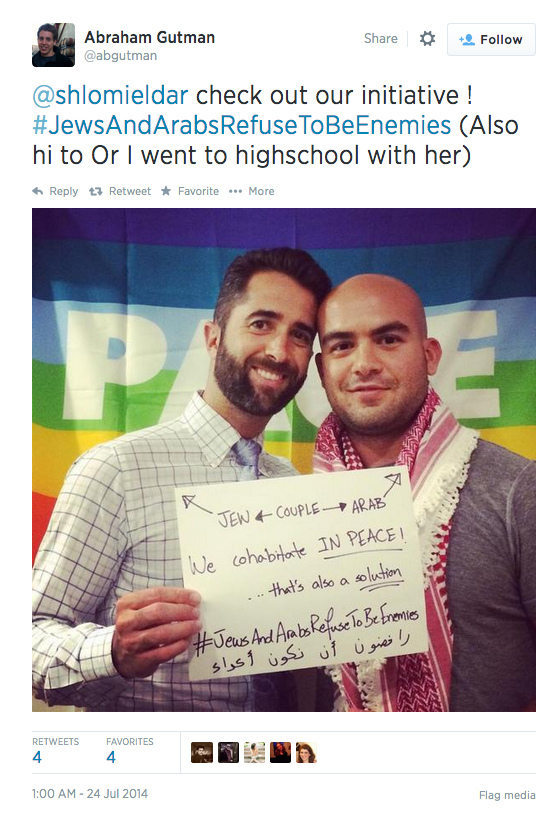 Jews And Arabs Refuse To Be Enemies
Popular in the Community