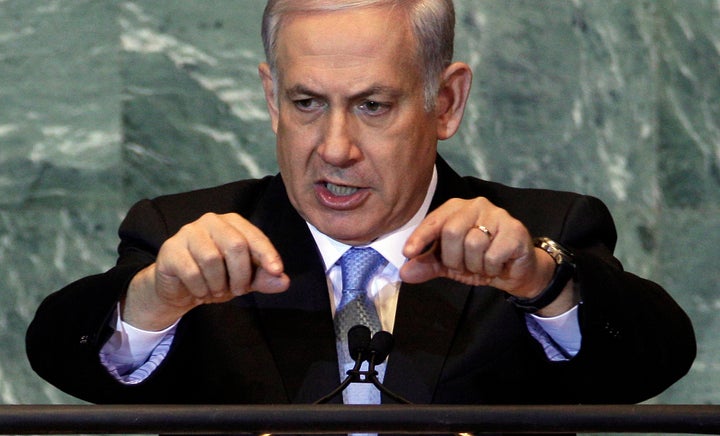 Last week, former Mossad directors Meir Dagan and Efraim Halevy sharply warned Israeli Prime Minister (PM) Benjamin Netanyahu and his defense minister against attacking Iran. According to the influential Israeli newspaper Haaretz , the Netanyahu government tasked the Shin Bet, Israel's domestic intelligence organization, to probe a series of media leaks suggesting that the PM is lining up his ministers for an internal vote on whether to attack Iran.
While Netanyahu's increasing Iran rhetoric clearly seems to arrive at the backdrop of a much-anticipated report set to be published by the International Atomic Energy Agency (IAEA) into Teheran's nuclear program, the standoff between Netanyahu and former Israeli intelligence chiefs also capture a deep internal division over Iran strategy. Moreover, ever since Netanyahu "forced" Dagan into retirement, apparently over his alleged failure to cover the Mossad's tracks of a 2010 Dubai assassination of a top Hamas operative, Dagan has repeatedly lambasted Netanyahu on Iran.
Politics aside, it is not the first time that Benjamin Netanyahu's hardline national security positions have been openly challenged by senior Israeli intelligence officials. In fact, shortly after the Palestinian Authority (PA) and Hamas announced their intentions to form a Palestinian unity government, Netanyahu called the decision a "victory for terrorism." Yuval Diskin, at the time the Shin Bet director, openly criticized his premier by arguing that a Palestinian unity government provides Israel with a strategic "window of opportunity" to pursue "inclusive" peace talks. While Haaretz revealed that Dagan and Diskin are the two primary suspects of having leaked Netanyahu's apparent "Iran plans," numerous Israeli politicians and retired defense establishment officials seem to be growing increasingly frustrated with Israel's deteriorating international standing under his stewardship.
Since assuming his premiership, Netanyahu has openly clashed with nearly every single Israeli ally from U.S. President Barack Obama to the leaders of Germany, France, Britain -- and King Abdullah of Jordan is refusing to meet with him. All of them, apparently, are frustrated with what is perceived as the Netanyahu government's unwillingness to advance the stalled Middle East peace process.
Granted, and in fairness to Benjamin Netanyahu, Israel's increasing regional isolation cannot only be attributed to his hawkish national security positions. In fact, the fall of the Mubarak regime in Egypt and what largely is perceived in Israel as an openly hostile Turkey has arguably forged the Jewish state into a "straightjacket" with limited strategic alternatives, both vis-a-vie the Mideast peace process and Iran.
So what are Israel's options?
At this critical juncture, Israel is arguably left with three strategic alternatives:
First, in what can be described as a "diplomatic Jiu-Jitsu" move, the Jewish state could elevate its regional standing by granting significant concessions towards the Palestinian Authority, arguably similar to those made by former Israeli PM Ehud Olmert at the 2008 Annapolis summit.
As part of an effort to ride out regional instability prompted by the "Arab Spring," Netanyahu's second alternative is likely to maintain the status quo and subsequently determine whether the strategic landscape would be ripe for comprehensive peace talks. And a third option could be to "strike up the strategic landscape," by launching a military strike on the Iranian nuclear program.
While the second alternative could arguably become Netanyahu's preferred policy option, as maintaining the status quo would unlikely require any major decisions. However, in the event the Israeli leader either chooses to maintain the status quo visa-a-vie the peace process and/or strike Iran, the decisions in question are nonetheless likely to become a severe test to the U.S.-Israeli strategic alliance. As case in point, if Netanyahu decides to unilaterally strike Iranian nuclear facilities, the Islamic Republic could respond in kind by targeting American soldiers in Afghanistan and Iraq while attacking U.S. military basis in the Arab-Gulf states, all within the range of the Iranian Sejil-2 surface-to-surface missile.
Meanwhile, as retired Mossad officials are apparently questioning their premier's strategic vision and warning against the severe implications Israeli military strikes could have on the region, and on U.S.-Israeli relations in particular, the Jewish state also face a strategic opportunity by forming alliances with the Arab Spring's genuinely moderate and secular democratic movements. Moreover, as both Israel and moderate Sunni-Arab regime fear Iran's growing interference on regional events as the Islamic Republic is directly interfering in Bahrain, Iraq, Syria, Yemen, Egypt, Sudan and Gaza, a comprehensive Arab-Israeli peace treaty could serve as an important building block for regional stability. While Israel remains the region's strongest military and economic power, a former Israeli deputy defense minister recently told me that the "glue" linking the Jewish state to moderate western regional allies, such as Bahrain, the host of the U.S. fifth fleet, is Mideast peace.
On a similar note, Bahrain's Foreign Minister told me point-blank: "We want peace. There is no question on whether Israel has a right to exist, we are serious. Period." Sheik Khalid ibn Ahmad al Khalifa called on the Arab states to engage with Israel as he emphasized that "only through communications can normalization be reached." The senior diplomat stressed the need for dialogue with the Jewish state while underscoring that the 2003 Arab initiative remains available as an "invitation for peace," as opposed to a "take it or leave it" ultimatum. Sheik Khalid's remarks were made on the sidelines of the 2010 Manama Dialogue, hosted by Bahraini King Hamad ibn Isa al Khalifa and the International Institute for Strategic Studies.
Diplomatic alliances aside, the Iranian nuclear crisis can only be resolved by multilateral pressure, and not by unilateral military strikes. Acknowledging that Teheran's nuclear program is not just a threat to the Jewish state, but rather to the entire region and the international community at large, it is perhaps not surprising that the Mossad is warning Netanyahu against framing Iran as "only an Israeli problem."
Lastly, as Prime Minister Netanyahu and his former intelligence chiefs continue to clash over Iran policy, perhaps the former Israeli deputy defense minister was right: "Without Mideast peace, there is no alliance against Iran."
Calling all HuffPost superfans!
Sign up for membership to become a founding member and help shape HuffPost's next chapter