By Nidal al-Mughrabi and Ori Lewis
GAZA/JERUSALEM, July 9 (Reuters) - At least 23 people were killed across Gaza, Palestinian officials said on Wednesday, by a bombardment Israel said may be just the start of a lengthy offensive against Islamist militants whose rockets struck deeper than ever before into Israel.
Israelis ran for cover late on Tuesday as air-raid sirens sounded in the business capital Tel Aviv and the holy city of Jerusalem, both of which were hit in the Gaza war of November 2012.
SCROLL DOWN FOR LIVE UPDATES
Hamas said it also fired a rocket at the major northern city of Haifa, 140 km (88 miles) away, and though this was not confirmed, Israel said a rocket had landed in Hadera, 100 km (60 miles) from Gaza, further than had previously been reached.
While the Israelis reported no casualties, the long-range salvo was celebrated by the outgunned Palestinians as proof of their resolve in hostilities that flared three weeks ago after the abduction and murder of three Jewish seminary students. An Israeli woman holds a poster with photos of the three Israeli teens June 29.
The rocket strikes could lead to an Israeli ground invasion, something officials have said is a possible option.
In the densely populated Gaza Strip, explosions echoed day and night, shaking buildings and sending up plumes of smoke. At least 17 civilians, including five children, were among the 23 dead, Palestinian officials said. On the Israeli side, at least two people were wounded, medics said.
Israel assassinated a senior local leader of the Islamic Jihad militant group in the northern Gaza Strip early on Wednesday, neighbors and hospital officials said, and five others including family members were killed.
An Israeli military spokeswoman said she had no initial details on the strike.
The militant, Hafez Hamad, two brothers and his parents were killed when his house was bombed in an air strike in the town of Beit Hanoun in the northern Gaza Strip, Hamas media and Gaza interior ministry said. An unidentified woman in the house was also killed.
Another Hamas militant was targeted in another air strike in Rafah, in the southern Gaza Strip, Hamas officials said.
Since Israel launched its offensive on Tuesday, five Hamas gunmen, an Islamic Jihad leader and 17 civilians, including seven children, have been killed.
On Tuesday afternoon, Israel's Iron Dome interceptor shot down a rocket fired at Tel Aviv by Gaza faction Islamic Jihad.
"We will not tolerate rocket fire against our cities and townships, and therefore I ordered a significant broadening of IDF (Israel Defense Force) operations against the terrorists of Hamas and other terror groups in the Gaza Strip," Prime Minister Benjamin Netanyahu said in a statement.
He called on Israelis to rally together and "show resilience because this operation could take time".
Israel has threatened to invade Gaza if the rockets persist.
In a bold infiltration, gunmen from Hamas landed on the shore near Zikim adjacent to the Gaza border, where a kibbutz and a military base are located. Four gunmen were killed.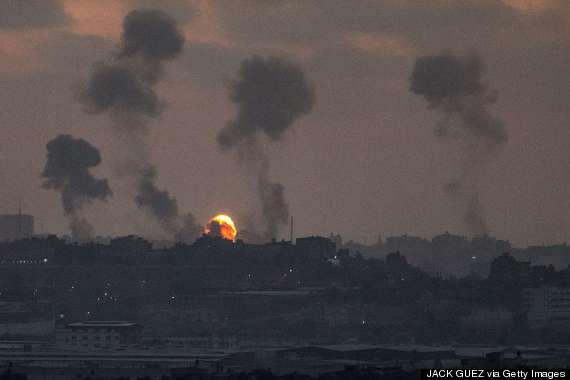 A picture taken from the southern Israeli border shows smoke billowing during an Israeli air strike on July 8.
Western-backed Palestinian President Mahmoud Abbas, who is based in the Israeli-occupied West Bank and entered a power-share with Hamas in April after years of feuding, said he had spoken to regional power broker Egypt about the Gaza crisis.
Under President Abdel Fattah al-Sisi, Cairo has secured closures on the Egyptian-Gaza border, increasing economic pressure on Hamas from a long-running Israeli blockade.
"Sisi stressed Egypt was interested in the safety of the Palestinian people in the Gaza Strip and sparing this grave assault," a statement from Abbas's office said, adding that Cairo would "exert efforts to reach an immediate ceasefire".
In a televised speech later, Abbas said he had been in touch with the various Palestinian factions and leaders of Hamas whom, he said, did not want an escalation.
Washington backed Israel's actions in Gaza while the European Union and United Nations urged restraint on both sides.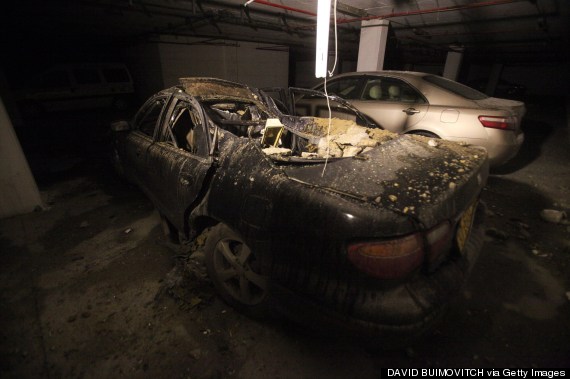 Damage caused by a rocket fired from Gaza strip hitting the city of Ashdod, Israel is seen on June 8.
"We strongly condemn the continuing rocket fire inside of Israel and the deliberate targeting of civilians by terrorist organizations in Gaza," White House spokesman Josh Earnest said.
"No country can accept rocket fire aimed at civilians and we support Israel's right to defend itself against these vicious attacks."
The surge in violence along the Gaza border, which is the worst since an eight-day war in 2012 when Tel Aviv was also targeted, followed a chain of events that began with the abduction of three Jewish seminary students in the occupied West Bank on June 12.
Blaming Hamas, which neither confirmed nor denied a role, the Israelis arrested hundreds of its activists in their search for the teenagers who were eventually found dead, as was a Palestinian youth abducted in Jerusalem last Wednesday in a suspected revenge murder. Palestinian-American Tariq Abu Khdeir who was beaten by Israeli border police and the mother of 16-year-old Mohammed Abu Khdeir.
Palestinians have since launched more than 200 rockets from Gaza, Israel has said.
While threatening an "earthquake" of escalation against Israel, Hamas said it could restore calm if Israel halted the Gaza offensive, once again committed to a 2012 Egyptian-brokered truce and freed prisoners it detained in the West Bank last month.
The Israeli military said on Tuesday that, to support regular forces, it had called up 1,000 reserve troops out of a pool of 40,000 approved on Tuesday by the security cabinet. Some 1,500 other reservists have already been mobilized. (Additional reporting by Dan Williams, Jeffrey Heller and Maayan Lubell in Jerusalem, Noah Browning and Ali Sawafta in Ramallah and Mark Felsenthal in Washington; Writing by Ori Lewis; Editing by Toni Reinhold)
Popular in the Community