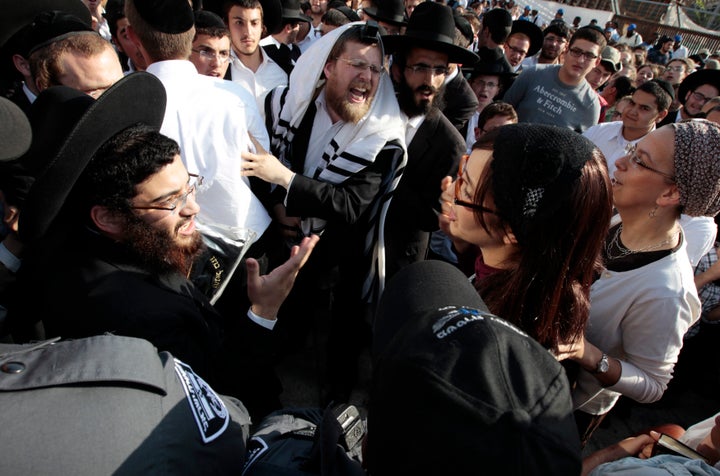 The Israeli government's decision on Sunday to formally suspend plans for a mixed-gender prayer space at Jerusalem's Western Wall has sparked backlash from activists and Jewish leaders.
During a weekly meeting on Sunday, the cabinet voted to freeze implementation of a mixed-gender prayer space, which was initially voted on in 2016. Many saw the move as a result of pressure Prime Minister Benjamin Netanyahu has received from ultra-Orthodox members of the government. Netanyahu asked a minister from his Likud party on Sunday to formulate a new plan for the proposed space.
The news drew fierce criticism from the activists of Women of the Wall, a Jerusalem-based organization that has fought for women's equal access to the sacred site for nearly three decades. 
"This is a move against women," said Women of the Wall executive director Lesley Sachs in a video produced by Haaretz. "This is a move against progress."
Anat Hoffman, chairperson of Women of the Wall, said in a statement: "The fact that the Prime Minister, who himself initiated and led the agreement is bending and retreating from that historic decision is shameful."
"It's a terrible day for women in Israel when the PM sacrifices their rights while kowtowing to a handful of religious extremists, who want to enforce their religious customs while intentionally violating the rights of the majority of the Jewish world, 51 percent being women," she added.
Men and women have worshipped in separate sections at the Western Wall since the 1960s when administration of the site was granted to ultra-Orthodox leaders, according to the Women of the Wall's website. Since then, women have not been allowed use a Torah scroll or wrap themselves in prayer shawls as men can while praying. They are also required to remain silent.
The Women of the Wall have gathered at the site since the late 1980s, praying aloud and often smuggling small Torah scrolls into their designated section to lead prayers.
The 2016 ruling on a mixed-gender prayer space would have established a new area at the Western Wall for men and women to pray together.
"Now I know a promise made to women is not a promise. And an agreement made with women is not an agreement, as far as the Israeli government goes," said Sachs.
On Monday, the Jewish Agency for Israel, an nonprofit that works on strengthening ties between Israel and the Jewish diaspora, canceled a gala dinner planned for that evening with Netanyahu over the government's ruling.
The agency also passed a resolution urging the Israeli government to reverse its decision, which chairman Natan Sharansky said "will make our work to bring Israel and the Jewish world together increasingly more difficult." 
REAL LIFE. REAL NEWS. REAL VOICES.
Help us tell more of the stories that matter from voices that too often remain unheard.
BEFORE YOU GO
PHOTO GALLERY
10 Righteous Jewish Women