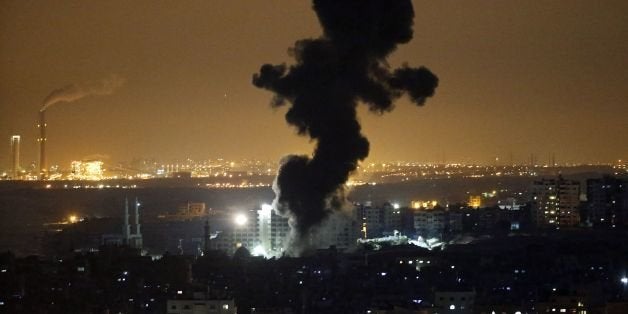 GAZA CITY, Gaza Strip (AP) — Ignoring international appeals for a cease-fire, Israel widened its range of Gaza bombing targets to civilian institutions with suspected Hamas ties and deployed ground troops inside Gaza for the first time early Sunday to raid a rocket launching site in the Palestinian territory. More than 156 Palestinians have been killed. The United Nations estimates that 77 percent of those killed in Gaza were civilians.
Four Israeli soldiers were hurt in clashes during the brief incursion to destroy a rocket launching site in northern Gaza, the military said. It said the troops later returned to Israeli territory.
It was the first time that Israeli ground troops are known to have entered Gaza in the current offensive. But the operation was carried out by special forces and did not appear to be the beginning of a broad ground offensive.
Israeli airstrikes pounded targets in Gaza, with one hitting a center for the disabled and killing two patients and wounding four people, Palestinians. In a second attack Saturday night, an Israeli warplane flattened the home of Gaza police chief Taysir al-Batsh and damaged a nearby mosque as evening prayers ended, killing at least 18 people and wounding 50, officials said.
In New York, the United Nations Security Council called unanimously for a cease-fire, but so far, neither Israel nor Gaza's Hamas rulers have signaled willingness to stop.
Israel has carried out more than 1,200 air strikes over the six-day offensive to try to diminish Hamas' ability to fire rockets at Israel. Hamas, the Islamic militant group that controls Gaza, has fired nearly 700 rockets and mortars at Israel this week.
Israel's chief military spokesman, Brig. Gen. Motti Almoz, said Saturday there would be more strikes, especially in northern Gaza near the Israeli border. Late Saturday, the military said it was ordering Palestinians in northern Gaza to evacuate "for their own safety."
Gaza's Interior Ministry urged residents in the area to ignore Israel's warnings and to stay in their homes, saying the announcement was Israeli "psychological warfare" and an attempt to create confusion.
In a sign that the conflict might widen, Israel fired into Lebanon late Saturday in response to two rockets fired from there at northern Israel. There were no injuries or damage, but Israel fears Lebanese militant groups may try to open a second front.
Israel has said it's acting in self-defense against rockets that have disrupted life across much of the country. It also accuses Hamas of using Gaza's civilians as human shields by firing rockets from there.
Critics say Israel's heavy bombardment of one of the most densely populated territories in the world is itself the main factor putting civilians at risk. Sarit Michaeli of the Israeli human rights group B'Tselem said that while using human shields violates international humanitarian law, "this does not give Israel the excuse to violate international humanitarian law as well."
The Israeli military has said it has targeted sites with links to Hamas, including command centers, and that it issues early warnings before attacking. But Michaeli said civilians have been killed when Israel bombed homes of Hamas militants or when residents were unable to leave their homes quickly enough following Israeli warnings.
An army statement said that from Friday morning to Saturday morning, Israel targeted 158 targets "affiliated with Hamas terrorism" in Gaza, including dozens of rocket launchers and a mosque where Hamas stored rockets and weapons.
Israel also targeted several civilian institutions with presumed ties to Hamas, widening its range of targets. Palestinian officials said this included a technical college, a media office, a small Kuwait-funded charity and a branch of an Islamic bank.
The Israeli military did not mention these institutions in its statement Saturday, saying only that in addition to the military targets, it struck "further sites."
Gaza Health Ministry official Ashraf al-Kidra said the death toll there reached more than 156, with over 1,060 wounded. Among the dead was a nephew of Ismail Haniyeh, a top Hamas leader, who was killed in an airstrike near his home, Hamas officials said.
Though the exact breakdown of casualties remains unclear, dozens of the dead have been civilians. Israel also demolished dozens of homes it said were used by Hamas for military purposes.
"Am I a terrorist? Do I make rockets and artillery?" screamed Umm Omar, a woman in the southern town of Rafah whose home was destroyed in an airstrike. It was not immediately known why the building was targeted.
The "Iron Dome," a U.S.-funded, Israel-developed rocket defense system, has intercepted more than 130 incoming rockets, preventing any Israeli fatalities so far. A handful of Israelis have been wounded by rockets that slipped through.
On Saturday, air raid sirens went off in Jerusalem and Tel Aviv, Israel's two largest cities, both located nearly 50 miles (80 kilometers) from Gaza. Most of the rockets were intercepted or fell in open areas.
The frequent rocket fire has disrupted daily life in Israel, with most staying close to home. Israeli airstrikes meanwhile have turned bustling Gaza City into a virtual ghost town during the normally festive monthlong Muslim holiday of Ramadan, emptying streets, closing shops and keeping hundreds of thousands of people close to home.
The offensive marks the heaviest fighting since a similar eight-day campaign in November 2012 to stop Gaza rocket fire. The outbreak of violence follows the kidnappings and killings of three Israeli teenagers in the West Bank, and the kidnapping and killing of a Palestinian teenager in an apparent revenge attack.
At the United Nations, a Security Council statement approved by all 15 members called for de-escalation of the violence, restoration of calm, and a resumption of direct negotiations between Israelis and Palestinians aimed at achieving a comprehensive peace agreement based on a two-state solution.
The statement also called for "the reinstitution of the November 2012 cease-fire," which was brokered by Egypt, but gives no time frame for when it should take effect.
The statement, which is not legally binding, is the first response by the U.N.'s most powerful body, which has been deeply divided on the Israeli-Palestinian conflict.
The Arab League meanwhile said foreign ministers from member states will hold an emergency meeting in Cairo on Monday about the offensive.
Daraghmeh reported from Ramallah, West Bank. Associated Press writers Karin Laub in the West Bank and Edith M. Lederer at the United Nations contributed to this report.
Popular in the Community